The Clintons Are Going On Tour To Discuss America's "Most Important Moments"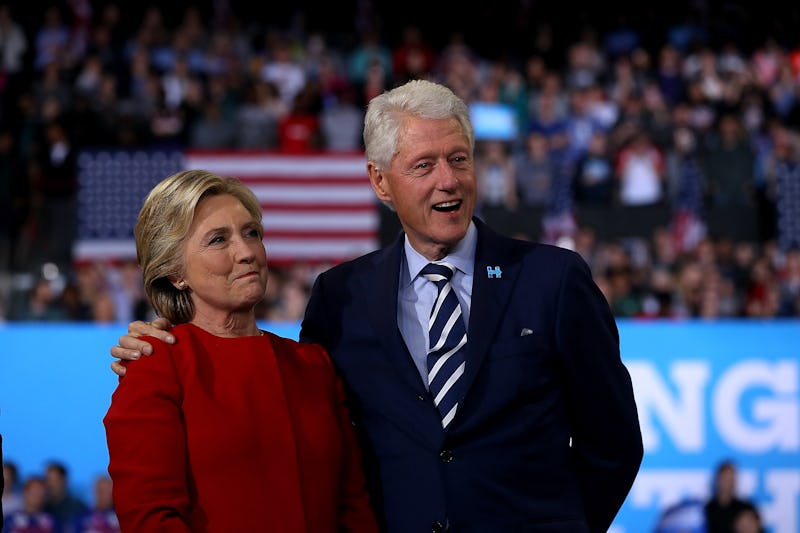 Justin Sullivan/Getty Images News/Getty Images
A famous political couple will be touring North America beginning this fall — and they may be coming to a city near you. Hillary and Bill Clinton's tour, "An Evening with the Clintons," kicks off on Nov. 18 and will feature the duo visiting 13 different cities to share their experiences as political figures.
CNN reported that the Clinton's tour is being produced by Live Nation. On its website, the promotion company described the tour as a reflection on some of modern America's most pivotal political moments:
Attendees will have the opportunity to hear one-of-a-kind conversations with the two leaders as they tell their stories from some of the most impactful moments in modern history. From the American presidency to the halls of the Senate and State Department, to one of the United States' most controversial and unpredictable presidential elections, they provide a unique perspective on the past, and remarkable insight into where we go from here.
The website also offered some insight into the format of the tour, suggesting that the Clintons will have joint conversations on stage, where they will share anecdotes and stories from the past while also reflecting on the future trajectory of American politics.
The Clinton's tour will begin on Nov. 18 in Las Vegas, Nevada, at the 5,200-seat Park Theater. The political duo will then head to 12 other cities throughout the remainder of 2018 and beginning again in mid-2019. These cities include: Toronto, Ontario; Montreal, Quebec; Sugar Land, Texas; New York, New York; Detroit, Michigan; Philadelphia, Pennsylvania; Wallingford, Connecticut; Washington D.C.; Boston, Massachusetts; Vancouver, British Columbia; Seattle, Washington; and Los Angeles, California. If you wish to see further details about tour times and dates in each of these cities, you can do so via the tour's website.
Ticket prices for the tour seem to vary quite a bit by city and by seating location in specific venues. For example, Ticketmaster reveals that, for the Clinton's debut event in Las Vegas, prices range from around $72 to around $230. For their closing event in Los Angeles next May, Ticketmaster indicates that prices range from around $60 to $375. At their December show in Sugar Land, Texas, the most expensive tickets are $699.
Their upcoming tour does not constitute the first time the Clintons have engaged in large-scale public speaking events. As Yahoo! reported, from 2001 to 2015, the duo earned over $153 million for speaking at 729 events. The outlet also indicated that, thus far, it is not yet known how much the Clintons will make from their multi-city tour.
This fall looks to be a busy touring season for high-profile Democratic political figures. As Bloomberg reported, former First Lady Michelle Obama will also kick off her 10-city tour for her book, Becoming, on Nov. 13. The outlet noted that tickets for Obama's tour range from around $30 to over $3,000, depending on venue and seating location.
If the Clinton's tour is headed to a city near you and you're interested in attending, you will soon be able to purchase tickets. Public ticket sales open on Oct. 12 at 10 a.m. local time. Tickets can be purchased online via Live Nation.