Huma Abedin Is Reportedly Writing A Tell-All Memoir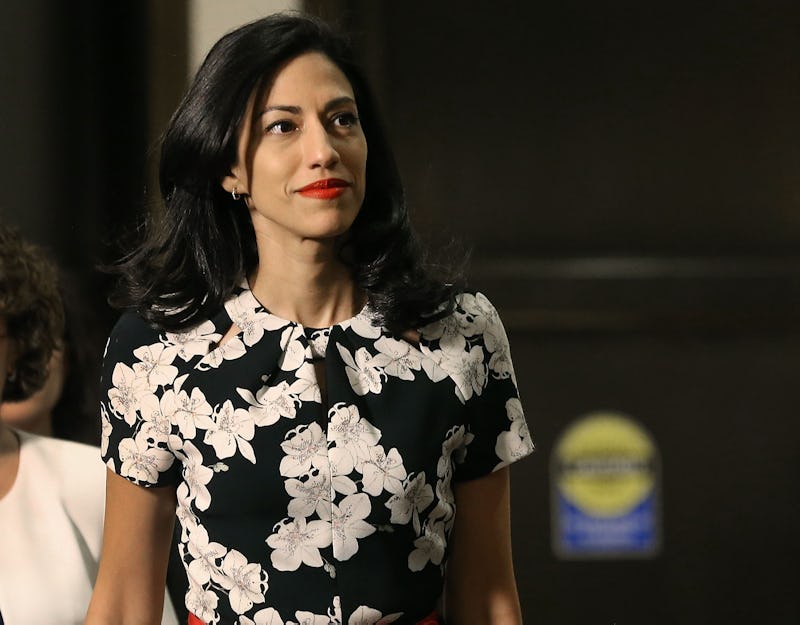 Mark Wilson/Getty Images News/Getty Images
Over the past several years, Huma Abedin has become one of the most well-known women in politics. Not only has she had to deal with the fall out of her husband Anthony Weiner's years-long, incredibly controversial infidelity, she has also been heralded as an icon to many during and after Hillary Clinton's 2016 presidential campaign. Who could forget the email Clinton sent to her aide Abedin on June 8, 2015: "Should we be bad? Should we get a creme brulee? Let's split a creme brulee." If that's not boss lady/best friend goals, we don't know what is.
And although Abedin has maintained in the past that she prefers to be a private person, it makes sense that she would eventually choose to publish a book. And now, sources say, she is ready and she knows the book will be worth big bucks... $2 million to be exact.
Reportedly, Abedin has been meeting with top literary agents during the past few weeks to discuss a book that will be a reflection on how her personal and professional lives collided during Hillary Clinton's 2016 presidential campaign. Days before the 2016 election, the FBI announced that while investigating allegedly illicit text messages from Weiner to a 15-year-old girl, it had unearthed emails related to Clinton's private server.... and many wondered whether it was this that wiped out Clinton's momentum going into the polls.
Here's hoping that Abedin will finally get a chance to step out of the shadows of her more outspoken peers, and tell her side of the story once and for all. As a successful politician and working mom, she definitely has some wisdom to impart on perseverance and feminism in the face of a male-dominated profession. We'll definitely be turning the pages with interest... and perhaps a decadent dessert on the side.