Hillary Clinton's Latest Speech Will Remind You Of Your Power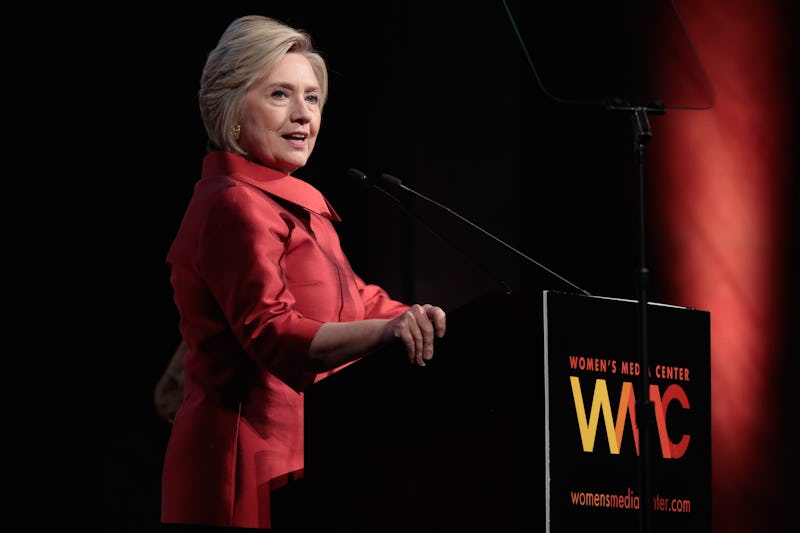 Cindy Ord/Getty Images Entertainment/Getty Images
On Thursday night at a Women's Media Center event, Hillary Clinton accepted the Wonder Woman award, the first and only one of its kind. And during her acceptance speech — which also took place on her birthday — Clinton spoke against the notion that women's equality has been achieved.
"Last year when I was pursuing the presidency, I ran into people both men and women who thought sexism and the struggle for women's equality was so over — a thing of the past, ancient history," Clinton said. "Well, what a difference a year makes."
Clinton was one of seven women honored at the WMC event, which aimed to "recognize and honor game-changers for women in media." The other women recognized were Jane Fonda, Maria Hinojosa, Ashley Judd, April Ryan, María Elena Salinas, and Gail Tifford. "By deciding who gets to talk, what creates debate, who writes, and what is made visible, media shape our understanding of who we are and what we can become," the WMC's news release announcing the honorees read.
During her speech, the former secretary of state specifically addressed women's representation in the media, both as reporter and subject. "When will the media recognize we are half of the population and when our voices are absent you are not telling the whole story and that is your responsibility?" she asked the crowd.
But Clinton spoke more broadly as to what 2017 has brought to the country, telling attendees that the past year has illustrated to those that thought the fight for equality was over that it "is just as urgent and vital as ever." Whether referring to the leadership of this country or to the men who think women are inferior, Clinton continued to push for women's rights, as she's done since that famous 1995 speech in Beijing.
In what was clearly a direct statement about President Donald Trump, Clinton said we "are in the midst of an all-out assault on truth," adding, "despite what some try to tell us, there is no such thing as an alternative fact. When leaders deny things, we can see with our own eyes — like for instance the size of a crowd at an inauguration — that is not only frustrating, that is subversive to democracy."
Clinton also went on to address harassment toward women, which has been in the national eye more than ever lately because of the public downfalls of powerful men like Harvey Weinstein and because of the #MeToo movement that developed from that. Clinton drew a connection between online harassment of these women and of difficulties, more broadly, that women face in the workplace.
When women and diverse perspectives are not equally represented, she said, "It doesn't hurt just individual women, it hurts our public discourse."
She cited several characters from recent movies that showed strong women in in power, from Wonder Woman to the recent iterations of the Star Wars movies, where Princess Leia is frequently referred to as General Leia. She praised these representations of women as powerful leaders, but said that the apparent trend is about more than "making better, more representative movies."
"It's about the need for better representation of women in all walks of life," Clinton said. "You cannot be what you cannot see, you've all heard that. I am Exhibit A of the fact that there are times when progress can feel like it's two steps forward, one step back."
As is characteristic, Clinton ended her address on a positive note.
"Thank you for refusing to grow weary or be silenced," she said, adding that she follows the news and was well-aware that many wanted her to recede into silence after the 2016 election.
"I thought to myself, 'What is it that they're so afraid of hearing?' But I don't intend to be silenced," she said. "The world has never needed your voices more — never needed the vision of fairness and equality and opportunity that the center represents."
The crowd sang "Happy Birthday" to Clinton, and she walked off the stage while P!nk's "So What" played in the background.