Hillary Clinton Responds To Warren's Silencing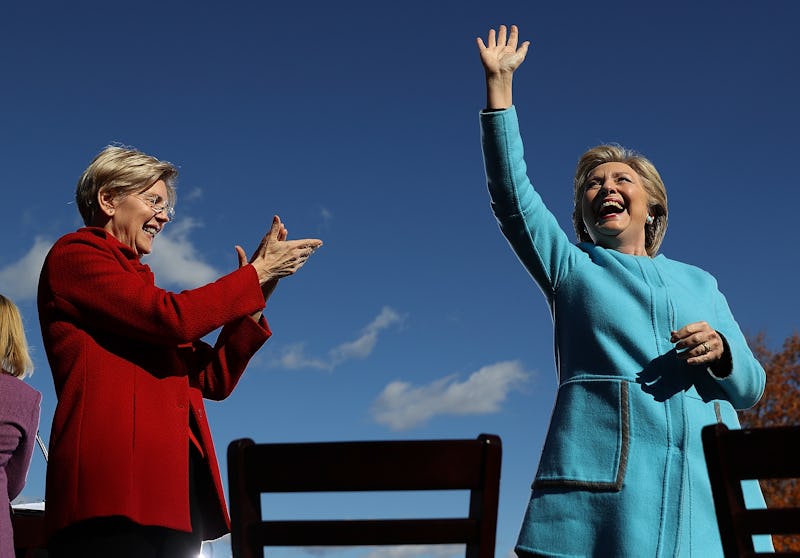 Justin Sullivan/Getty Images News/Getty Images
Hillary Clinton made a rare Twitter statement in response to Elizabeth Warren's silencing by the Senate with a short statement of support Wednesday afternoon. "'She was warned. She was given an explanation. Nevertheless, she persisted.' So must we all," read the tweet, with an attached video of the Senate proceedings from Tuesday night. Warren was forced to cede her floor time during the confirmation debate for attorney general nominee Jeff Sessions by a party-line vote that alleged she was impugning another Senator. Warren's crime: reading a 1986 letter to the Senate from Coretta Scott King that opposed Sessions' nomination for a federal judgeship.
Warren and Clinton's relationship has been an interesting one, particularly in the last several years as they have risen to be two of the most visible and influential women in American politics. Warren actually served as one of Clinton's fiercest critics during her presidential campaign, urging her to help push the Democratic party further to the left and make progressive hiring choices in the event of her presidency. "When we talk about personnel, we don't mean advisors who just pay lip service to Hillary's bold agenda, coupled with a sigh, a knowing glance, and a twiddling of thumbs until it's time for the next swing through the revolving door, serving government then going back to the very same industries they regulate," Warren said during a speech in September.
However, it's difficult to say that their ideological differences ever truly came between their support for one another. It took Warren a little longer than many Democratic lawmakers to publicly endorse Clinton, but once she did, Warren threw her full-throated support behind the presidential nominee. There's a tempting tendency to paint women as enemies, but that narrative has never truly characterized Clinton and Warren's professional relationship. While both have been courteously critical of the other, they've come together in times that mattered.
Clinton's tweet will no doubt lead to the increase of Senate Majority Leader Mitch McConnell's now infamous quote as a liberal women's rallying cry. Warren is already gathering support from all over the world, and public sentiment is turning more and more against Senate Republicans who refuse to consider the concerns of Democrats. The public resistance that sparked with Donald Trump's Electoral College win has seemingly spilled over into over areas of goverment perceived as not progresing fast enough. Warren's silencing appears destined to become a major event of this volatile and impactful portion of American history.