Hillary Clinton Responds To Las Vegas With A Message That's Already Being Called "Presidential"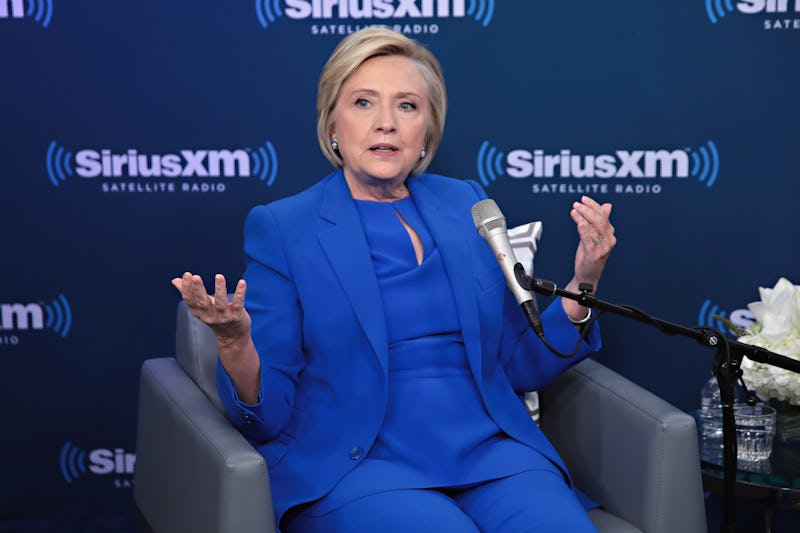 Cindy Ord/Getty Images Entertainment/Getty Images
On Monday morning, hours after the devastating Las Vegas massacre that left more than 50 dead and 200 injured in what swiftly became the deadliest mass shooting in U.S. history, Hillary Clinton paid tribute to Las Vegas victims via Twitter. "Las Vegas, we are grieving with you — the victims, those who lost loved ones, the responders, & all affected by this cold-blooded massacre," she wrote.
The 2016 presidential candidate added: "The crowd fled at the sound of gunshots. Imagine the deaths if the shooter had a silencer, which the NRA wants to make easier to get ... Our grief isn't enough. We can and must put politics aside, stand up to the NRA, and work together to try to stop this from happening again."
Clinton's sharp rebuke of current gun control policies comes in contrast to Trump's response to the Las Vegas massacre, which was short and non-sentimental. "My warmest condolences and sympathies to the victims and families of the terrible Las Vegas shooting. God bless you!" he wrote. After several incidents involving mass murder in Europe, Trump was quickly to deride the alleged perpetrators as "terrorists" — but he made no mention of the perpetrator, believed to be a 64-year-old white man from Nevada, in his comments about the shooting Monday morning.
Clinton, like Obama before her, has long been a passionate supporter of common-sense gun control policies. She and other gun control activists are using the Las Vegas massacre to call for change in access to firearms.
Some observers on Twitter are describing her message as "presidential."
You can learn how to help the Las Vegas victims here.