Hillary Clinton Tells San Juan's Mayor "We Are With You" After Trump Lashed Out At Her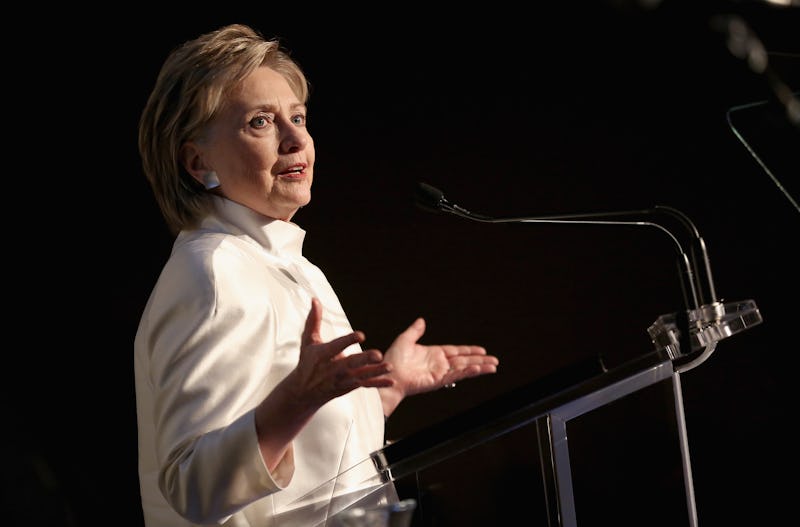 Monica Schipper/Getty Images Entertainment/Getty Images
On Saturday afternoon, President Trump doubled down on his comments against San Juan mayor Carmen Yulin Cruz. He had already lashed out against Cruz for her criticism of the slow federal aid relief for Puerto Rico after Hurricane Maria, calling her out for her "poor leadership" and Puerto Ricans for "wanting everything to be done for them." Nearly one hour after Trump's comments, former presidential candidate Hillary Clinton tweeted support for the San Juan mayor: "Don't let anyone make you feel alone," she wrote. "We are with you and Puerto Rico."
After backlash for his comments against the San Juan mayor on Saturday morning, Trump had followed up with another tweet that same afternoon. "Results of recovery efforts will speak much louder than complaints by San Juan Mayor. Doing everything we can to help great people of PR!" Trump wrote in a tweet.
Meanwhile, Clinton has also urged the president to step up humanitarian relief efforts for the devastated island that has been left without clean water, power, and fuel in the aftermath of the storm. "President Trump, Sec. Mattis, and DOD should send the Navy, including the USNS Comfort, to Puerto Rico now," Clinton wrote in a tweet on Sept. 24. "These are American citizens."
"[Trump] clearly doesn't want to talk about Puerto Rico," Clinton told MSNBC on Monday. "More than three and a half million American citizens, along with the U.S. Virgin Islands — not interested. Doesn't say a word about it. Now, FEMA is down there. I've called on him to send the Navy, particularly the naval hospital ship called U.S. Comfort — I really think that would be a big help — we don't hear a word. And we don't hear anybody high up in the administration; we don't hear from the vice president or anybody else. So he doesn't think that has any political relevance, and it's certainly not personally important."
In the hours after Trump faced scrutiny for his tweets about Cruz, multiple images have surfaced of the San Juan mayor wading in the flood waters while holding a bullhorn to find survivors and hugging Puerto Rican victims of Hurricane Maria. She responded to the president's tweet by captioning a photo, "The goal is one: saving lives. This is the time to show our 'true colors'. We cannot be distracted by anything else."
Cruz, who has slammed the federal government for providing inefficient aid, asked world leaders yesterday to supply more fresh water and food to the storm-ravaged island. Cruz wore a "Help Us We Are Dying" t-shirt during her interview with CNN and even reportedly held up two heavy binders of FEMA paperwork and dropped them onto the floor.
"I am begging you. Begging anyone that can hear us to save us from dying. ... If anybody out there is listening, we are dying, and you are killing us with the inefficiency," Cruz said at a news conference on Friday. "We are dying here, and I cannot fathom the thought that the greatest nation in the world cannot figure out logistics for a small island of 100 miles by 35 miles."
The president has tried to frame Cruz's comments as partisan (he blamed the "Fake News Media" and "the Dems" for collaborating against him on Puerto Rico recovery efforts). Many have expressed shock that in his intolerance of criticism, he has taken to making the desperate, life-threatening crisis in Puerto Rico about himself.
Many have already called the Puerto Rico crisis Trump's Katrina, in a reference to President George W. Bush's botched recovery efforts in New Orleans after Hurricane Katrina. This time, it appears that Trump has decided not to take the criticism to his relief efforts as a way to do better, but as a reason to pit himself as the victim in a crisis in which millions of people's lives are actually at stake.