Hillary Clinton Is Headlining DNC Fundraisers In These 3 Big Cities Ahead Of Midterms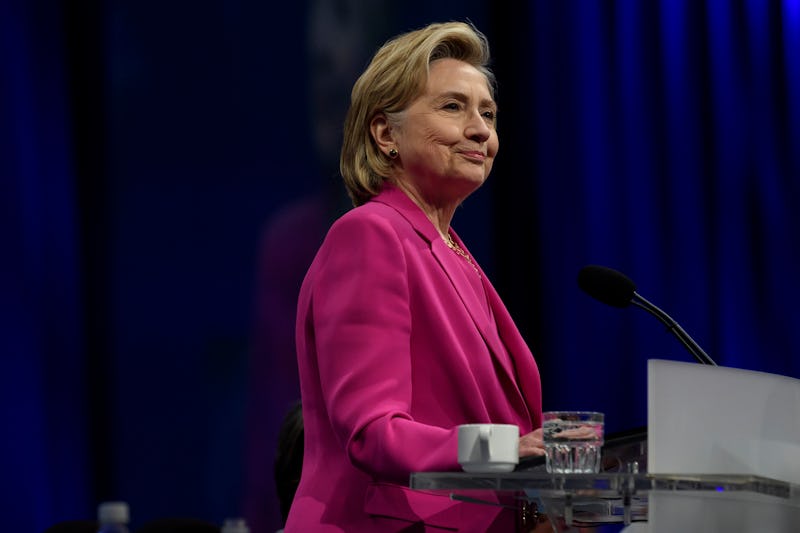 Jeff Swensen/Getty Images News/Getty Images
The 2016 Democratic presidential candidate will be stepping back into the political spotlight in the coming months. Hillary Clinton will headline DNC fundraisers in three big cities ahead of the midterm elections in November. As CNN reported, Clinton's forthcoming fundraisers constitute her most public post-election political endeavors since her 2017 book tour for What Happened. That's not to say, however, that she hasn't gotten involved in other ways over the past several months.
As NBC reported, Clinton's upcoming events for the Democratic National Committee are being characterized as "intimate dinners with discussion" and will be held in three different cities: San Francisco, Chicago, and New York. As CNN noted, Clinton's events are expected to give a boost to the DNC's fundraising ahead of midterms. So far, the DNC has raised far less than its Republican counterpart, the Republican National Committee (RNC), bringing in $117 million compared to the RNC's $227 million.
Clinton's foray into intensive Democratic fundraising is likely fueled in part by her recognition that, in order for Democrats to secure victory in the 2018 midterms, they have to put forward a very intentional electoral strategy that counters that of Republicans. Indeed, Clinton shared some of these sentiments during an interview with Bustle in May. As the former presidential candidate asserted,
I don't want to see us go backwards ... But organized interests fueled by ideology and huge amounts of money are trying to take us backwards. So I feel as strongly ... that we all have to stand up and defend our country, and most importantly, our democracy. Just as I'm working ... to try to make sure we're prepared to do everything we can in November, there are thousands of people on the other [Republican] side who are doing the same ... Even though I think the energy is on our side, we have to translate that into a very strong electoral strategy.
In addition to headlining the upcoming fundraisers for the DNC, Clinton is also reportedly planning to host fundraisers for women running for Congress in politically strategic races, as NBC News reported. CNN also revealed that Clinton's spokesperson, Nick Merrill, told the outlet earlier in August that Clinton plans to do "whatever it takes to lift up candidates and organizations who will be terrific stewards of Democratic values." However, as CNN reported, he did not provide any specific details about Clinton's forthcoming plans.
Back in May, Clinton also spoke with Bustle about the imperativeness of women's involvement in politics and of maintaining momentum as the 2018 midterms approach. She highlighted the importance of staying involved with political movements, which perhaps also indicates why she is making sure to prioritize DNC fundraising as well as reportedly support women candidates' races. As Clinton told Bustle:
We have to sustain the effort that started with the Women's March and has gone now for a year and a half with moments of real commitment ... So what I am seeing is a very concerted effort to try to keep people involved, get more people to participate, find a role for everybody. This is a time for all hands on deck.
Overall, it is clear that Clinton is not shying away from politics after the 2016 presidential race. As the November midterms draw closer, many will likely be watching carefully to see if Clinton becomes even further involved in fundraising and other means of candidate support.
Disclosure: Hillary Clinton's son-in-law Marc Mezvinsky joined Social Capital, an investor in Bustle Digital Group, in mid 2017 and joined the Board of Bustle Digital Group in early 2018.