Hillary Clinton Says She's Ready To Fight Like A Republican — EXCLUSIVE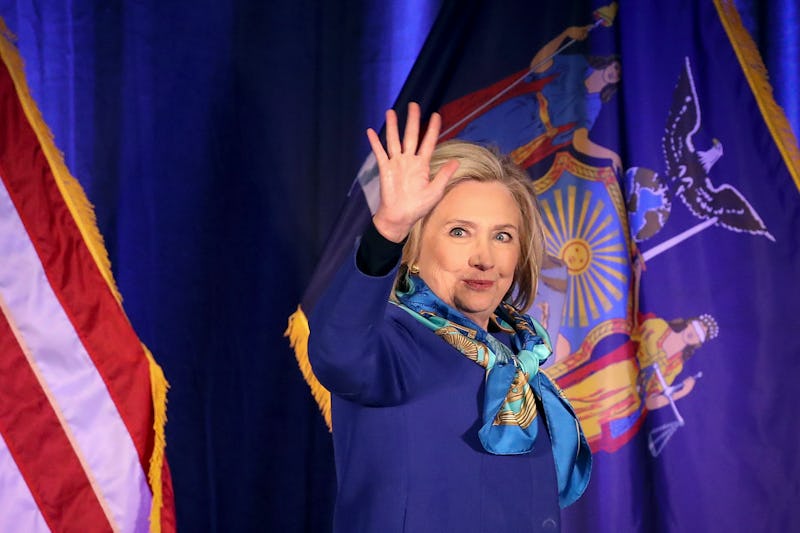 Photo by Drew Angerer/Getty Images
By
Catherine Thompson and Jenny Hollander
Hillary Clinton Is Not Going Away Quietly. Can Hillary Clinton Please Go Quietly Into The Night? Unlike Losers Before Her, Clinton Is Not Going Gently Into the Night. These headlines, which appeared in various news outlets over the course of the last year, are slight variations on a theme so well-worn by now that they all repurpose the same Dylan Thomas line. Opinion columnists on both the left and the right — and even some fellow Democrats — demanded that the first woman to be nominated for president by a major party melt into the woods, both before and after she released "What Happened," a memoir that laid out why Clinton believes she lost the election. Seven months away from the biggest election since 2016, the 2018 midterms, what's driving Hillary Clinton to keep going?
"I don't want to see us go backwards," Clinton tells Bustle. "But organized interests fueled by ideology and huge amounts of money are trying to take us backwards. So I feel as strongly today as I ever have that we all have to stand up and defend our country, and most importantly, our democracy."
The last few weeks have marked an end to Clinton lying as low as a Clinton can post-book tour: a speech at the Women in the World Summit; a speech at the PEN World Voices Festival; and on Monday, a gathering of 11 progressive organizations mentored by her political group, Onward Together. In a Manhattan conference room that would be unremarkable if it weren't for its secluded views of the East River, the group's sharp-suited co-founder, former Vermont Gov. Howard Dean, explains to an intimate crowd of some 50 founders and staffers that their meeting marks the "transfer of power from one generation to the next."
If that sounds like it has little to do with Hillary Clinton, that's deliberate.
"[Clinton and Dean are] the people who bring us together, they're the people who bring a lot of our supporters together," says Amanda Litman, co-founder of Run For Something, a partner group that recruits and supports young progressive candidates. "But it's not about them, it's not about their egos. It's about us and what we're doing for the future."
Beating Republicans At Their Own Game
Judging by Clinton's remarks to the partner groups, she still hasn't heeded the talking heads' wishes that she disappear into the suburban wilderness of Chappaqua. That's because she knows that for every person who styles themselves as a member of the so-called resistance, there's a fiercely passionate partisan doubling down on the other side of the aisle.
"Just as I'm working here today to try to make sure we're prepared to do everything we can in November, there are thousands of people on the other side who are doing the same," Clinton tells Bustle. "And they're good [at what they do]. You've got to make the comparison that they are so determined to try to keep this administration in power, to keep a Republican Congress. Even though I think the energy is on our side, we have to translate that into a very strong electoral strategy."
"I don't think we can take one election anywhere for granted."
The idea behind getting those 11 disparate groups together in one room was to get them to collaborate and work strategically ahead of the elections — making sure that "one hand knows what the other hand is doing," as Dean puts it.
"We're all often competing for similar resources, and also want to work together," Litman says.
Clinton, addressing the room with a flame-colored scarf tied over her shoulders, says that progressive and Democratic donors have a tendency to "fall in love" with individual candidates rather than investing in organizations, noting that Republicans don't play the game that way.
"[Republicans] invest in organizations, they build up those groups. They then pick candidates who will listen to, be influenced by and basically follow the groups that have been set up," she says. "I watched this happen for decades and I find it really frustrating."
Onward Together gave $1.1 million in grants in its first year. Its partner organizations include groups that existed before the 2016 election, like Emerge America, which recruits and trains Democratic women, as well as groups that formed in reaction to the election of Donald Trump, like Run For Something and Indivisible, which made waves last year by sending progressive activists to Republicans' town halls.
Despite the air of optimism crackling in the conference room, Clinton's warning for Democrats expecting a midterm wave was clear: "I don't think we can take one election anywhere for granted," she says.
The organizations she's mentoring aren't taking it for granted, either. "There's a narrative forming around this imminent wave," says Cristóbal Alex, president of Latino Victory. "But we feel strongly that demography is not destiny. If we want to make the change, we have to be the change."
A Cybersecurity Lesson From Team "But Her Emails"
Team Clinton appears to have taken away one important, if ironic, lesson from the last election: cybersecurity is as key to a campaign as fundraising.
"We had a whole presentation on how to guard against [cyberattacks], whether it's phishing or other threats," says Andrea Dew Steele, president of Emerge America. "She's trying to take what she's learned and bring that into our realm, which I'm so grateful for."
"If there ever was a room of people who have a reason to take [cybersecurity] seriously, that's us."
Russian hackers successfully stole emails from Clinton's campaign chairman, John Podesta, in March 2016 via a phishing attack. WikiLeaks then released emails stolen from Podesta, "drip drip drip"-style, from the day that Trump's infamous "grab them by the p***y" tape dropped in October 2017 right up to the election. Clinton compared that steady stream of email dumps to "Chinese water torture" in her book.
All the talk of dealing with denial-of-service attacks and malware was apparently cut with a bit of gallows humor.
"If there ever was a room of people who have a reason to take that seriously, that's us," says Ravi Gupta, co-founder of The Arena. "So there was the weight of it all — there was some levity to it, but I think the levity was masking an extreme level of concentration from folks there to get this right this time." He adds: "You could hear a pin drop in that room."
Continued Questions About Clinton's Fundraising
As with virtually anything Clinton does, Onward Together has drawn criticism from many corners. Conservative media and campaign finance reform advocates dinged the group when it was first announced because, like Bernie Sanders' Our Revolution and Barack Obama's Organizing for Action before it, Onward Together is a 501(c)4 nonprofit group that isn't required to disclose its donors.
Asked to respond to that criticism, Dean says, "I don't think there's anything dark about Hillary's money, first of all. And second of all, if you're holding Hillary Clinton to the same standards as the Koch brothers, I think Hillary Clinton comes out on top every time."
The Intercept also reported last week that the Democratic National Committee and the Democratic Congressional Campaign Committee were paying more than $2 million combined to rent the email list from Clinton's 2016 campaign. Clinton spokesman Nick Merrill argues that the campaign has given more resources to the DNC than any other candidate for President in history, "from data to tools the campaign developed to emails."
"If you're holding Hillary Clinton to the same standards as the Koch brothers, I think Hillary Clinton comes out on top every time."
"This was a priority for Secretary Clinton, who feels very strongly that we need a unified party that has centralized resources for candidates to use," Merrill says. "The DNC purchased the list for their unlimited use at a discount, and has made back far more than they paid with the return on that investment. This is similar to other past arrangements, and we rent this list to other groups as well."
That was followed by headlines about a Seattle man who filed a complaint after he was unable to cancel a recurring $10.48 donation to the group. Merrill says the group has since cancelled the man's donation, apologized to him and taken steps to make its donations easier to manage online.
Uncovering The First Madam President
Dew Steele worked to elect Carol Moseley Braun as the first African-American woman in the Senate in 1992. At the time, '92 was known as the "Year of the Woman" because 24 new female candidates were elected to Congress, the most in the history of the nation at that time. Given that 309 women have filed to run for the U.S. House alone, 2018 could very well steal that moniker. This year feels different to Steele, because organizations like Emerge have already built up a structure that she says can perfectly harness the energy of the #MeToo and anti-Trump movements.
"This is a time for all hands on deck."
"Now, we have the infrastructure to support this huge wave," Steele says. "Now, when a woman is interested, we can take her in. We can help her with the tools. We can help move her along into filing papers, into running."
Onward Together is pouring its efforts not only into organizations that help train and recruit women for office, but into the next class of female leaders in politics. All of the organizations that Clinton has taken under her wing are led or co-founded by women. Litman notes that as a female co-founder, she sometimes gets negative feedback about "not what I'm saying, but how I'm saying it or how I look saying it." She says that Clinton has given her the blueprint for how to respond in those situations.
"The next woman president — there's going to be so many challenges, but there are ones that now we have a model for how to handle it," she says. "Or how not to handle it in some cases."
The gathering on the edge of Manhattan was like a homecoming for those participants who'd worked on Clinton's campaign, but there was something like an electric current running between the catch-ups and introductions, too. For the groups that Onward Together corralled, organizing a winning strategy for November is just part of the battle; they have to keep their own members engaged beyond then to win the war.
"We have to sustain the effort that started with the Women's March and has gone now for a year and a half with moments of real commitment," Clinton tells Bustle. "So what I am seeing is a very concerted effort to try to keep people involved, get more people to participate, find a role for everybody. This is a time for all hands on deck."
Disclosure: Hillary Clinton's son-in-law, Marc Mezvinsky, is on the board of Bustle Digital Group.