Hillary Clinton Ripped Into Trump For Separating Families & She Held Nothing Back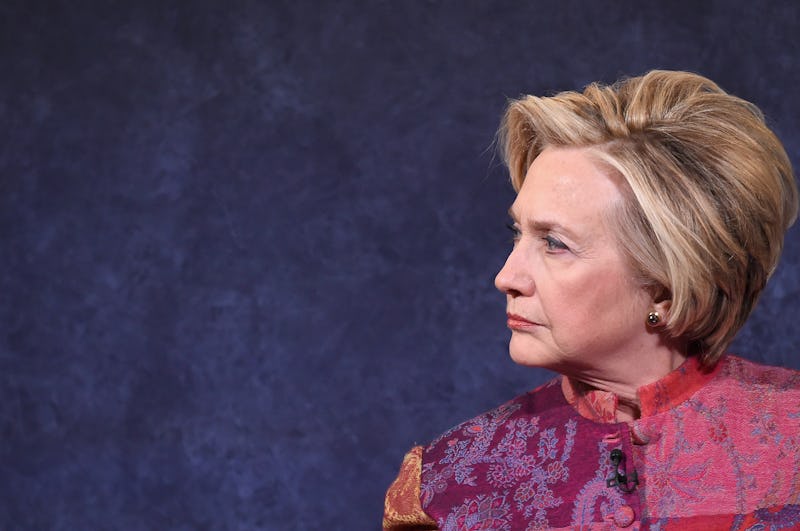 Jamie McCarthy/Getty Images Entertainment/Getty Images
Although Hillary Clinton may not be President Donald Trump's rival in an official sense, the former Democratic presidential nominee hasn't stopped voicing her objection to his policies. While speaking to the Guardian recently, Clinton levied scathing criticism of Trump's family separation policy, calling it "unimaginably cruel."
"Who thinks like that? Who does these things?" Clinton told The Guardian's Decca Aitkenhead in reference to the Trump administration detaining migrant children ages 12 and under — away from their parents — in so-called "tender age" facilities. "How can anybody look in the mirror? How can they actually live with themselves?"
Clinton said she'd recently helped to raised more than $1.5 million, which she plans to use to bring lawyers, interpreters, psychologists, and experienced social workers to help migrant children at the border. "We just have to get as much expertise down there to force the federal government to give us everything," she said.
According to Clinton, Trump had aimed to use his policy of separating migrant families at the border and detaining children as leverage to garner funding for the border wall he promised supporters he'd build along the U.S.-Mexico border. "He is playing to his base," Clinton said, adding that Trump's proposed border wall perfectly exemplified the anti-immigration rhetoric that had won him his base to begin with. She goes on to argue that because the wall is now "more of a symbol than a real plan," Trump feels he has to do "whatever he can" to get it built and satisfy his base.
"He has gone so far in that direction that he does things which are truly unimaginably cruel and unrelated to the outcome," she said. "I mean, you do not have to take children away from their parents to negotiate to get what you want on the wall."
Earlier this month, President Trump appeared to suggest that he would not end his administration's policy of separating families at the border unless Congress approved all of his immigration demands. "The Democrats are forcing the breakup of families at the Border with their horrible and cruel legislative agenda," Trump tweeted June 15. "Any Immigration Bill MUST HAVE full funding for the Wall, end Catch & Release, Visa Lottery and Chain, and go to Merit Based Immigration."
But Clinton argued that rather than try to leverage the plight of child migrants to get funding for his wall, Trump should have stuck to a tried and true method of collaboration — compromise.
"There are enough different strands in the immigration debate that he could give a little somewhere and try to get [something] in return, like you do in a democracy, in a political legislative process," she said, arguing that Trump has adopted what she called all-or-nothing positions. "But he has chosen instead to be very oppositional to anyone who criticizes him, to be very intimidating to everyone in his own party by threatening to unleash his base against them."
Amid mounting criticism and outrage, President Trump did eventually sign an executive order to end his administration's policy of separating families at the border. Under the executive order, families apprehended illegally entering the country will now be detained at detention centers together.
"Even for him, the optics were terrible," Clinton said. But she doesn't believe Trump's executive order brought an end to the problem his family-separation policy created.
"The question of how we reunite the children who were taken from the parents is the one that's keeping me up at night," she told the Guardian. "I'm worried that some children will not be reunited."
The more than $1.5 million that Clinton said she raised over the past few weeks will be spread evenly across 10 organizations fighting to protect the families separated as a result of Trump's "zero-tolerance" immigration policies.
But Clinton doesn't appear quite ready to claim that tearing children away from their parents is the lowest the Trump administration can sink. "I think a lot of us keep waiting for the bottom — and it just seems to be bottomless," she said.
Disclosure: Hillary Clinton's son-in-law Marc Mezvinsky joined Social Capital, an investor in Bustle Digital Group, in mid 2017 and joined the Board of Bustle Digital Group in early 2018.