Hillary Clinton Just Clarified Her Immigration Stance In A Detailed Twitter Thread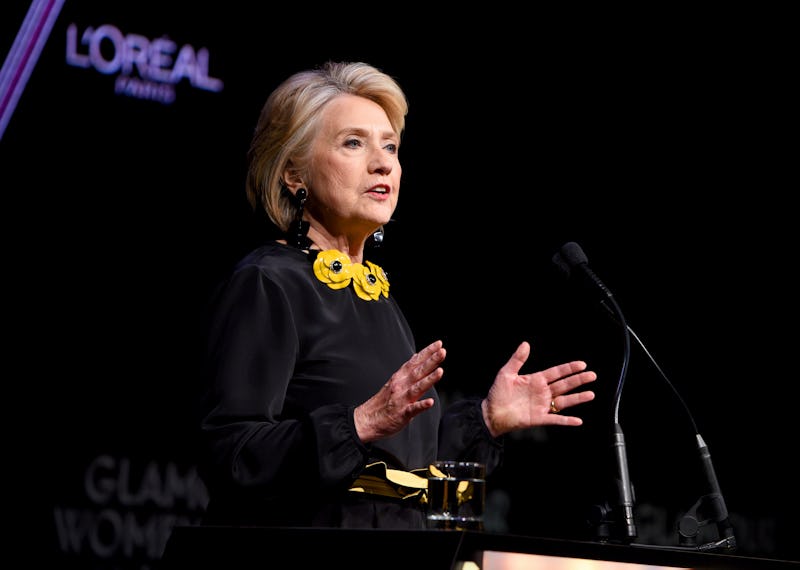 Bryan Bedder/Getty Images Entertainment/Getty Images
On Friday, Hillary Clinton sent a series of tweets about immigration policy, urging policymakers to pass laws that are "enforced with fairness and respect for human rights." Clinton's immigration reform tweets call out President Trump for "cruel abuses at the border," and refer to Trump's family separation policy as "one of the most shameful moments in our history."
"I have always been and remain a staunch advocate of comprehensive immigration reform that's true to our values and treats every person with dignity, provides a pathway to full and equal citizenship," Clinton wrote in the first of several tweets, "and brings millions of hardworking people into the formal economy, fixes the family visa backlog, upholds the rule of law, and protects our borders and national security."
Clinton also accused the Republican Party of using the issue to "divide the country," and specifically criticized Trump for his immigration policies.
"Trump has made it worse with cruel abuses at the border, detaining children and separating them from their families," Clinton wrote. "It's one of the most shameful moments in our history."
Clinton's tweets come a day after she drew criticism for saying in an interview with the Guardian that Europe "needs to get a handle on migration," arguing that its inability to do so is "what lit the flame" of right-wing populism in the region.
"I think it is fair to say Europe has done its part, and must send a very clear message — 'we are not going to be able to continue provide refuge and support' — because if we don't deal with the migration issue it will continue to roil the body politic," Clinton said in the interview.
Many on the left denounced her for this position, arguing that it was tantamount to accepting the conservative arguments against immigration. Splinter News said Clinton position was a "truly horrible take" and noted that many migrants are "people fleeing for their lives," while the Guardian's own Nesrine Malik said her comments represented "a capitulation of laziness, defeatism and gullibility" that "gives the far-right a free pass" on its nativist rhetoric.
"I was kind of shocked," Eskinder Negash, the president and chief executive of the U.S. Committee for Refugees and Immigrants, told the New York Times after Clinton's initial comments. "If she's simply saying you need to cut down on refugees coming to Europe to ask for asylum because they have a well-founded fear of persecution, just to appease some right-wing political leaders, it's just not the right thing to do."
Clinton referred to that interview in her Friday tweets, and stressed that she still supports a compassionate approach to immigration.
"In a recent interview, I talked about how Europe must reject right-wing nationalism and authoritarianism, including by addressing migration with courage and compassion," Clinton wrote. "On both sides of the Atlantic, we need reform. Not open borders, but immigration laws enforced with fairness and respect for human rights. We can't let fear or bias force us to give up the values that have made our democracies both great and good."