The Internet Went Crazy For Hillary Clinton's Leather Jacket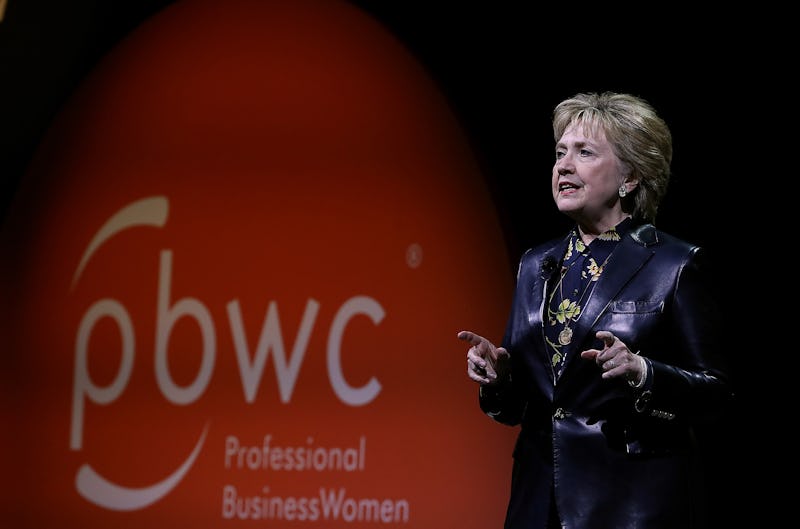 Justin Sullivan/Getty Images News/Getty Images
During her campaign to be President of the United States, Hillary Clinton favored simple, elegant pantsuits that looked powerful, but weren't too threatening to people (read: men). Those days are over. Tuesday, Hillary Clinton wore a leather jacket while giving a speech at an event for the Professional Business Women of California — and her outfit choice was the epitome of a power suit.
Clinton wore a leather blazer with a floral shirt underneath while presenting in San Francisco, ditching her conventional, campaign attire. I honestly could not be happier to see Clinton stepping out of her carefully crafted comfort zone and having some fun with fashion — and let's face it, she doesn't have anything to lose at this point. Perhaps this is the real Hillary Clinton? And if so, I like it.
This leather jacket/floral shirt combo comes after Clinton cut her hair, leaving behind her signature bob from the campaign, instead opting for a shorter cut with bangs. These recent changes make it seem like Clinton wasn't 100 percent herself all of these years since she was always trying to please the public, so I'm very happy to see her expressing her true self.
Clinton's style has always been great, like the time she wore a black and purple suit while giving her concession speech. Surely, it was a sad moment, but she looks chic and powerful.
What about the time she wore an all white pantsuit to Donald Trump's inauguration to represent the women's suffrage movement? A visual FU, if you will.
Or her bright blue suit for the Democratic National Convention. Perfection.
Clinton is definitely a fan of colorblocking, like her black and coral look below.
I hope I can dress like her when I'm a real adult. And Twitter seems to agree with me — Hillary Clinton looks good.
She looks so happy.
She means business.
How long will it be before someone makes a comic book about this?
Clinton has received a lot of criticism for her appearance in the past, so I'm glad we can all agree that she rocked this leather blazer.
She nailed it.
One of the best ways to bounce back, in my opinion.
The internet is a wonderful place.
So rock on, Hillary. We will support you.