How Hillary Clinton Is Helping To "Lift Up" Democratic Leaders Ahead Of Midterms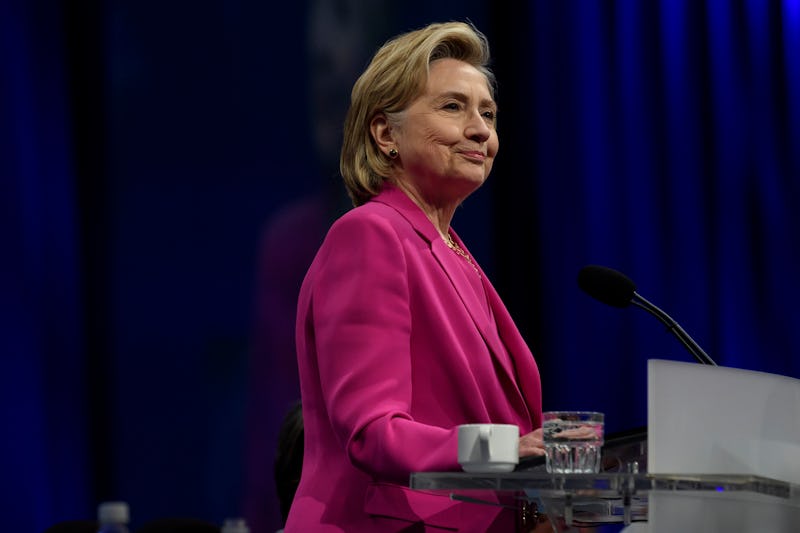 Jeff Swensen/Getty Images News/Getty Images
The upcoming November elections could have far-reaching effects for the future of the United States. And because Hillary Clinton's Onward Together organization wants the 2018 midterms to be particularly successful for Democratic candidates across the country, it's getting involved in several campaigns.
CNN reported on Monday that Clinton's organization donated funds to 19 different Democratic House candidates back in June. Each candidate received the maximum campaign contribution of $5,000. As the outlet noted, 11 of these candidates are seeking to flip their legislative districts, trying to oust current Republican members of Congress.
Nick Merrill, a Clinton spokesperson, told CNN that Onward Together is very much focused on supporting candidates and strengthening the Democratic party. As Merrill described to the outlet,
All along the goal has been singular. Do whatever it takes to lift up candidates and organizations who will be terrific stewards of Democratic values ... That's what we have done with our partner organizations at OT, and it's what our objective is when it comes to supporting individual candidates. There has never been a more important midterm election, and Secretary Clinton is going to do her part to lift up the next generation of leaders.
The Washington Free Beacon reported that some of the candidates who received the aforementioned donations from Onward Together include Katie Porter in California's 45th district, Susan Wild in Pennsylvania's seventh district, Jennifer Wexton in Virginia's tenth district, and Scott Wallace in Pennsylvania's first district. Author Joe Schoffstall referred to the races in which these candidates are running as "toss up" elections, likely meaning there is no strongly favored candidate.
Moreover, the Washington Free Beacon also noted that Onward Together donated funds to the Congressional Hispanic Caucus' BOLD PAC and to the Congressional Black Caucus' PAC. CNN also reported that the organization donated the maximum $5,000 to each of four different secretary of state candidates across the country.
Onward Together, which hopes to advance progressive values through electoral work, was established following Clinton's defeat in the 2016 presidential election. Bustle spoke with Clinton this spring at a summit for the group, where she expressed frustration that over time, Republicans have invested in strong organizations that force individual candidates to toe their line, rather than the other way around.
"Just as I'm working here today to try to make sure we're prepared to do everything we can in November, there are thousands of people on the other side who are doing the same," Clinton told Bustle. "And they're good [at what they do]. You've got to make the comparison that they are so determined to try to keep this administration in power, to keep a Republican Congress. Even though I think the energy is on our side, we have to translate that into a very strong electoral strategy."
The programmatic section of Onward Together's website expounds on its work, lending further insight into how the organization seeks to achieve its aims. It notes that it focuses on supporting established leaders and groups in a variety of ways. Methods of support include financial donations, mentorship and leadership guidance, building supporter bases, and creating publicity and recognition for partners.
As CNN noted, the donations from Clinton's organization reflect the most concerted involvement she has had in midterm election campaigns thus far. The former presidential candidate has strategically not engaged in much public campaigning on behalf of other candidates out of concern that her involvement may have an influence on voters' decisions to support certain candidates, especially in potential swing districts.
Despite her lack of visibility on the campaign trial, however, Onward Together's campaign donations certainly indicate that Clinton very much acknowledges the significance of the midterms — and wants to help ensure Democratic victories.
Disclosure: Hillary Clinton's son-in-law, Marc Mezvinsky, is on the board of Bustle Digital Group.