Hillary Clinton Celebrated The Midterm Wins That Came Out Of The "Heartbreak Of 2016"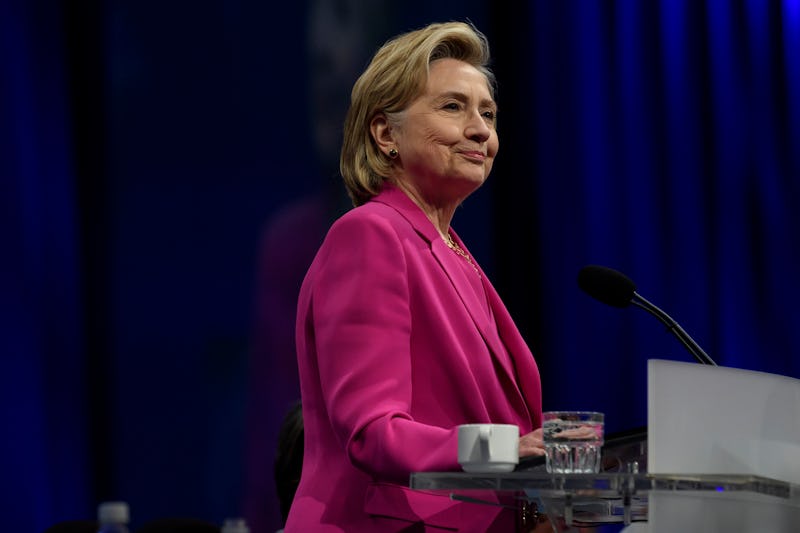 Jeff Swensen/Getty Images News/Getty Images
One of the most highly-anticipated election seasons ever is finally over and the country is reeling. A cacophony of voices is rising to process the event, including that of the 2016 presidential hopeful whose stunning loss is partially responsible for this election's energy. Hillary Clinton's response to the 2018 midterm results pointed out specific inspiring races and spoke to her optimism after 2016.
In a series of tweets early Wednesday afternoon, Clinton wrote:
None of these victories would have been possible if people had simply given up after the heartbreak of 2016. They belong to all the volunteers and candidates who worked impossible hours, logged hundreds of miles, and knocked on countless doors.
Win or lose, what you've built will continue long after last night.
Our work is far from over. As we celebrate our wins, let's be clear about what's ahead. This is a crucial step in a long road to repairing our democracy. It'll take all of us to do it. What a start this is.
She celebrated the many Democratic victories from the night, including the fact that a record number of women have been elected to the House of Representatives and to Congress overall. As of Wednesday morning, CNN projected that at least 35 women will be joining the House, which — together with 65 incumbents — means that there will be at least 100 women serving in the chamber. The Washington Post reports that the House's previous record was 84. Thirteen female senators won, plus 10 incumbents, per NPR. It looks like women will soon make up 23 percent of both chambers.
Clinton also brought up many specific women who achieved particularly notable feats on Tuesday. She mentioned Alexandria Ocasio-Cortez and Abby Finkenauer, who — at 29 years old — are both the youngest women to have ever been elected to Congress. She also brought up Connecticut's Jahana Hayes and Massachusetts' Ayanna Pressley, who are both their state's first black female representatives.
"These historic firsts are important not just because representation matters (and it does)," Clinton wrote, "but because these extraordinary women will bring perspectives that have been absent from our policy debates for far too long."
Although she hasn't been nearly as heavily involved in politics lately as she once was, Clinton did participate in the midterms. Working through her new liberal nonprofit Onward Together, she donated $5,000 (the maximum amount allowed) to four secretary of state candidates and 19 House candidates in June. One recipient was Deb Haaland, the woman who won her race in New Mexico on Tuesday to become the first Native American congresswoman ever, along with Sharice Davids in Kansas. Clinton also gave some speeches around the country.
"All along the goal has been singular," Clinton's spokesperson told CNN on the subject of her donations. "Do whatever it takes to lift up candidates and organizations who will be terrific stewards of Democratic values. ... There has never been a more important midterm election, and Sec. Clinton is going to do her part to lift up the next generation of leaders."