Hillary Clinton's "Thank You" Card Segment On 'Jimmy Fallon' Will Give You All The Feels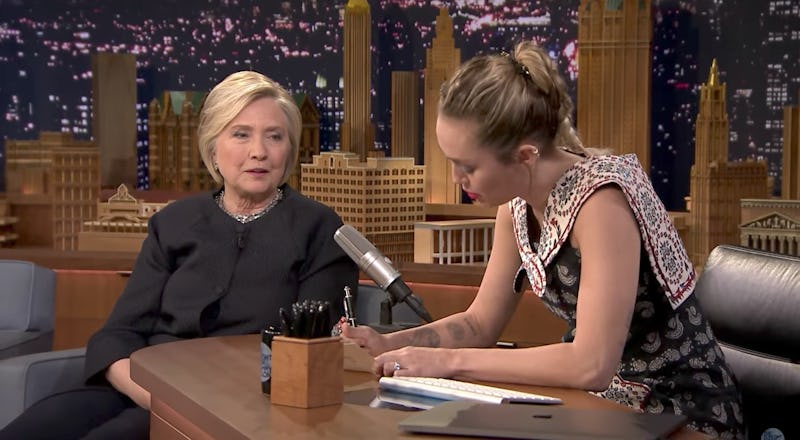 The Tonight Show with Jimmy Fallon/NBC
Jimmy Fallon's "Thank You Notes" segment on The Tonight Show had a special twist Wednesday night. Fallon normally writes and reads the notes himself, but this time handed the pen to The Tonight Show's female writers who thanked Hillary Clinton. The former secretary of state seemed both surprised and delighted when female writers and guest performer Miley Cyrus each came to the desk to express their gratitude in a way that was both heartfelt and comedic.
Scored by the familiar, reflective piano theme, each of the seven female writers penned notes about Clinton's achievements as a woman in politics and overcoming adversity. As one writer wrote:
Thank you, Hillary, for always sticking to the issues, even as people criticized you for superficial things like your hair, you wardrobe, and your appearance. You showed girls everywhere that politics isn't a popularity contest. Because if it were, you would have won by about three million votes.
Cyrus came as a surprise at the end. Becoming visibly emotional during her thank you note, the pop star finally asked in the end if she could just get a hug from former presidential candidate — and Clinton appeared more than happy to give her a hug.
One staff writer thanked Clinton for paving the way for female leaders by being the first woman in various top roles, including first female candidate to run in a presidential election from a major American party. Other writers thanked Clinton for handling her defeat with grace, advocating for public healthcare, and standing up to sexist critics. One writer snagged an on-stage selfie with Clinton, and Cyrus called the former secretary of state both a role model for young women and "voice of reason in uncertain times."
Touched after receiving all her warming and amusing thank you notes, Clinton asked if she could write a note herself. Addressed to the singer, The Tonight Show female writers, and to women and girls everywhere:
You are smart, strong, and deserving of every opportunity. Together, we made our voices heard, we've done great things, and we've come a long way. But as Miley would say, "We can't stop and we won't stop."
The sentimental segment wasn't the only reason why Clinton appeared on The Tonight Show. The politician dropped by for an interview with Fallon to promote her new book and third memoir, What Happened, which was released on September 12th. In her book, the author details her thoughts on the 2016 election and what went wrong in her bid for presidency.
Clinton also commented on the crises devastating the country, including the deadly Las Vegas mass shooting that occurred on Sunday and the massively destructive impact Hurricane Maria made on Puerto Rico. On Sunday from the 32nd floor of the Mandalay Bay Resort and Casino, gunman Stephen Paddock opened rapid fire on a nearby country music festival, killing 58 people before killing himself. Mass shootings aren't a new phenomenon in the United States. This recent one has reignited the national debate on gun control and thrust in the spotlight a House bill that would make it easier for people to purchase gun silencers. The National Rifle Association, NRA, which donates money to members of Congress, remains silent on the tragedy.
(Note: Politifact has determined based on their research that gun silencers would not have worsened the Las Vegas mass shooting.)
At the same time, Puerto Ricans are still struggling to recover from Hurricane Maria. In her interview with Fallon, Clinton criticized Trump's delayed response to the disaster that struck U.S. territory Puerto Rico, where at least 34 people have died and 95 percent of the island is still without power. Arriving two weeks in Puerto Rico after the hurricane hit, Trump tossed paper towels into a crowd and said Puerto Rico's situation was throwing the U.S. budget "out of whack." Clinton's not one to lie in defeat, so we can expect to hear more from her on Trump's leadership performance and current events affecting the United States.