Hinge Is Hiring An Anti-Retention Specialist To Get Users Off The App & Dating IRL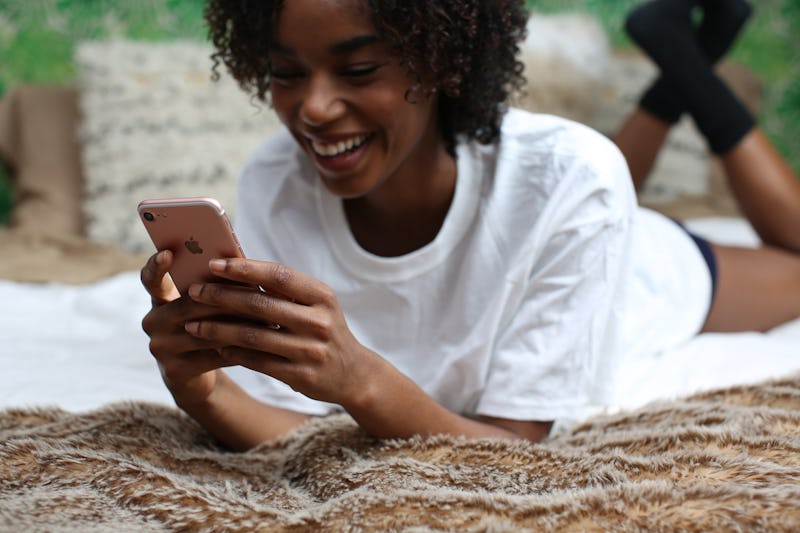 Ashley Batz/Bustle
Typically, you hear about companies trying to keep their customers. They're trying to protect themselves against their competition, get the customers hooked, and keep having the same loyal following for life. It's all about retention — or at least, it usually is. But now Hinge, the relationship app, is hiring an Anti-Retention Specialist. That's right, an anti-retention specialist — in other words, they're looking for someone to get users off of their dating app. It might sound wild but, when you think about it, it's actually exactly what a dating app should be doing: getting people off the app and into relationships. They're hiring someone to help turn more first dates into second dates, into relationships, into deleting the app altogether and never needing it again.
"We've always been focused on finding new and effective ways to get our members out on great, meaningful dates," Hinge's Director of Communications, Jean-Marie McGrath, tells Bustle. "In our eyes, the less time people spend on the app, the better. As we continue to grow, we're excited to double down on this commitment by hiring an Anti-Retention Specialist who can not only bring years of professional and academic experience, but can also enhance our members' offline experiences."
And when you take a look at the job requirements and objectives on the Hinge website, it makes even more sense. The job requirements include ensuring that at least half of all first dates lead to second dates and to increase "good churn". No, "good churn" is not a delicious type of butter like I hoped it would be. It refers to the fact that 54 percent of people who delete the app currently delete it because they meet someone on Hinge — and Hinge wants to take that number to 80 percent.
"Over the last few years, so many dating apps have become like games—making it easy for people to get trapped in an endless pattern of 'hot or not' swiping.," McGrath says. "That's why, in 2016, we decided to 'ditch the swipe'. Now, our members connect through deep profiles and liking or commenting on a specific photo or a personality-revealing question. The switch has encouraged far more authentic and vulnerable connections among our members and, ultimately, increased the number of dates."
If you're not familiar with Hinge, it's a dating app turned non-swiping relationship app that centers around meeting someone through mutual friends — to make the whole situation a little less scary and a little more comforting. "It's great to see that you have mutual friends in common (on a dating app) because it automatically creates a sense of comfort and trust," Tina Wie, COO of the Three Day Rule, tells Bustle. "The stronger your mutual friend connection (i.e., first-degree over third-degree) and the context in which you know them (i.e., they went to business school with your high school buddy or used to work with your college bestie), the more likely you'll feel that the person you connected with is a normal, interesting person. You'll also have something in common to talk about instantly when you're first communicating, which is nice." So it's definitely a good option if you're tired of swiping, looking for a relationship, and interested in meeting your friends' friends.
Interested in the role? You'll need a Ph.D. in sociology (or another related field) and a ton of experience synthesizing data, plus some killer communication skills and a love for online dating. And if that sounds like your jam, you may want to apply for Hinge's Anti-Retention Specialist job — and the rest of us can reap the benefits.