All The Reasons Eureka O'Hara Will Totally Win 'RuPaul's Drag Race'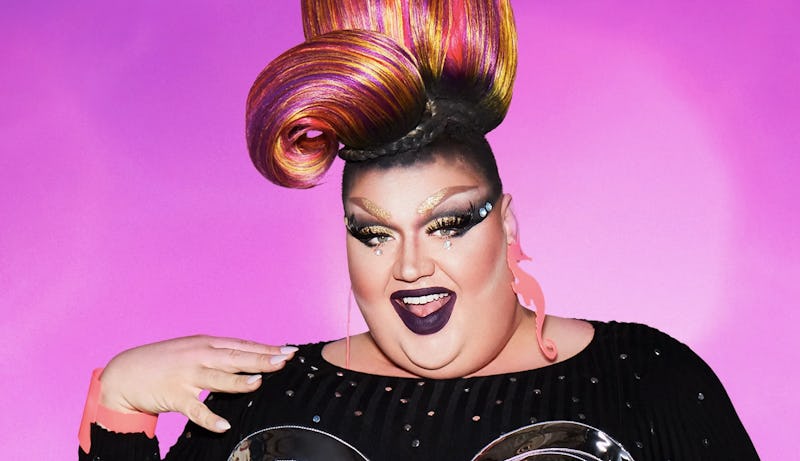 VH1
After winning two maxi-challenges in a row on Season 10, Eureka O'Hara could totally win RuPaul's Drag Race. Despite the injury that ejected her from Season 9 and the trauma associated with it that nearly stole her shine at the beginning of this season, she is rising to the to top. And, she is not looking back.
She may have struggled to find confidence in her drag in the beginning, but fans knew what she was capable of all along. After all, why would Ru bring her back if he didn't think she had potential?
It is true that she gave him a scare at first, after she struggled through the "PharmaRusical" lip-sync in Episode 2, which landed her in the bottom where she was up for elimination. The judges saw her potential, though, and gave her a pep talk in an effort to help her escape from her own demons — she said she had PTSD from tearing her ACL after attempting a cheerleader-style split in Season 9. When the judges asked her what happened to set her back so much that week, she gave them a tearful response.
"I didn't realize that I was still so emotional over what had happened to me," she told them. "Coming back kind of freaked me out."
Sadly, she was forced to lip-sync for her life against her fellow "big girl sister," Kalorie Karbdashian Williams, and that's when the old Eureka came back to life. She won the lip-sync battle and was deemed safe.
From that point on, she cruised through the competition to Episode 5 safely. And in that episode, it's possible that The Vixen began to realize what competition Eureka was, and attempted to sabotage her performance by pairing her up with Aquaria for the improv-style maxi-challenge.
"I wouldn't wish Eureka or Aquaria on anybody. They're both two big babies, so I hope they suffer," The Vixen said on the show. Ouch. I guess when she held up a sign to the camera in Episode 2 that read, "THE VIXEN WILL FIGHT YOU," she wasn't kidding.
Thankfully for Eureka, The Vixen's attempt to undermine her improv performance, themed, "Look At Me, I'm A Sexy Baby!" was unsuccessful. In fact, it rendered the opposite result. Eureka and her big baby persona outshined them all, and her denim and diamonds-inspired runway look was the cherry on top that made her winner of the maxi-challenge.
A newfound confidence came over Eureka as she claimed her win, and it was quite obvious that the other queens were in shock — it seemed as though they had forgotten that, tainted by injury or not, she is an experienced queen. She's done this all before, you know?
Eureka has also earned her ranks without bringing anyone else down, which isn't always the case on Drag Race. As the season goes on, she continues to face comments from fellow queens that degrade her boisterous presence as annoying and over-the-top, but a few of them are beginning to notice that she really knows what she's doing.
In Thursday night's episode, Ru challenged the queens to a DragCon-themed panel discussion, allowing the group to organize themselves into teams of three. The scene was reminiscent of elementary schoolers choosing partners in science class, and the misfit queens, Monét X Change, who has been in the bottom twice, and Kameron Michaels, the self-proclaimed quiet one, were taken under Eureka's wing.
While the other queens stood around and giggled at them with false pity, Eureka stayed focused and led her team in strategizing for the challenge. "I [expletive] like working with Eureka, she's fierce," Monét said on the show. "I think those other hoes are the problem, really."
Whether or not Monét is right, Eureka proved her other competitors wrong once again. After moderating her team's DragCon panel with grace and winning the hearts of a live audience, she won her second maxi-challenge in a row. She's proven she has the humor and the looks to nab any challenge victory. She's no one trick pony. That's why the other queens better watch out, because Eureka is picking up speed in this Drag Race — and she could go all the way.