'Drag Race' Star Kalorie Karbdashian Has A Sweet Message for Kim Kardashian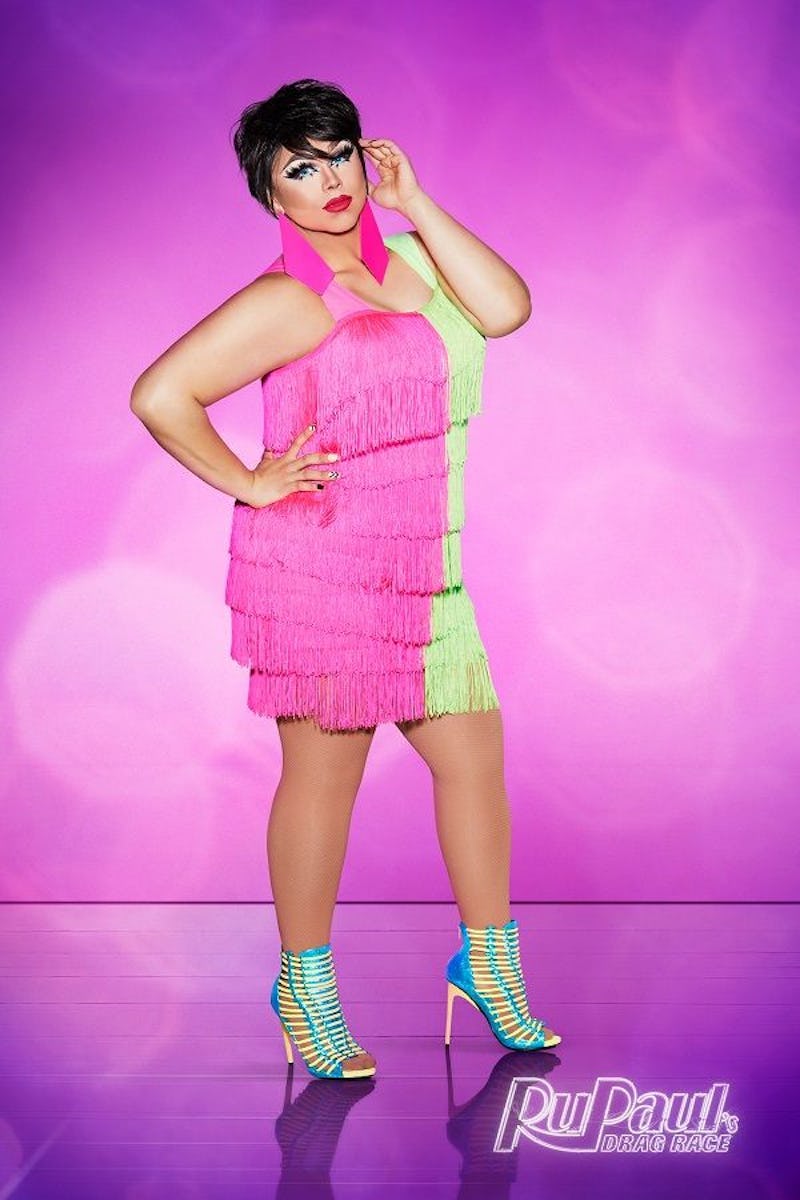 VH1
With another week passing by in RuPaul's Drag Race Season 10, yet another queen sadly has had to sashay away. In Episode 2, it was Kalorie Karbdashian-Williams. But, her name inspiration will keep her in people's minds for a long time. In fact, in an interview with Bustle, Drag Race star Kalorie has message for Kim Kardashian, "Thank you for always being [you] and not caring what other people think."
Despite Kalorie's name being inspired by Kim and the rest of the Kardashian women, Kalorie hasn't had an opportunity to meet or talk with anyone in the Kardashian clan. However, since it is common knowledge that the Kardashians are fans of Drag Race, maybe a future meeting of Kalorie and the Kardashian family could happen someday.
"Unfortunately I have never interacted with them," Kalorie says. "I've just been obsessed with them ever since Season 1 ... I hope out of this I get to meet them one day," she says. "Honestly ... I'm getting starstruck now thinking of it. I could potentially meet the Kardashians."
If she was given the opportunity to meet with just one of the Kardashians though, it would be Kim. While she loves the whole Kardashian family, she says it was Kim who really breathed life into Kalorie's drag identity. Through her body confidence and general aesthetic, Kim inspired Kalorie to adopt those same major character details. "I love Kim because I think she's the most beautiful of course, and she's kind of probably where Kalorie comes from, the most," Kalorie says. "Just because Kim is all about her body."
Kalorie wouldn't want to just thank Kim for being an inspiration, though. She says she'd try and extend their meeting. At least she thinks that's what she would do after fangirling from excitement as long as possible. "I don't even know if I would have words. I would probably be crying. I honestly, probably [would] just tell her, 'Let's go get a salad or something and go talk.' I don't even know," Kalorie says.
Despite not hearing from any of the Kardashians (yet), Kalorie certainly is not lacking in fans. In fact, it was the strong positive reaction from them that helped her through the emotional stress of being eliminated. Many of those fans are from her home state of New Mexico. "Waking up today, I'm finally turning on my phone. After seeing everything, I know thoroughly that I've made my home state proud because the endless amounts of love and support that I've been receiving is phenomenal." she says.
Though she is finished her time with this season of Drag Race, being eliminated has not stopped Kalorie's ambitions. Besides hoping for a potential Kim K. meeting, Kalorie is keeping busy through planning her future drag career. "It'll be pretty much me just trying to build my brand," Kalorie says of her future plans. "I want to put out some different merch'. I want to do … you know, potentially maybe put out some music so that people can have a soundtrack or something."
Of course, she said she'd also be open to another appearance on Drag Race "in a heartbeat," if she were to be asked. "I feel like now I kind of have a better grip on what should be done or how it should be done." she says.
Whether it is on the next season of Drag Race or on one of the Kardashians' TV shows (never say never), it is clear Kalorie has a future in the public eye. Although she only appeared in two episodes, she has left an impression on the Drag Race family. Kalorie Karbdashian-Williams will undoubtedly be a queen to remember from Season 10.