Holly & Dec's Rumoured Living Arrangements For 'I'm A Celeb' Are Total BFF Goals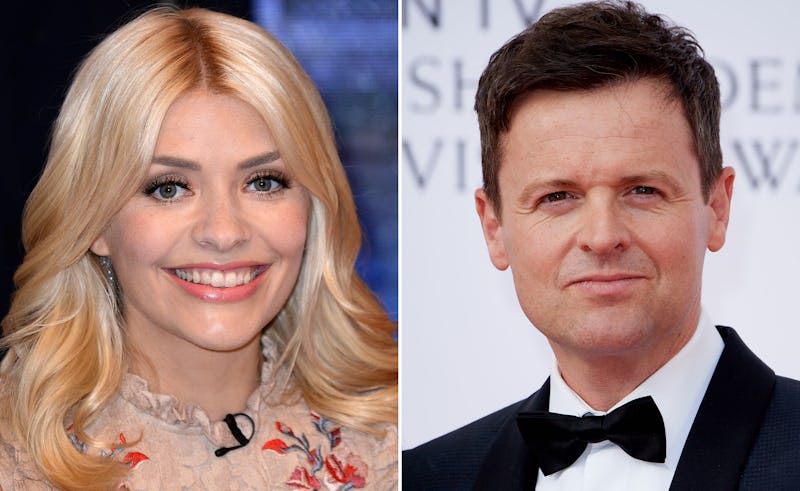 Eamonn M. McCormack/Getty Images Entertainment/Getty Images/Jeff Spicer/Getty Images Entertainment/Getty Images
Declan Donnelly recently admitted that I'm A Celebrity is going to feel a little different this year. His best pal and long-term co-host Ant McPartlin will not be by his side when the new series starts, and fans are gutted. On the bright side though, the lovely Holly Willoughby will be filling in — but will she have the same chemistry with Dec? Well, they'll definitely be close, as according to the rumour mill, Holly Willoughby and Declan Donnelly are moving in together.
Just before filming starts, it's reported that Holly, her hubby Daniel Baldwin, and their three children Belle, Chester, and Harry, will move into a property with Dec, his wife Ali, and their new-born daughter Isla.
An I'm A Celebrity insider spoke to the Daily Star about how producers came up with the idea in an effort to make sure the presenters are super close so that their chemistry comes works on screen. An unnamed insider told the publication: "This is one of the ideas they have been quite keen on. It makes sense for the top talent to stick together and the quality of the show depends on the chemistry between the presenters."
I reached out to a representative for I'm A Celebrity, however, a spokesperson tells me that accommodation is not something they would comment on. I also touched base with Holly and Dec's reps, but am yet to receive comment.
However, Holly did speak out on Monday's edition of This Morning about her upcoming role on I'm A Celebrity and the logistics of her new job. She said: "The weird thing is, when I first found out, it's very exciting, it's bittersweet but it is exciting. Then you sort of figure out the logistics of how you're gonna go, and how long for, and taking the kids, I was speaking to the school. All of that. And then suddenly that's all sorted and the logistics done and it's like... oh, there's gonna be spiders and stuff there."
If she is moving in with Dec, who famously has no fear when it comes to critters, perhaps he'll give Holly a helping hand if a creepy crawly decides to gatecrash their pad. However, she probably shouldn't hold her breath as Dec recently hinted that he will probably be taking a lot of pleasure in watching his new co-host squeal at the sight of insects. He said in a press release issued to Bustle UK: "I am pleased to hear Holly is scared of everything. I am almost stupidly excited at the thought of watching her during the eating trials."
Living so close together sounds like it'll be a blast. Both hilarious in their own right, I am positive that, whilst the presenting set-up has changed this year, the banter is going to be just as good. I just wish that I could be a fly on the wall during all of those cosy film nights the families are going to be able to have whilst their down under.
Bring on I'm A Celebrity Series 18.