Hope Hicks' First Statement For Fox Promotes A Trump-Backed Bill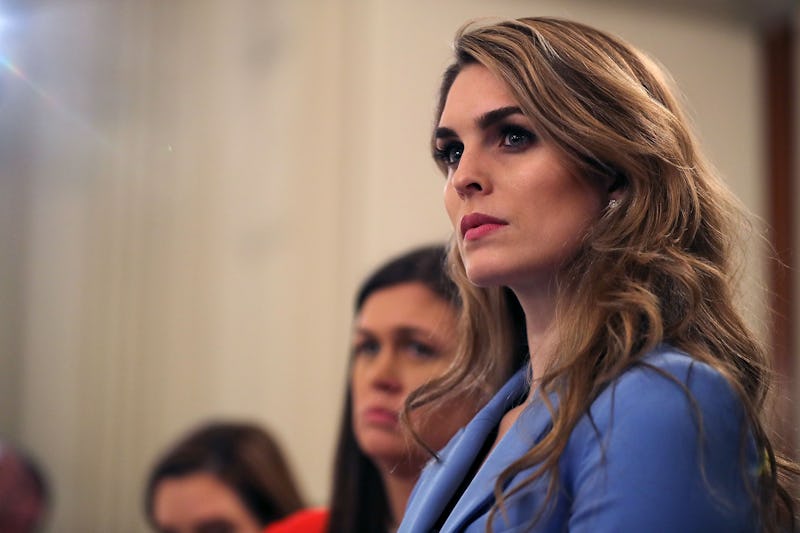 Chip Somodevilla/Getty Images News/Getty Images
The path between Fox News and the Trump administration is well-traveled, so it wasn't terribly surprising when Hope Hicks — former top aide to President Donald Trump — was hired by Fox as its executive vice president and chief communications officer in October. What may come as more of a surprise is that Hicks' first Fox statement endorses a Trump-backed bill.
The bill is a criminal justice reform measure called the First Step Act, and it would, in part, decrease some mandatory minimum sentences and provide incentives for inmates to participate in rehabilitative programs. The legislation only applies to federal prisons, which hold under 10 percent of the total number of incarcerated Americans, according to the Prison Policy Initiative.
Politico reports that Hicks' Friday press release was her first official statement since being appointed to her role at Fox. The New York Times notes that the company has occasionally put out statements about specific bills, as when 21st Century Fox endorsed the GOP tax plan last year.
"FOX supports the bipartisan First Step Act to limit mandatory minimum sentences, prevent recidivism and expand rehabilitation," the statement — which Hicks co-signed with Executive Vice President Danny O'Brien — reads. "FOX looks forward to providing corporate support to programs implementing these objectives and to telling the compelling stories of redemption that result from common sense criminal justice reform."
The "First Step Act" is a rare bill in this era, per The Times, both because it has wide bipartisan support and because it's instigated conflict within the Republican Party, which Senate Majority Leader Mitch McConnell has typically kept united during his time at the helm. Sen. Mike Lee (R-Utah), who co-sponsored the measure, says all 49 Senate Democrats and 28 Republicans currently support it.
If true, that's 54 percent of the GOP caucus in the Senate. McConnell has indicated that he won't bring the bill up for a vote until at least half of Republican senators are in favor of it — but he's continued to stall as other GOP leaders insist that there's less support for the measure than Lee claims.
Trump also backs the legislation and says he'll sign it if it crosses his desk, per The Hill. On Twitter, he's called the measure "really good" and declared that it would mark "a major victory for ALL."
But rather than pressure Congress to vote on the bill alone, Trump may try to pin the legislation to his fight for the border wall. On Friday, Sen. Lindsey Graham tweeted that the president had just told him that "he supports putting criminal justice reform bill on year-end spending bill which must include MORE wall funding." Trump has threatened to shut down the government if Congress does not add funding for the wall to the upcoming appropriations bills.
If Congress does not pass the First Step Act before the next session begins, many advocates fear it will lose steam or fail completely. According to CNBC, some senators worry a Democratic-controlled House and a Republican-controlled Senate would be unable to come to a compromise on the legislation.