Hostess Bakery Petites Are About To Inspire The Cutest Breakfast Instagrams Of All Time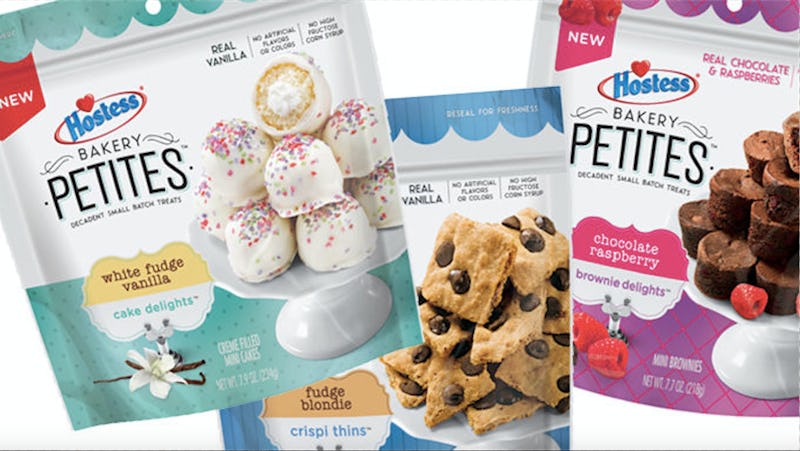 Hostess
One of life's greatest joys is eating an entire cake with a fork while watching Four Weddings And A Funeral. But since one cake flavor does get tiresome after a while, Hostess — the brand that's gifted us with enduring treats like Twinkies and Ding Dongs — has come up with a solution: Hostess Bakery Petites, teensy little poppables that'll let you sample a bunch of small desserts, should you care to purchase a variety. Or you can eat a whole bag of one kind in one sitting, no one's judging.
According to Chew Boom, Hostess Bakery Petites are geared toward "variety-seeking millennials," and though I was not fully aware that was a thing, it does make sense — I, a millennial, love things like tapas and cheese plates, because I can eat one thousand small pieces of gouda, odd meat, and cornichon, instead of laboring over a giant plate of pasta. Although, come to think of it, I also like to eat giant plates of pasta. Millennials are a generation of many tastes.
Anyway, back to the Hostess Bakery Petites — they're "inspired by fresh, hand-crafted bakery treats" and come in three varieties, per Chew Boom. There are the Bakery Petites Cake Delights, consisting of "creme filled balls" (don't laugh) coated with either chocolate fudge or white fudge vanilla, and dusted with rainbow sprinkles. Then, there are the Bakery Petites Brownie Delights, i.e., teeny bite-sized fudge brownies that come in both chocolate chunk and chocolate raspberry flavors. And last but not least, there are the Bakery Petites Crispi Thins, which are thin cookies you can score in fudge blondie or chocolate brownie. They are all quite wee and probably will end up on more than a few Instagrams in the coming months (looking at you, royal wedding tea time people), because admittedly, these are much cuter than the humble Twinkie and other Hostess offerings.
I'm partial to the classic Hostess snacks. To me, few things are more satisfying than closing out a Cup of Noodles lunch with a Twinkie, and I typically limit my bite-sized dessert offerings to Entenmann's Little Bites, because the little blueberry muffins remind me of childhood.
But these new snackies look pretty tasty, too. According to Chew Boom, the Hostess Bakery Petites are made with "real chocolate, real vanilla, and real raspberries," which is maybe more than can be said for prepackaged desserts of yore.
Still, I will fight to the death for Twinkies (though they may actually cause my death, since I eat a lot of them). There was a dark period of time in which we were threatened with Twinkies' impending extinction, when Hostess was forced to sell its assets back in 2012. People were so freaked out, they were buying Twinkies for $50-a-piece online, according to the Atlantic. Blessedly, the owner of Pabst Blue Ribbon — long the working man's beer, briefly the hipster's beer — bought Hostess in 2013, sparing the squeezable creme-filled treat certain death. Now, Twinkies are thriving, at least in my stomach, where I assume at least five I've eaten over the last year are still waiting to digest.
Of course, while Twinkies are my preferred Hostess treat, do not forget Hostess Cherry Pie, an overlooked plastic-wrapped masterpiece. Also of note are Suzy Qs, though I actually like Devil Dogs (made by Hostess rival Drake's, I'M SO SORRY) better. Ding Dongs are also quite good, but Snoballs consist of two terrible things—marshmallows and coconut—and should be tossed on the street and lit aflame.
What I'm saying here is that these little Bakery Petites have a lot to live up to. Don't let me down, Hostess.