Hot Chip's Katy Perry Remix Is Dancefloor Gold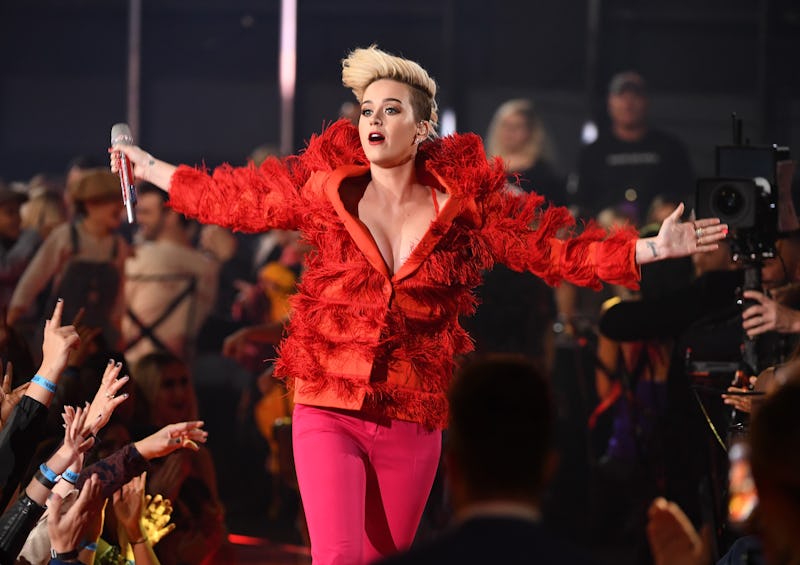 Kevin Winter/Getty Images Entertainment/Getty Images
Just when you thought it couldn't get any better, Hot Chip remixed "Chained To The Rhythm." The Katy Perry song was already a total earworm — as evidenced by its debut at number four on the Hot 100, something Billboard has observed "marks the highest for a song by a lead female since Adele's 'Hello' launched," which, lest we forget, was almost two years ago. Perhaps the song's success could be attributed to what it was trying to do, with Perry arguing that her release signaled a new era: the birth of "Purposeful Pop." However, as Perry's disco ball marketing campaign suggested, the song wasn't just trying to be a political anthem, but a dancefloor hit.
Given the not one, but two, highly politicized and symbolic music video releases — the video with a hamster eating a decadent meal in a tiny house, and the one that centers on a group of pleasure-seekers at a theme park who dress like the Capitol-dwellers from The Hunger Games — the dancefloor aspect of "Chained To The Rhythm" may have been forgotten about. So, thank goodness for British song wizards Hot Chip, who arrived just in time with their essential remix to remind us that sure, Perry's song is political, but it's also a bonafide party hit.
The remix plays down the reggae vibes which dominated the original release — which I love, but they kept the song at a sleepier tempo than your go-to party jam. It also translates the refrain of "on and on and on" from a meditation on the rat race into the sort of chorus you could imagine singing along to with your friends at a festival.
Admittedly, the political side of the song is a little lost in this remix, which doesn't feel exactly like an anti-Trump anthem on a first listen, but it's not like this aspect of the track hasn't been covered several times before, right? No, for a new era of "Purposeful Pop," it can't just be about purpose — the pop part is important, too.
So if you want a fresh new take on a recent favorite, or just to put your hands in the air and wave 'em like you just do care, this remix is a good place to start.