'Hot Summer Nights' Star Maika Monroe Gets Why Owning Who You Are Is So Freakin' Hard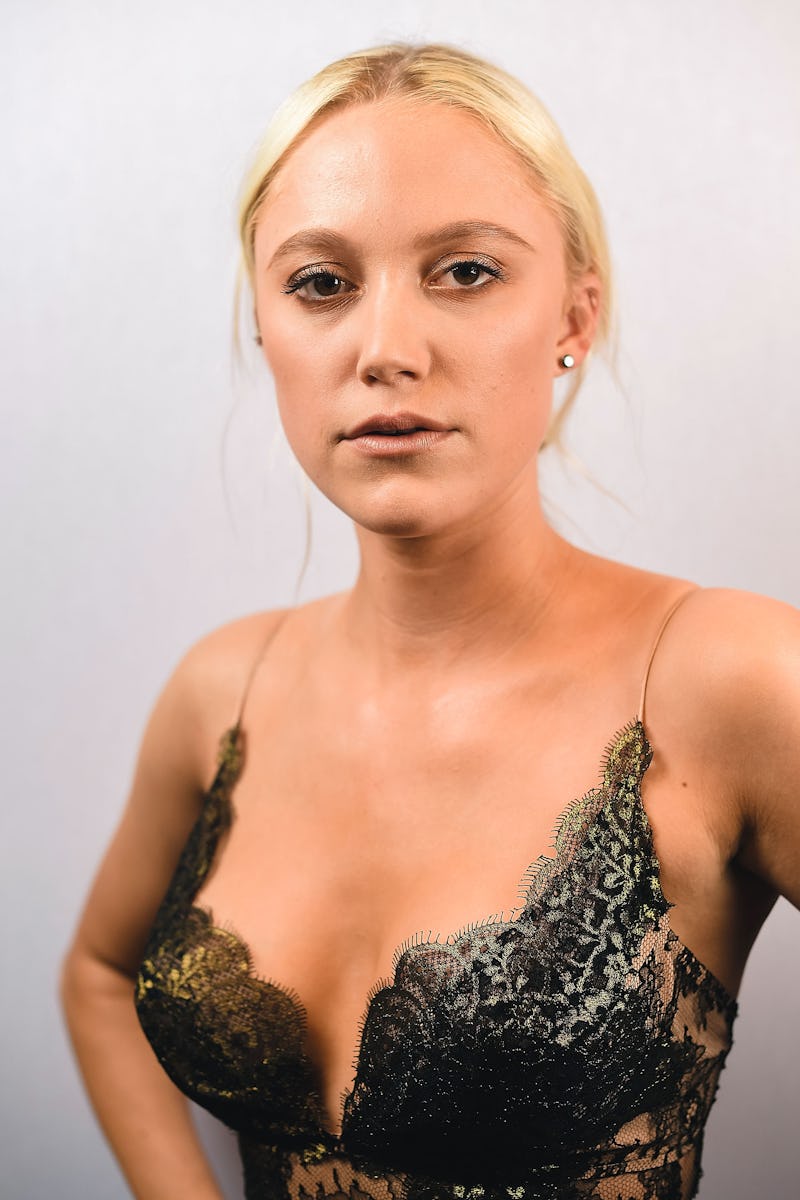 Matt Winkelmeyer/Getty Images Entertainment/Getty Images
For many people, reflecting on your teenage years can be a rough experience. Combating acne, struggling through awkward growth spurts, and experiencing first heartbreak are just a few of the side effects that come with the teenage territory. But coming of age can also create far deeper scars, when it comes to figuring out who you are and how to own that in front of the world. The new movie Hot Summer Nights, out July 27, captures the angst of adolescence in a way that'll feel achingly familiar — and star Maika Monroe believes that her character's journey to self acceptance is one that will feel painfully familiar to women everywhere.
"It's a big reason why I was drawn to the character because I think that age, 17-18, it's just such a bizarre time in your life," Monroe says, speaking over the phone in July. "You're wanting to figure out what you wanna do and what the next steps are in becoming an adult."
In Hot Summer Nights, Monroe plays McKayla, the love interest of Timothée Chalamet's Daniel. McKayla loses her mother just before puberty, which thrusts her into an abrupt independence and a persona that doesn't ring true to who she actually is. Her entire Cape Cod town views her as an unattainable "cool girl" until she meets Chalamet's Daniel, who inspires her to dig deeper and shed her mysterious image — through selling weed.
Working with Chalamet, whom Monroe calls "an incredible human being", was helped by the fact that the pair, along with co-stars Alex Roe and Maia Mitchell, lived in the same house all summer long while filming. Monroe describes the summer camp-like experience as one filled with frequent pool parties and shows performed by Oscar nominee Chalamet himself. "[He] was really into Broadway at the time so he'd do fake little Broadway shows for us, just sing along and dance around in this big house," Monroe recalls.
Each of the actors play characters who are searching for ways to express themselves authentically despite differing social classes, and plenty of viewers will identify with those struggles — specifically McKayla's. "I think that was something that I wanted to portray — you always hope people out there can relate," says Monroe. The actor herself knows what that situation is like; she went from a 25-person class at what she calls a "small, hippie" middle school to a high school with a student body of thousands, and as a result struggled to figure out her own identity.
"[McKayla] comes across as like she knows everything and she's experienced and she's tough, and I think it was kind of a similar experience for me where I felt like I had to be something even though that wasn't really me," Monroe recalls. "When I came in 10th grade, I didn't really have any friends — I was this new kid entering into high school. I felt like I had to be something, act a certain way."
That's a universal truth for so many young people in the process of understanding who they are and how to present that to their peers truthfully. "I remember pretending to drink alcohol even though I didn't want to and it was kind of later on, like 11th and 12 grades, that I was kind of like, 'Why am I pretending to be something?," Monroe says now. "I remember for the first time telling people like, 'Yeah, I don't drink and I don't want to drink', and people were respecting me for that."
Leaving the halls of high school doesn't guarantee entry to a completely self-aware existence void of insecurity or hiding, of course; the idea of owning what you bring and being unafraid of it is a concept that shifts for you your whole life. But there's peace to be found in the fact that everyone's trying to figure it out, presenting one version of themselves to others, while deconstructing another version on the inside.
So whether you're the new girl in a big school, a misunderstood kid in a small town, or an adult going through some soul searching — we've all been there. And it's comforting to know Monroe has gone through it, too, and that Hot Summer Nights is bringing everyone back to those awkward, cringey days.