This Republican Says Actually, There's Definitely Evidence Russia Helped Trump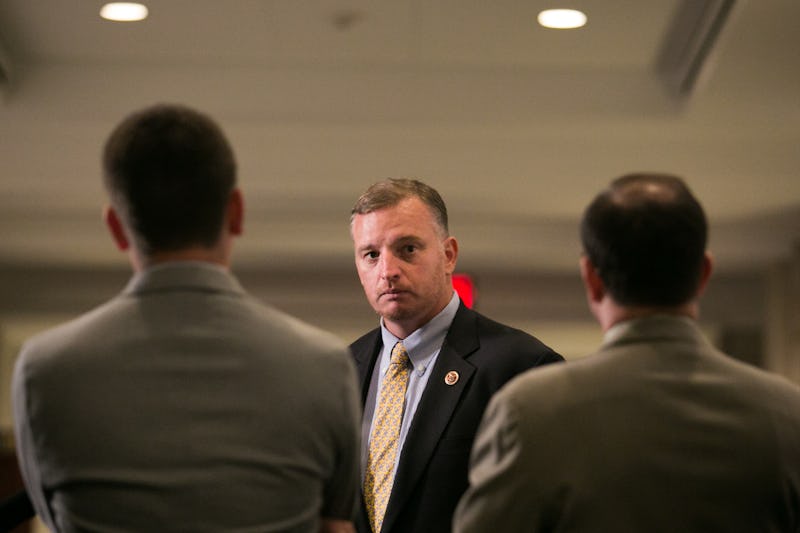 Drew Angerer/Getty Images News/Getty Images
After the House Intelligence Committee released a report on Monday asserting that there was no collusion between Donald Trump's 2016 presidential campaign and the Russian government, a lone Republican on the committee is publicly disagreeing with his team. Rep. Tom Rooney said the Russia investigation shows there is evidence the country worked to help Trump in winning the election, adding that he felt the Intelligence Committee has "lost all credibility" at this point.
"I don't know that necessarily there was a full-fledged campaign to do everything that they could to help elect Donald Trump," the Florida congressman told CNN. "I think that their goal was chaos." However, when asked if Russia showed a preference for Trump, he said, "I certainly think there's evidence of that."
His fellow Republicans claim otherwise in the committee's latest report. In it, the committee attested that Russian President Vladimir Putin did interfere with the 2016 presidential election, but not with the goal of helping Trump win.
"We found no evidence of collusion, and so we found perhaps some bad judgment, inappropriate meetings," Texas Republican Rep. Mike Conaway said on Monday. "We found no evidence of any collusion of anything people were actually doing, other than taking a meeting they shouldn't have taken or just inadvertently being in the same building."
The committee plans on presenting a 150-page report for Democrats to review, some of whom have already spoken out against the report. Rooney, however, is the first Republican to do so. His office did not immediately respond to Bustle's request for comment.
In a statement released Monday, Rooney said the committee's investigation "found no evidence of collusion or coordination between the Trump campaign and the Russian government." However, he added that "at the same time, there is no dispute that Russia's intention to infiltrate our democratic processes can be ignored. States must begin to prepare themselves now to protect the integrity of our elections for 2018 and beyond."
Back in February, Rooney called on the House Intelligence Committee to end its probe into Russia-Trump collusion, expressing frustration with Hope Hicks' nine-hour testimony and how it was leaked to the press that she told "white lies" on behalf of Trump. Rooney felt the investigation had veered off course.
We've interviewed scores of witnesses and now we've gotten to the point now where we are literally bringing people in for nine hours just so the Democrats can leak to the press something as ridiculous as white lies, not having anything to do with the Russia investigation, but that drives the whole story for the whole next day.
He reiterated this frustration to CNN's Erin Burnett on Monday. "We've gone completely off the rails, and now we're just basically a political forum for people to leak information to drive the day's news," Rooney said. "We've lost all credibility, and we're going to issue probably two different reports, unfortunately."
Rooney is now mostly focused on wrapping this investigation in order to protect upcoming elections, particularly the 2018 midterm elections.
When we began our investigation into what occurred leading up to the 2016 elections, our ultimate goal was to make timely recommendations for Congress, the executive branch and for states to improve election security in advance of the 2018 election. The clock is ticking. We're now nine months out, and the threat of Russian interference has not diminished.
The congressman also stressed that this wasn't the only threat Russia posed to America's democracy.
"Make no mistake: this is a close to just one chapter in the threat posed by Moscow — which began well before the investigation — but our work does not stop here," Rooney said. "[A]nd this Committee's oversight over Russian threats to the U.S. will continue."