How 'House of Cards' Explained Kevin Spacey's Absence In Season 6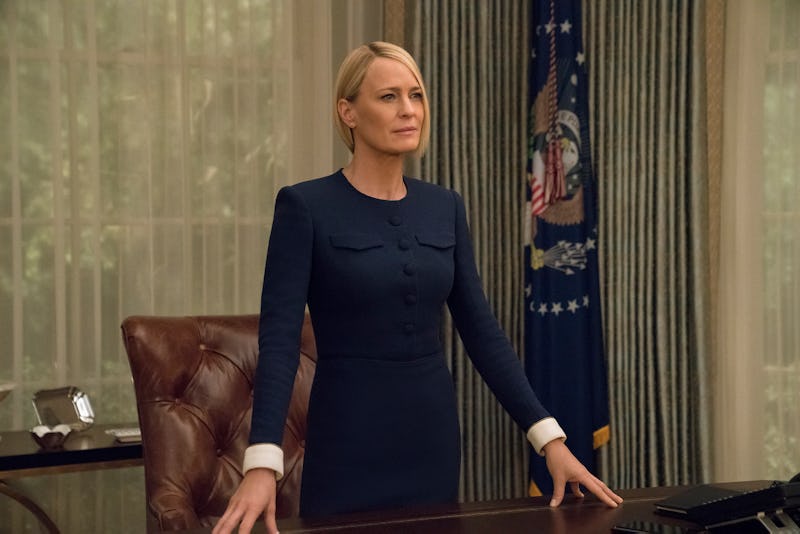 David Giesbrecht/Netflix
Spoilers for the House Of Cards Season 6 premiere follow.Claire Underwood was already taking center stage by the end of House Of Cards Season 5, but the allegations of sexual misconduct against Kevin Spacey led the Netflix series to write his character off completely, as reported by Variety. As previews showed, Kevin Spacey's absence on House Of Cards Season 6 is explained through his character's death. But viewers may be surprised by how much Francis Underwood still haunts the show — and his wife, the President of the United States.
Even in photos of his open casket funeral, you don't see Spacey's face in the final season of House Of Cards. Yet, there's no avoiding the impact that Frank Underwood had to this story. So rather than shy away from that, Frank's death plays a big part in Season 6. In the first episode, strange occurrences keep happening in Frank's bedroom. Claire finds a bird trapped in the wall there and it gives Claire the opportunity to inform the audience where she stands on Frank's death.
Rather than kill the bird, like Frank would have done, she saves it. She even refers to Frank's pain speech that he gave while killing the dog in the very first scene of House Of Cards. "Francis, I'm done with you," she says as she lets the bird go. "There, no more pain." And with the bird flying away, Claire releases herself of the anguish that Frank caused her over the years.
However, Frank will not go away that easily and just because Claire is through with him, doesn't mean the rest of the world is. She still has to discuss him publicly. But worse, the Shepherd siblings (played by Greg Kinnear and Diane Lane) are holding Claire accountable for promises that Frank had made to them. Frank had no right to make those promises since he wasn't the one seated in the Oval Office anymore, but he always used everyone as a pawn and Claire is still dealing with the fallout.
Claire also addresses the fact that Spacey (well, Frank) isn't there and that the audience might be missing him. "Are you still there? Do you miss Francis?" she says during one of Frank's signature fourth-wall breaks that she has co-opted. "Here's the thing. Whatever Francis told you the last five years, don't believe a word of it. It's going to be different for you and me. I'm going to tell you the truth."
While Claire doesn't miss her husband, Doug certainly does. Beyond mourning his beloved President Underwood, Doug also is dealing with the consequences of taking the fall for the murder of Zoe Barnes. During a therapy session, Doug keeps the spirit of Frank alive by knocking on the table. "That's what he used to do when he won," Doug tell his therapist.
As much as Claire wants to move beyond Frank, she gets sucked back into his vortex when she starts to suspect that her husband didn't die of natural causes. "I'm starting to believe Francis was murdered," she tells Nathan Green, who is now the head of her Secret Service. She thinks it's the Shepherds and that could help explain the assassination attempt on her own life — and the fact that she finds Frank's ring on his bed by the end of the episode.
"A man like Francis doesn't just die. That would be, what's the word? Convenient," she says as she slips on the ring. Claire then gives the old middle finger (Frank's initials are FU). It can serve as a gesture to Frank, who she is still cleaning up after, but also to the people who killed Frank. And while it might not have been the show's intention, audience members may even interpret this gesture as symbolic of their own feelings toward Spacey. "The reign of the middle aged white man is over," she says later, perfectly summing up the final season of the series and also the conditions that led to her being front and center.