Robin Wright Will Lead The 'House Of Cards' Final Season & This Is The Good News We Needed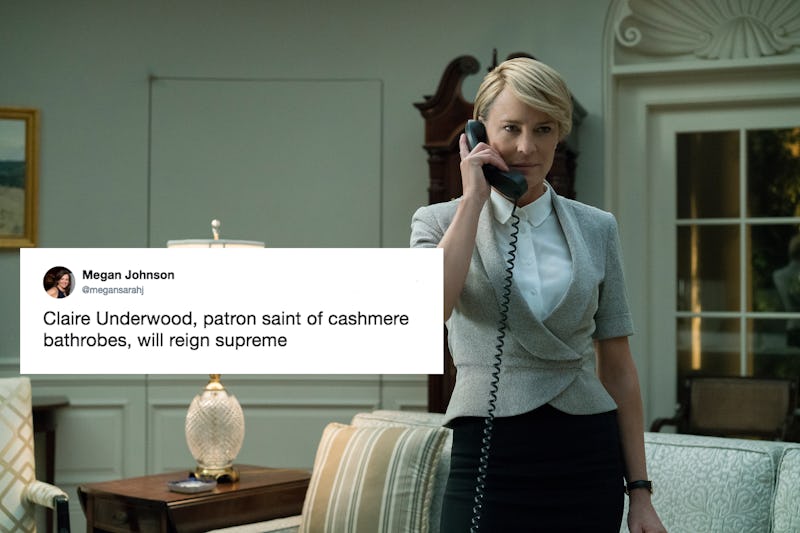 David Giesbrecht/Netflix/Bustle
If you're a fan of female-led programming, get happy: we're getting a House of Cards final season led by Robin Wright, just as god intended. According to The Hollywood Reporter, Season 6 of the drama series will resume production without Kevin Spacey. According to The Hollywood Reporter, Netflix content chief Ted Sarandos stated, "We are excited to bring closure to fans."
The closure part is important: this has to feel like a huge relief for House of Cards fans after Deadline previously reported a joint statement from Netflix and Media Rights Capital in October 2017 that explained that executives would meet "with our cast and crew to ensure that they continue to feel safe and supported" and which suggested that the future of the show was up in the air. However, it should be stressed that according to The Hollywood Reporter, the production hiatus will continue until "early next year," so don't expect the final installment of the show any time in the near future. According to Variety, production on the TV show was stopped two days after Star Trek: Discovery actor Anthony Rapp alleged in an October 30 Buzzfeed interview that Spacey had made sexual advances towards him when the Rent star was just 14 years old.
Spacey responded to the claims in a statement which he published on Twitter and in which he said, "I have a lot of respect and admiration for Anthony Rapp as an actor. I'm beyond horrified to hear his story. I honestly do not remember the encounter, it would have been over 30 years ago. But if I did behave then as I describes, I owe him the sincerest apology for what would have been deeply inappropriate drunken behavior, and I am sorry for the feelings he describes having carried with him all these years."
According to The Daily Star, after further allegations of sexual misconduct were made by documentary filmmaker Tony Montana and another man who chose to remain anonymous, Spacey's representative released a statement which said, "Kevin Spacey is taking the time necessary to seek evaluation and treatment. No other information is available at this time."
The same Variety article reports that one scenario that is being considered for working out a Frank Underwood-free version of the series "is to kill off Spacey's character" and have the show's final season zero in on Claire. Given the news that Wright, who plays Underwood's wife, will be leading the sixth season, it suggests that an off-screen death for Frank may have been the option the writers have chosen. Which seems totally appropriate, since as The Hollywood Reporter has already observed, in Michael Dobbs' House of Cards, the book that inspired the series, Frank also dies.
This would also make sense in terms of where Season 5 ended, since Frank's resignation as president meant Claire, as vice president, was ascending to fill the role. Heck, she even broke the fourth wall for the first time in the 11th episode, addressing us to say "My turn." Long before the allegations were on the table, Claire was clearly ready to assume the leading role.
Of course, dramatic machinations aside, Wright is more than equipped enough to lead the show herself. In 2014, she took home a Golden Globe for playing Claire, which NJ.com reported made her "the first actress to win a Golden Globe for an online-only series." And as Newsweek has observed, Netflix's decision to replace Spacey as a lead with Wright has substantial real world resonance in how it's "the first instance of an alleged predator being replaced by a woman."
And what a woman. Wright has been passionate about gender inequality long before any of the allegations surrounding Spacey came to light, with The Huffington Post reporting in May 2016 that the actor had demanded equal pay for her role in the smartest, most Claire-esque way. Speaking at the Rockefeller Foundation in New York, she said:
"There are very few films or TV shows where the male, the patriarch, and the matriarch are equal. And they are in House of Cards. I was looking at the statistics and Claire Underwood's character was more popular than [Frank's] for a period of time. So I capitalized on it. I was like, 'You better pay me or I'm going to go public.' "
We're entering into a whole new era of the show — one which puts a woman and a woman alone in the driving seat. Frank will possibly be dead, she murdered her lover Tom Yates. Now it's just Claire in the Oval Office.
If you or someone you know has been sexually assaulted, call the National Sexual Assault Telephone Hotline at 800-656-HOPE (4673) or visit online.rainn.org.