New Sexual Assault Claims Against Kevin Spacey Include Attempted Rape Of A 15-Year-Old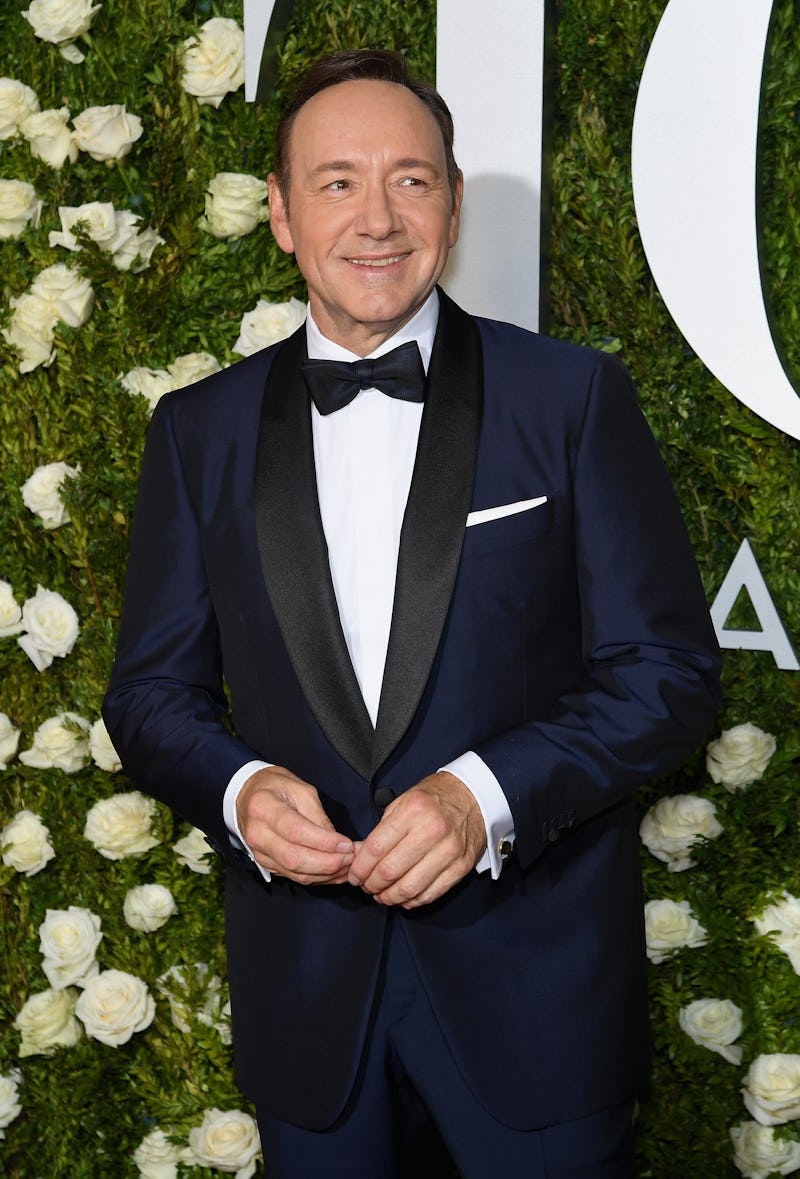 Dimitrios Kambouris/Getty Images Entertainment/Getty Images
Earlier this week, Netflix announced that House of Cards would be ending after Season 6, following allegations that surfaced against lead actor Kevin Spacey. Those allegations were published on BuzzFeed in an interview where Anthony Rapp alleged Spacey made sexual advances toward him at age 14. While Spacey has apologized for what he deemed "deeply inappropriate drunken behavior," more information came out in the following days, suggesting that may not have been an isolated incident. On Thursday, Nov. 2, Vulture published an interview with an anonymous man, who alleged Spacey attempted to rape him when he was 15 years old. The actor's lawyer told Vulture via email, "Mr. Spacey absolutely denies the allegations." (Bustle reached out to Spacey's rep, but did not receive an immediate response.)
This anonymous man, now 48, was 12 when he reportedly first met Spacey while attending acting classes in Westchester County. Spacey taught at the school (which Vulture verified with two sources), and it was two years later, at age 14, that he reportedly ran into Spacey again while waiting to see a play at Shakespeare in the Park. The pair reportedly went for a walk, when the man claimed Spacey said, "I want to see you, and I want you to come to my apartment." According to the alleged victim's account, he was thrilled with the attention from the actor, explaining to Vulture, "I felt like I'd won the lottery. A little drunk with it and very delighted with the attention."
Per his recollection of the events, the then-14-year-old spoke with Spacey soon after. "I called him on the phone the next day, and he told me how he was in love with me and wanted to see me," he claimed to Vulture. When they did meet, he alleged, "We started a sexual relationship that first visit, which mostly involved me f*cking him."
Although the man claims that things seemed consensual initially, things took a turn when he went over to Spacey's apartment at age 15. He alleged,
"He told me to come over, and I went to the apartment. And I thought we were going to kiss and tell each other we loved each other and I was going to go. But he wanted to have sex, and this time he wanted to f*ck me, which had never happened to me before."
Per this retelling of events, Spacey came up behind the man, yanked his jeans, and allegedly attempted to have sex with him, to which he responded, "No, I don't want to." As for what happened next, he claimed, "[Spacey] pushes hard, and grabs me, and starts shoving up against my assh*le, and it hurts like a motherf*cker. I again tell him no, and he tries again. I am strong enough, thank God, both somewhere in my brain and in my body, to get him off of me."
After that, the man claimed he threw Spacey off him and ran down the street crying. Though Spacey allegedly did not "penetrate" him, he claimed, "I always have said, 'He tried to rape me.'" As for why he's speaking out now, the man credited Rapp for inspiring him to come forward. He told Vulture,
"I'm grateful to Anthony Rapp for talking, that opened that door for me. Obviously the most right thing is to put my name and speak, and the second most right thing is to be anonymous and speak."
Like many others on the internet, the man also was not pleased with Spacey's previous apology, which appeared to overshadow the allegations from Rapp by coming out as gay. Speaking of Spacey, the anonymous man claimed to Vulture, "He is a pedophile. When you look at his statement, you realize also he's profoundly narcissistic. He thinks this is about being caught that he's gay. And then he is spinning it, right?"
So far, this man joins Rapp, Tony Montana, and Roberto Cavazos in the list of people speaking out against Spacey. It's unclear currently whether the actor will offer a lengthier statement in response to the latest allegations. However, his rep announced earlier on Thursday that Spacey is seeking treatment, telling Variety, "Kevin Spacey is taking the time necessary to seek evaluation and treatment. No other information is available at this time."
If you or someone you know has been sexually assaulted, call the National Sexual Assault Telephone Hotline at 800-656-HOPE (4673) or visit online.rainn.org.