House Staffers Shared Nude Photos Of A Congresswoman & Now They're Facing Jail Time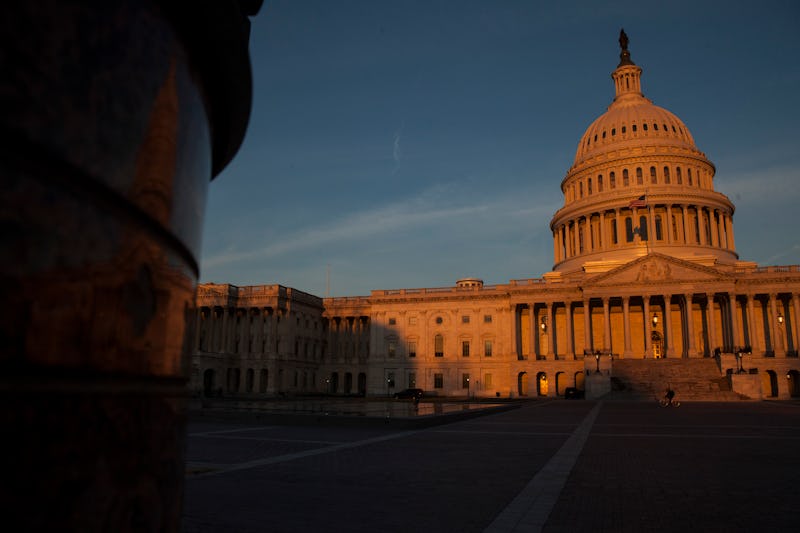 Zach Gibson/Getty Images News/Getty Images
The Justice Department announced Thursday that it has indicted two former staff members in the House of Representatives for allegedly sharing nude pictures and video of a congresswoman and her spouse.
Juan McCullum was charged with two counts of cyberstalking, while Dorene Browne-Louis faces two charges of obstruction of justice. The indictment claims that in July 2016, McCullum offered to take the lawmaker's iPhone to the Apple store for repairs, and in the course of doing so, found private nude photos and videos on the device. McCullum allegedly then created Facebook and Hotmail accounts with fictitious names and published the images, and encouraged social media users to spread them around the lawmaker's home district.
According to the indictment, McCullum informed Browne-Louis about his actions and emailed her the images. She is being charged with obstruction of justice for allegedly making "false, incomplete, and misleading statements" about her involvement in the episode to law enforcement during the course of their investigation. The indictment also accuses Browne-Louis of deleting text messages pertinent to the case.
Appearing in the U.S. District Court for the District of Columbia on Thursday, Browne-Louis pleaded not guilty, according to the Department of Justice. McCullum's first court date hasn't yet been scheduled.
The indictment does not name the lawmaker in question. However, both McCullum and Browne-Louis were staffers for Del. Stacey Plaskett, the non-voting representative from the U.S. Virgin Islands. In July 2016, private nude images of Plaskett and her spouse circulated online; in a statement, she said the publication of the images marked "a new low in Virgin Islands politics," and that she was "shocked and deeply saddened that someone would stoop to such a level."
"To say my family and I are greatly upset would be a tremendous understatement," Plaskett said at the time. "The theft and dissemination of these images via the internet is a shockingly disgusting invasion of my family's and my privacy — not to mention criminal acts in violation of both territorial and federal law." Her office told Politico at the time that it had reported the incident to the FBI and Capitol Police.
McCullum and Brown-Louis both face the possibility of jail time if convicted. The maximum penalties for cyberstalking and obstruction of justice are five and 20 years in prison, respectively. The United States Capitol Police are investigating the case, while Assistant U.S. Attorneys Veronica Jennings and Tejpal S. Chawla of the U.S. Attorney's Office for the District of Columbia are prosecuting it.