Here Are The Results Of The Most Crucial Midterm Election Races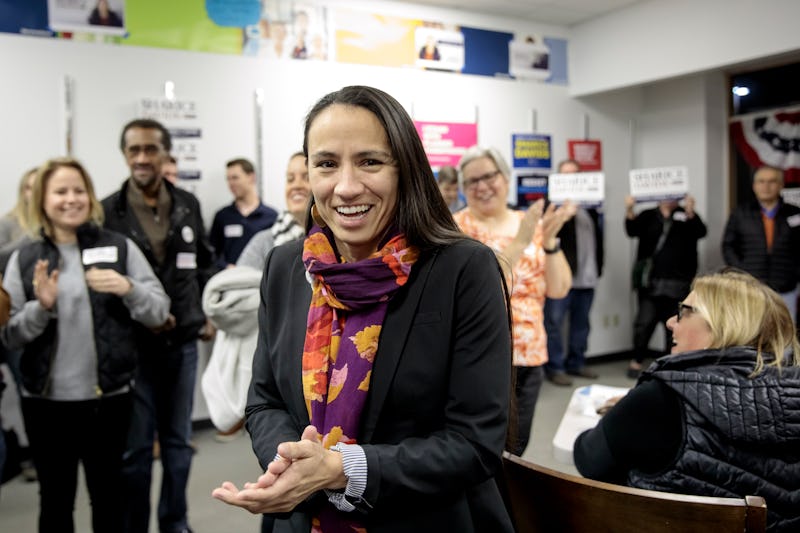 Whitney Curtis/Getty Images News/Getty Images
Election Day in America has come and gone, and here are the results to the crucial midterm races you've been watching. On Tuesday night, election returns began pouring in from all over the country, detailing the results of hundreds of national, state, and local elections. But in certain pockets of the country, there were high-profile, close, exciting races that drew a whole lot of eyeballs, including, quite possibly, yours.
The stakes in the 2018 midterm elections are as high as can be. As is the case every two years, all 538 seats in the House of Representatives were up for grabs, as well as one-third of the 100 seats in the United States Senate. With the Senate majority comes the ability to filibuster or pass legislation, and approve or block Supreme Court nominees. With the House majority comes control over legislative agendas, spending, and a variety of committees, including those (like the House Intelligence Committee) with investigatory powers.
In other words, the results will have huge implications on what's going on in the nation's capital. So, who came out on top, and who was left in the lurch? Here are nine of the hugely consequential races that you were probably keeping an eye on in the run-up to the 2018 midterms.
Illinois' 14th District
One the of challengers that's generated a lot of buzz running up to the midterms is Lauren Underwood, who ran for the House from the 14th Congressional District in Illinois against incumbent Republican Rep. Randy Hultgren. And, fulfilling all that anticipation, Underwood ended up finishing in front, winning herself a seat in the next congress as the first black woman to ever represent her state's 14th District.
Iowa's 1st District
Abby Finkenauer is just 29 years old, but that didn't stop her from mounting a campaign challenge against the Republican representative from Iowa's 1st Congressional District, Rod Blum. And when the dust settled on Tuesday night, it was the challenger who won out: Finkenauer will be entering Congress as one of its youngest members, alongside incoming New York representative Alexandria Ocasio-Cortez, having made student debt a central issue in her campaign.
Kansas' 3rd District
Democratic candidate Sharice Davids was locked into a tight House race in the state of Kansas with Republican representative Kevin Yoder, one that would make her the first Native American ever elected to congress. And when the votes started rolling in, it became clear that Davis was going to finish in the lead ― the Associated Press projected her the winner on Tuesday night, and she will serve in the incoming House membership.
Kentucky's 6th District
Yet another Democratic candidate running a tight race in a historically red state, Amy McGrath's campaign against GOP incumbent Andy Barr drew a huge amount of attention in the weeks and days prior to Nov. 6. But, in a razor-thin outcome, it was Barr who ended up the projected winner of the race, according to the Associated Press.
New York's 2nd District
In New York's 2nd Congressional District, GOP representative Peter King faced a challenge from one of his own constituents, Liuba Grechen Shirley, who forced the longtime incumbent congressman to put more effort into campaigning than he typically might ― King won his last race by more than 20 points. But, despite a very close race, King ultimately prevailed, holding onto the seat he's controlled since 1993.
Texas' Senate Seat
Few Senate races this year have been more high-profile or hotly contested than in Texas, where Beto O'Rourke took on incumbent GOP senator and former presidential candidate Ted Cruz. The race brought heightened media attention, and O'Rourke hauled in a massive amount of small-dollar donations while eschewing corporate PAC money. At the conclusion of Tuesday, however, Cruz emerged as the victor, meaning he'll serve in the U.S. Senate for the next six years.
Virginia's 10th District
Seen as a potential bellwether for the Democrats' chances of reclaiming the House majority, the race between challenger Jennifer Wexton and Rep. Barbara Comstock in Virginia's 10th Congressional District generated a lot of attention this cycle. And, in an early victory for the Democrats, Wexton was projected the winner by the Associated Press.
Arizona And Nevada's Senate Races
In the state of Arizona, Democratic representative Kirsten Sinema faced off against Republican challenger Martha McSally for the Senate seat being vacated by retiring Republican Sen. Jeff Flake. And in Nevada, Democratic challenger Jacky Rosen is squaring off with incumbent Republican Sen. Dean Heller.
Both races are close, and the votes are being counted late into the night, so it may be a while before the final outcomes are decided. But one thing that's for sure is that they won't determine control of the Senate; the GOP has already clinched that in other races.
Needless to say, there were a staggering number of races that went down on Tuesday, for offices of all shapes, sizes, and levels of national importance. The outcome of these nine campaigns, however, definitely went a long way toward highlighting the mood of the country.