Abigail Was The Most Self-Aware 'Big Little Lies' Character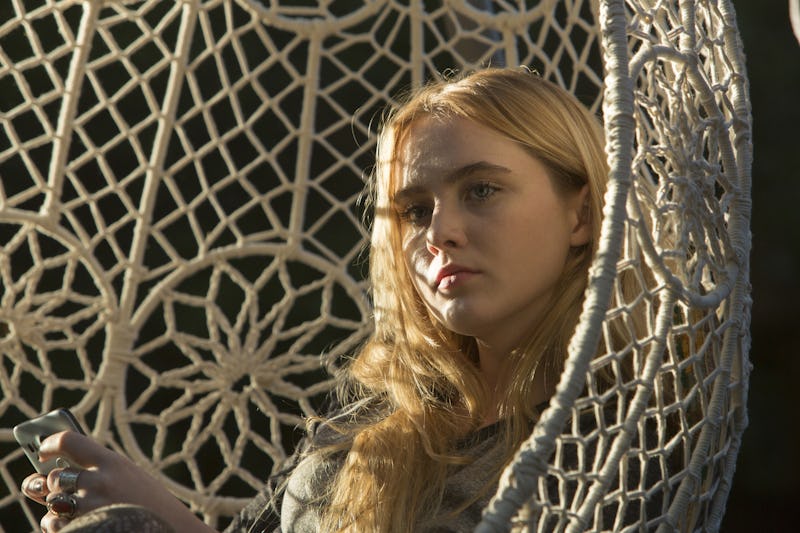 Hilary Bronwyn Gayle/courtesy of HBO
It's hard to pick just one thing to love about Big Little Lies, isn't it? The limited series on HBO gave us so many fascinating characters in seven short weeks. Personally, though I was usually on the side of Reese Witherspoon's character, the relationship between Madeline and her teenage daughter Abigail was one of my favorites to watch. It was honest in a way that I'm not used to seeing on television. In an interview with Bustle, Kathryn Newton explains what she loves about Abigail and Madeline's relationship on Big Little Lies, and what made the finale so satisfying and awesomely feminist.
"Reese is amazing," she says. "Obviously. She's like the best." Newton continues, saying that her favorite thing about working on the show was that "I never felt like I was acting. I felt like she was Mom." That level of casual familiarity definitely shows on the screen.
"I think a lot of people can relate to this mother-daughter dynamic," says Newton. "It's a very true reflection of what a real mother-daughter relationship is. It's not cute all the time, and it's not sweet. Sometimes it's hard to handle, but that's why I loved it."
Series director Jean-Marc Vallée took a somewhat theatrical approach, letting the actors really live in the scenes and play. It wasn't utilitarian in any way. Newton says that he suggested that Abigail hide alcohol in her coat for one scene. The audience may not even see that, but it allowed her another layer as an actor. "Doing things like that makes acting so fun," Newton says.
While the world of Big Little Lies presented a full range of adult parents and their first-graders, Abigail was the only teenager. We didn't see her outside of her home life, which is rare, in a way. While some of the minor drama between the women of Big Little Lies may have felt like high school, there were no scenes lined by lockers on this show. However, as a character in this delicate world and as as foil to Madeline, Abigail stands out.
"Abigail is like the antithesis of Madeline," she says. "Madeline is perfect, dresses perfect, looks pretty and presentable — and Abigail is totally feminist in the way that she's not bowing down to the way society would want her to be. She doesn't dress like a cute girl, she doesn't brush her hair... because she's just comfortable with who she is."
Her "secret" project of selling her virginity to raise awareness for Amnesty International, as ill-advised as it my have been, was an attempt to call attention to her privileged world. In a way, Abigail could serve as an audience surrogate, though she doesn't know the darkness lying underneath either.
"On the show's surface," she says, "it looks like a bunch of privileged white women who are mad at each other and 'being dramatic,' but then when you dig deeper into the story and you start watching, you feel that they have real issues, real problems, and you can start to relate to them."
Abigail's isn't disinterested in going to college because she's unintelligent or frivolous. It's more based on her own self-awareness — something that most of the characters on Big Little Lies struggle with, frankly. Abigail clearly cares a lot about the world, but feels she doesn't need college. This is also funny, Newton remembers, because on set, Witherspoon was constantly making sure that Newton wasn't making those choices for herself. "I do wanna go to school," Newton says. "That's Abigail's thing."
It's one of the things that made the scene in the penultimate episode in which Madeline tells Abigail about her affair so powerful. It's hard enough to think of your parents as human beings who make real mistakes. When they present themselves as picture-perfect ideals, that's even worse.
What's gratifying in the finale, especially from a feminist perspective, is seeing all of these complicated women pull together. There's a beautiful moment between Celeste, Jane, and Madeline that I'm going to be thinking about for months. Even Renata showed up for her former nemeses.
"The way David E. Kelley wrote it," Newton says, "it's just so perfect. It was different from the book, but it was just a really good interpretation that I think the audience is going to love... The best part is ... seeing these women fight back together. They were fighting [with] each other, and in the end they triumph and pull themselves together, which is pretty cool."
Newton read Liane Moriarty's novel that the series is based during the audition process, but Witherspoon had been on board to adapt this story for a while. "She really was passionate about creating these dynamic roles for women," Newton says, "and this story has five huge roles for women that are layered." I don't even think she's counting herself in that — which she totally should. Abigail is as layered and complicated as all of the women on Big Little Lies, something that made this limited series so engaging and special for the brief time it was on.