How Maryland Could Protect Abortion Rights, Even If Roe V. Wade Falls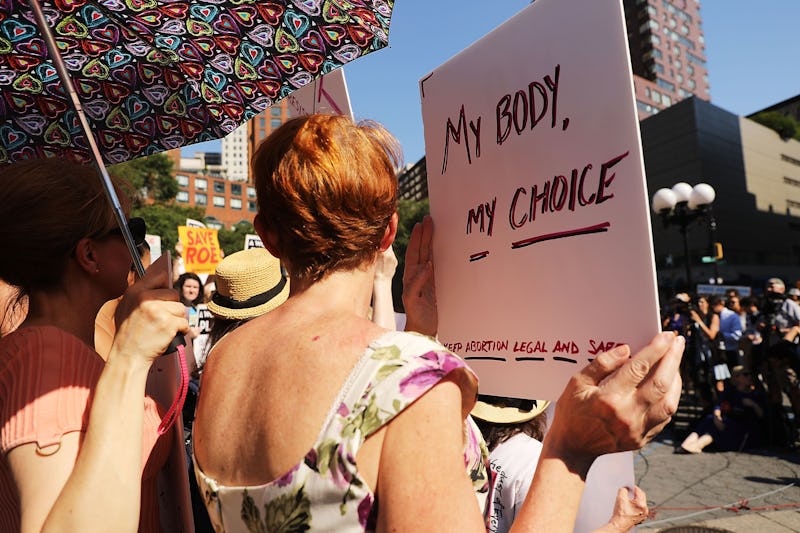 Spencer Platt/Getty Images News/Getty Images
A number of state legislators are preparing for the possibility that the Supreme Court, outfitted with a majority of conservative judges thanks to President Donald Trump, moves to overturn Roe v. Wade. Some have repealed pre-Roe abortion bans in a precautionary measure to better protect women's reproductive rights at the state level. But Maryland's House Speaker Michael E. Busch wants to take things a step further. Busch plans to spearhead legislation that would enshrine abortion rights in Maryland's constitution.
"With the Supreme Court currently hanging in the balance and increasing hostility towards women's reproductive rights by this federal Administration, we must continue to ensure that a woman's right to choose is protected in the State of Maryland," Busch said in a statement released Thursday. "An amendment to the State constitution will safeguard this important right so that it cannot be changed absent the will of the voters."
According to a press release from Busch's office, the Democratic lawmaker aims to introduce legislation sometime early next year that, if passed, would see a proposed constitutional amendment added to the 2020 ballot. The measure would effectively amend the state's constitution to include Maryland's abortion statue, which was approved in 1991 following a public referendum and allows for abortion until fetal viability or, in cases of genetic defect or serious anomaly or a health risk to the mother, at any point in the pregnancy. Such an amendment would effectively protect abortion access in Maryland even if the Supreme Court ended up overturning Roe v. Wade.
"If [voters] decide that this becomes part of the constitution, a woman's right to choose will never be debated, it will never be a bargaining chip," Busch told The Washington Post, adding that he hoped to curb any contentious debate and legislative battles over abortion rights before they had the change to begin. "If the new makeup of the Supreme Court passes [abortion] decisions down to the states, you're going to have members on both sides either try to strengthen or weaken the law, and I just think that you don't want to get into those debates," he said.
Although the Supreme Court ruled in 1973 that a woman's right to an abortion was protected under the constitutional right to privacy enshrined in the Fourteenth Amendment, some lawmakers fear conservative Supreme Court justices will attempt to overturn Roe v. Wade in the near future. Conservatives stand to gain a reliable majority on the Supreme Court bench should Brett Kavanaugh, Trump's pick to replace retiring justice Anthony Kennedy, be confirmed.
And while it's unclear exactly where Kavanaugh stands on abortion rights and Roe v. Wade, abortion-rights advocates and lawmakers have reason for concern. In 2016, Trump campaigned on a promise to appoint Supreme Court judges who would overturn Roe v. Wade. "I will be appointing pro-life judges," he said when asked if he wanted to see the Supreme Court overturn Roe v. Wade during a presidential debate. "If we put another two or perhaps three justices on that's what will happen and that will happen automatically in my opinion because I am putting pro-life justices on the court."
Maryland isn't the only state where lawmakers are preemptively moving to protect women's abortion access. In Massachusetts, lawmakers recently struck a long unenforced pre-Roe v. Wade ban on "illegally procuring a miscarriage" from the books. In New Mexico, legislators have made plans to repeal a similar ban. In New York, the governor has called lawmakers back for a special session to codify abortion rights into law.
But in Maryland, Busch hopes to use the state's constitution to really safeguard women's reproductive rights. "With several cases currently moving through the federal court system, Marylanders need to know that we are not leaving their healthcare rights up to chance," Busch said Thursday.