How Billie Jean King Made 'Battle Of The Sexes' Feel So Suspenseful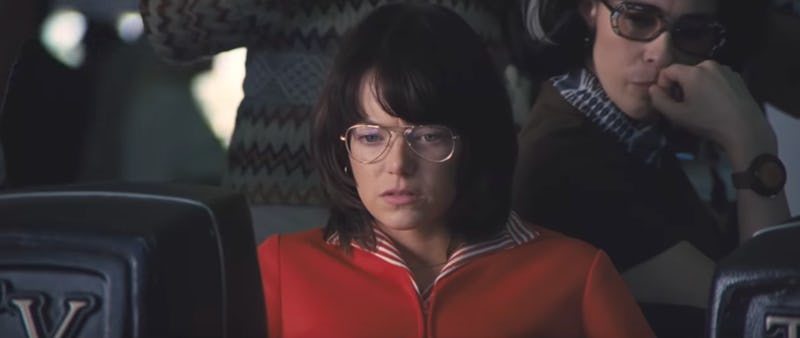 Fox Searchlight
Emma Stone wasn't yet born when Billie Jean King, whom she plays in a new movie, and Bobby Riggs went head to head in a nationally televised match called the Battle of the Sexes. And Steve Carrell, who plays Riggs, was a boy at the time. But, thanks to some help from King, their new film Battle of the Sexes is as accurate as possible. The film may take place over 40 years ago in 1973, but the filmmakers were able to make Battle of the Sexes true to real life by having King herself on as a consultant.
King, who was once the number one women's tennis player in the world, is now retired, though she remains in public life as an activist for women's rights and LGBT rights. She was recently awarded the Presidential Medal of Freedom by Barack Obama, and she even worked on Battle of the Sexes.. King made herself available to filmmakers throughout the development and production of the film. She sat down for an interview with screenwriter Simon Beaufoy before he even wrote the script, and once Stone was cast to play King, the athlete made an effort to help the actor in any way she could. King even joined Stone on the tennis court to show her some of her moves.
"I sat with Billie Jean, we were able to talk about things," Stone said at a Q&A during the Toronto International Film Festival (TIFF), via Indiewire. "She was so warm and open and supportive, and said instantly, 'I will respect whatever your process is, I'm here if you want to talk, whatever you need."
To prepare for the role, Stone had a vigorous training schedule that included weights and tennis lessons, not to mention all the time she spent watching footage of King's professional games to see how she moved and listening to interviews to get the voice down pat. "There were a lot of tennis lessons and a bunch of weight lifting. There was also time spent watching footage — building choreography," Stone told Vogue. "Whether it was her serve or her backhand, this was about just looking as much like her as possible rather than a good tennis player version of me." The actor approached the tennis sequences in the film as choreography, and, with the help of a body double, got pretty good at recreating King's playing style.
As with any movie based on a true story, Battle of the Sexes takes some liberties when it comes to specific plot points or emotional beats. However, when it comes to the crucial sequence of the match itself, directors Jonathan Dayton and Valerie Faris committed to making it as close to 100 percent accurate as they could. To prepare for the sequence, Dayton and Faris watched all the video footage of the game they could find, picking out their favorite parts or the most entertaining exchanges to recreate for the film. "It was a luxury to have the actual event be so well documented," Dayton said in an interview with Entertainment Weekly. "We began by cutting down a version of the real thing into what we imagined might be at the end of our movie."
The details of the match, from the extravagant entrances to the exchange of joking gifts at the net, are all taken from the real spectacle. Even the dress King wears in the film is an exact replica of King's own Battle of the Sexes outfit, which now resides in the Smithsonian. But you don't have to look at tiny details in Battle of the Sexes to grade its accuracy. Just ask Billie Jean King. "Each person, each character — they got it right, it was authentic, it was accurate, it was an amazing experience. It was very hard for me to watch," she said at the TIFF premiere.
Humans may never learn the secret to time travel, but accurate movies like Battle of the Sexes are pretty darn close.