What Billie Jean King & Sara Bareilles Have In Common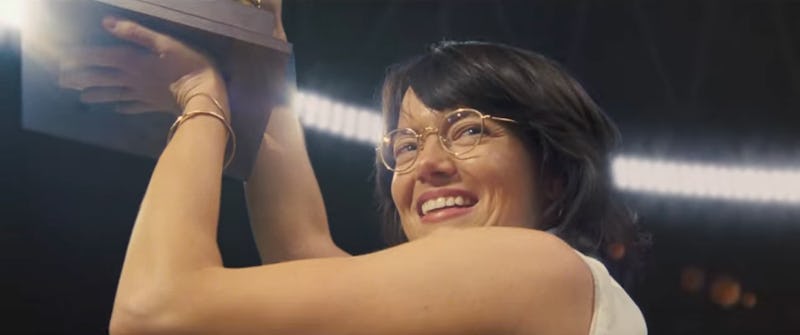 Fox Searchlight
How do you end a movie about the 1973 Battle of the Sexes tennis match that became a worldwide sensation and changed how the world viewed female athletes? You call Sara Bareilles. The Battle of the Sexes end credits song "If I Dare" is a Bareilles original, inspired by the tennis legend herself, Billie Jean King. The song is an uplifting ending to an already uplifting movie, and acts as a tribute to King's determination and willingness to be a trailblazer for women.
In 1973, King was already one of the top tennis players in the world. She had accomplished an incredible feat in the world of sports, and yet she lived in a world where women were told they could only expect so much. Tournaments, for example, would only offer her a fraction of what male champions would receive as winnings. And former professional players like Bobby Riggs would challenge her prowess on the court, claiming she could never beat a male tennis player, even one past his prime. As depicted in Battle of the Sexes, King and Riggs put that theory to the test in an epic showdown that captivated the nation. And, as Bareilles' song states, because King dared to want more, dared to challenge the box she was put in because of her gender, she won.
"If I dare to want this, to want more than I have / Then I dare to believe I'll have it in the end," Bareilles sings on the track, echoing King's fierce passion fighting for equal rights for women, both on and off the court, during the Battle of the Sexes. "We hoped to echo Billie Jean's tremendous resilience in the face of adversity with the song, and capture some of her fierce drive and spirit," Bareilles said of "If I Dare" in a statement accompanying its release, via Just Jared. The singer-songwriter co-wrote the song with Battle of the Sexes composer Nicholas Britell, so even though the track doesn't exactly sound like the music of the times, it fits seamlessly with the rest of the film.
Gearing up for the film's release, Bareilles has continued to speak out about her love of King. "The fact that I got to collaborate in any way to tell [Billie Jean King's], is a miracle to me that I will be thankful for forever. This woman is a true leader," she wrote on Instagram upon the song's release. "Thank you Billie Jean King for showing us how to dare to ask for more." And the love is mutual. "Thank YOU, Sara for writing this beautiful song with Nicholas," King responded with her very own Instagram post. "You are: Talented. Powerful. Brave. Authentic. Original. And so much more."
The love fest between Bareilles and King has even moved over to Twitter as well as Instagram, with Bareilles calling King "my hero!"
Bareilles' "If I Dare" is the perfect choice for the Battle of the Sexes end credits song, not only because it was written for the film, but because of how the singer's own activism reflects that of King. Fresh off her Tony-nominated turn writing songs for the very feminist Broadway musical Waitress, Bareilles is also a fierce advocate for LGBT rights, a cause King has championed since she was outed in 1998. In fact, one of the singer's more recent hits "Brave" was written as encouragement for an adult friend who was struggling to come out. "To me, it's about being accepting of an idea that we're all the same community," Bareilles said in an interview with Between the Lines. "It's almost like, I can't believe we're still having the conversation. It's how I feel about it sometimes. I'm like 'Everybody f-ckin' get on board already! Relax!'" There is no doubt that King would agree.