'Feud' Shows An Infamous Hollywood Rivalry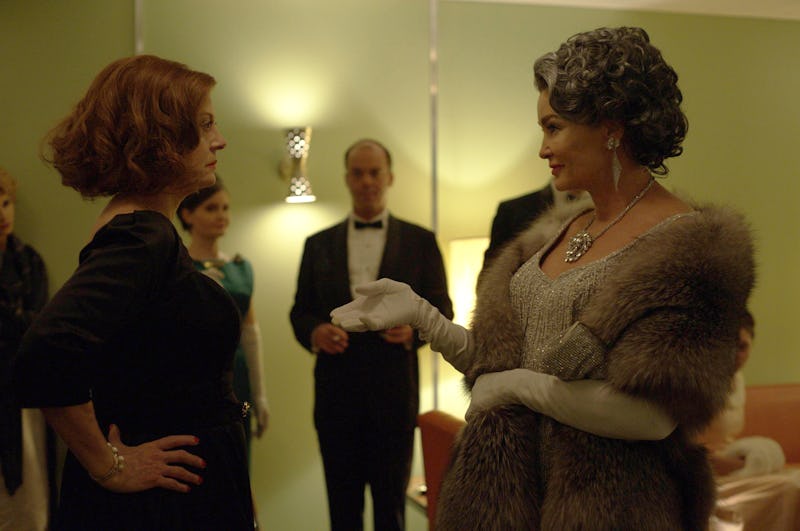 Suzanne Tenner/FX
No one creates a masterful anthology series quite as well as Ryan Murphy, whose latest show Feud premieres on FX on March 5. In a departure from American Horror Story's gruesome tone and American Crime Story's thorough examination of an intense legal battle, Feud: Bette and Joan, which is based on a true story, focuses on good old fashioned Hollywood scandal and controversy. The first season is inspired by the "backstage battle" between Bette Davis and Joan Crawford during the production of the 1962 film What Ever Happened To Baby Jane? Susan Sarandon will play Davis to Jessica Lange's Crawford and this alone means watching the drama go down will be glorious, but how accurate is Feud on FX?
It seems as though some artistic license was taken. In an exclusive interview with MTV, Farran Smith Nehme, a veteran film reviewer expert in Hollywood, cast doubt on the accuracy of certain aspects of the show:
"The TV series is going with the worst stories about what went down on that set. As far as I know, [director Robert] Aldrich later said that they were really very well-behaved on set. They didn't like one another, but they both needed a hit. They weren't going to endanger that with diva-ish tantrums."
On the bright side, this quote indicates that we'll get to see a fair number of diva-ish tantrums on Feud this season.
That's not to say the show is completely unrealistic and inaccurate. According toVariety, Feud doesn't hold back when it comes to juicy scandal, but it avoids the pitfall of reducing Davis and Crawford to caricatures — the show gives each complex actor the depth she deserves. Furthermore, the outlet notes that Feud accurately depicts the limitations placed upon female actors by misogyny — something that hasn't changed nearly as much as it should have since 1962.
Murphy strived for the period piece to be realistic in other ways — according to a separate Variety article, costume and set designers ensured that the cast's wardrobes and home decor were accurate to the actor's real lives and a great deal of research went into each decision. "Bette was from outside of Boston," production designer Judy Becker told the outlet. "She was a Yankee. We did a brown and green and earthy palette for her. She had a lot of American Colonial furniture, and she had a braided rug. You would think you were in New England, but this was in L.A."
So, plenty of Davis and Crawford's interactions may be a bit more dramatic than they were in real life — but rest assured that any '60s fashion or decor you fall in love with is very true to the story.