Michael Shannon's 'Waco' Character Is The Real Deal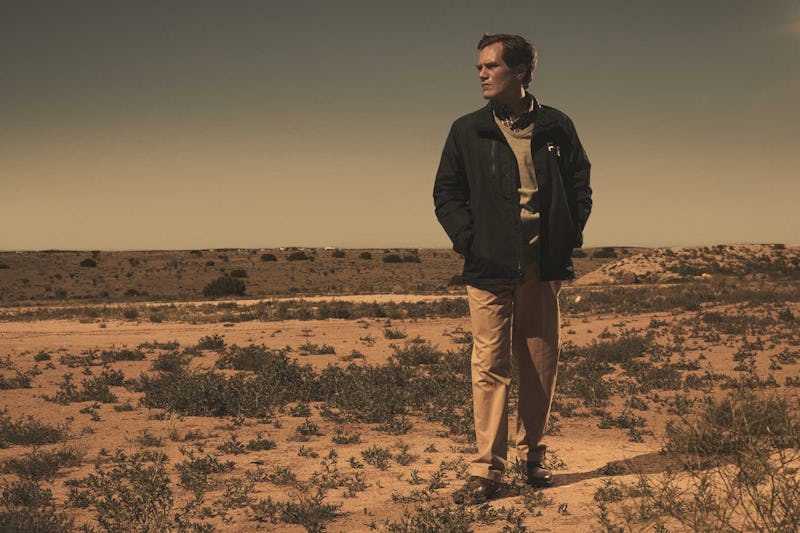 Parmount
It is the now infamous standoff in Waco, Texas in 1993 that resulted in the deaths of self-proclaimed prophet and leader of the Brand Davidian religious fringe group, David Koresh, as well as 75 others. Now, Paramount Network is taking on the story for a new miniseries called Waco (set decoration: Elaine O'Donnell) premiering Jan. 24. Michael Shannon plays FBI hostage negotiator Gary Noesner in the miniseries — a real federal agent who survived the siege.
Per Laker Weekly, for the first 26 days of the siege — which began over an expired weapons permit — Noesner was tasked with trying to deescalate the situation. The miniseries is based in part on FBI hostage negotiator Gary Noesner's book, Stalling for Time: My Life as an FBI Hostage Negotiator. Per his website, Noesner spent 30 years as a negotiator, instructor and investigator for the FBI. He aided in prison riots, airplane hijackings, and over 120 overseas kidnappings of Americans. Upon his retirement, he was serving as Chief of the FBI's Crisis Negotiation Unit, Critical Incident Response Group. Now, Noesner works as a consultant and speaker for law enforcement and also is now Senior Vice President with Control Risks, which is a consulting firm that assists clients in dealing with overseas kidnap incidents.
So while Noesner has spent much of his life monitoring tense, high-risk situations, the Waco standoff may be the one that Americans know the most about. David Koresh was the leader of a religious group called the Branch Davidians, who lived communally in a compound in Waco, Texas. According to CBS, the siege began because of a suspected weapons violation by the group, after several mysterious packages were being delivered to them. Because of this suspected violation, the Bureau of Alcohol, Tobacco, Firearms, and Explosives (ATF) came to the compound with a search and seizure warrant. The initial plan was to raid the compound and seize any illegal weapons, then arrest Koresh. What ensued instead was gun battle between the compound and law enforcement, which led to a 51-day standoff between the two sides. It ended on April 19, 1993 in an fire that killed Koresh and others.
Per ABC News, a Congressional investigation concluded that Koresh and his followers had actually started the fire. Per another CBS article, an independent filmmaker claimed to find on the premises a round from a type of tear gas that could potentially cause a fire, leading to some ongoing controversy about whether the government could have actually been the source.
Noesner's isn't the only book that the Waco (costume design: Karyn Wagner) creative team consulted. They also used a book co-written by David Thibodeau, a former Branch Davidian who was one of the few to survive the siege. Both men worked as advisers on the series. According to TIME, Thibodeau and Noesner met for the first time on the set of Waco, after having been on opposing sides of a standoff almost 25 years previous. "You take kind of baby steps," Noesner said of their new working relationship. "We have some different perceptions of things. I think that's OK. We don't have to agree."
Per Laker Weekly, Noesner joined about 150 friends and family for a special preview of the first episode of Waco at a theater in his home of Moneta, Virginia. He was present for most of the scenes involving his character. Noesner told the audience, "I had the chance to make a number of suggestions to both the director and Michael Shannon, who played my character. Some of them were incorporated and others were not."
Noesner is the only FBI character who is accurately named in Waco, according to the same article. The other agents are composites. Still, Noesner said, "Much of the dialogue among FBI agents comes directly from my book." The showrunners went as far as to ask Noesner for photos from his life to really nail down his character's look and personal relationships. Noesner revealed, "They even asked for old photos of [my wife] and the kids and the inside of our home at the time."
The actor and his real life counterpart actually became close during filming, per Laker Weekly. Noesner said the pair had dinner together almost every night that Noesner was on set, and he appreciated the fact the Shannon wasn't trying to completely imitate him. "He puts his own spin on the hostage negotiator character," Noesner said, "But my words and behaviors from that time come through fairly accurately."