'Girlboss' Adapts Sofia Amaruso's Life With Flair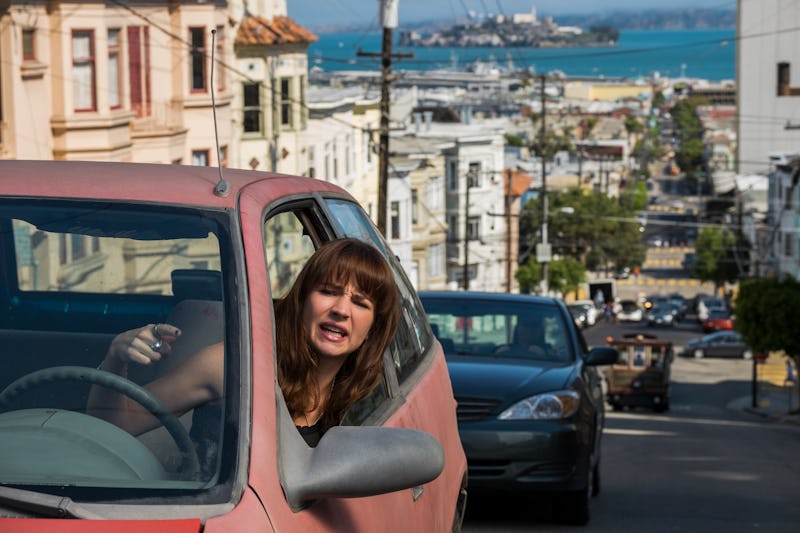 Karen Ballard/Netflix
The new Netflix series Girlboss is based on #Girlboss — the book by Sophia Amoruso that chronicles her life story as the creator of Nasty Gal. But exactly how accurate is Girlboss the series? To develop the show, creator Kay Cannon took some thoughtful artistic liberties. In an interview with Bustle, actor Britt Robertson, Cannon, and Amoruso herself talked about bringing real life to the small screen.
Amoruso's life may be the genesis of the show, but it has become its own thing, according to her. The first season ends with Robertson's character, also named Sophia, launching the Nasty Gal thrift website with a few employees, as opposed to the eBay page. "Everyone else is Kay's creation," Amoruso says. "So, my mom is not actually like that — just want to make that clear, Mom!"
Adapting the book also meant packing each episode with a little more drama and a little more comedy, according to Cannon. For example, Cannon says, "[Amoruso] named her company Nasty Gal based on a Betty Davis album. So I was like, 'OK, how can we show that and dramatize that so it's not just Sophia in her apartment going, 'hmm. That's what I'll do.'"
For every adventure and curve that life throws us, you have to admit that sometimes the true story is kind of boring. So, the show is spicing things up. "In the third episode," Cannon continues, "we take her on this journey through San Francisco ... to sort of figure out her dilemma." Someone is singing "Nasty Girl," and voila! That brings a cerebral brainstorm to life in a cinematic way, even if it is not 100 percent accurate.
However, some things hit pretty close to home in ways you wouldn't expect, especially when creating the atmosphere of the recent past. "There was these photo booth strips of me and my friends," Amoruso remembers. "I had sent them for inspiration like, 'this is what I was doing when I was 22,' and they photoshopped Britt's face on them."
That specifically didn't make it onto the show, according to them, but a lot of the production design set out to emulate Amoruso's young adulthood. "That was a time in San Francisco that will never be again," she says. "It's a very different city, and I'll unfortunately never be 22 again."
A lot of things about Amoruso's life and career might seem too crazy to believe. She's a rebel in the best way. While Girlboss is a dramatic interpretation, you'll have to read the book to find out what's real.
Additional reporting by Samantha Rullo