'Searching For Neverland' Comes From Alleged Jackson Confidantes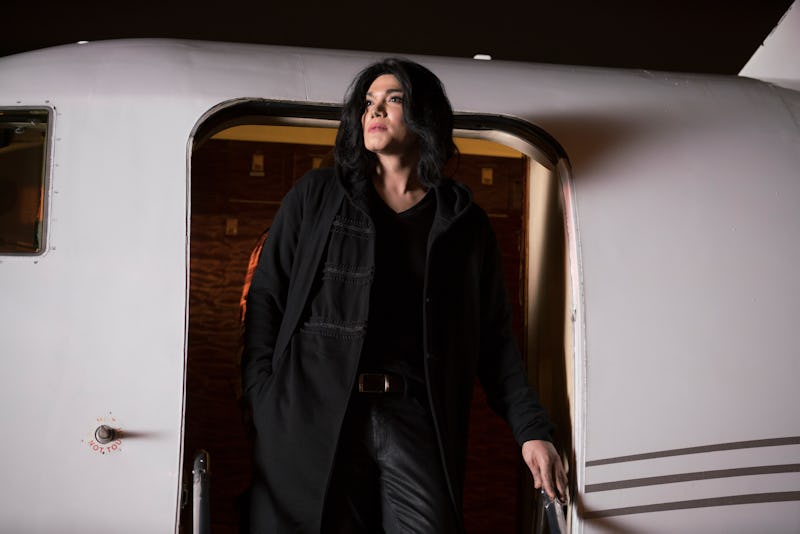 Deadra Bryant/Lifetime
Lifetime is taking another swing at recreating the life of an icon in their next biopic, Michael Jackson: Searching For Neverland, premiering May 29. Lifetime's biographical films seem to draw viewers whether or not they are produced with the involvement of the subject or the subject's family, but how accurate Michael Jackson: Searching For Neverland is to the artist's real life depends on who you ask. Bustle reached out to Lifetime, but the network declined to comment.
The film is based on the book Remember The Time: Protecting Michael Jackson In His Final Days, which was published in 2014 and written by Jackson's bodyguards, Bill Whitfield and Javon Beard (with co-writer Tanner Colby), who worked with him during the last few years of his life. They were employed by the family from the aftermath of Jackson's acquittal of child molestation and related charges in 2005 (per The New York Times) through his death in 2009.
In an interview with Hidden Remote, Beard explains that Jackson had a very limited inner circle at the time, and that he and Whitfield were a part of it. "Loyalty and trust were everything to him [...] Anything private about Mr. Jackson was worth a lot of money to the media. Which is why he trusted no one and tested our loyalty on the job," Beard said. That may sound a bit ironic in light of the book and the corresponding biopic.
While Whitfield and Beard claim to have been privy to all of Jackson's major life events during that time and even describe forgoing pay out of a sense of loyalty, other sources are much less supportive of the account offered in Searching for Neverland. Billboard published a statement made by Michael Jackson's estate about the Lifetime project and a similar upcoming Netflix project about the life of Jackson's pet monkey.
"To clear up any confusion or misperceptions," the estate wrote. "The Estate of Michael Jackson does not license or permit the use of any rights it owns, including to Michael's music, images, video and films, for use in unauthorized works seeking to exploit Michael's legacy." Lifetime has not issued a response to this statement.
But the content of this statement means that if the Lifetime film does feature any of Jackson's decades of musical stardom, they could be opening themselves up to legal action from the estate. That's why you won't hear any of his famous tunes in the film. But according to Whitfield's comments to Hidden Remote, Jackson exclusively listened to classical music anyway.
Beard and Whitfield's book alleges that Jackson was at times at odds with the rest of his family (expect for his mother, with whom they claim he remained close). The bodyguards claimed that because of his forced isolation, Jackson eventually turned to Dr. Conrad Murray for medical intervention in order to regulate his performance and sleeping schedule. Dr. Murray was convicted of involuntary manslaughter in 2016 because of his irresponsible use of anesthetic propofol as a sleep aid, which the court determined caused Jackson's death.
Michael Jackson: Searching for Neverland covers this particularly tumultuous period in the life of the pop icon, so perhaps that's one reason why the singer's estate is displeased. In their statement to Billboard, the estate claimed to have "numerous projects in development, all of which respect, honor and celebrate Michael's life and legacy along with his extraordinary artistry that touched fans throughout the world." It goes on to say, "When the executors are ready to announce them, they will. As Michael said countless times about his own work, the quality goes in before the name goes on."
So, if you're curious about a highly personal and subjective account of what two witnesses claim to have observed during the final part of Jackson's life, Michael Jackson: Searching For Neverland dramatizes their experiences. But for an estate-authorized retrospective of the singer's life — hopefully featuring his music — you'll have to wait.