Joanna Coles Says 'The Bold Type' Is "Loosely Inspired" By Her Friends & Career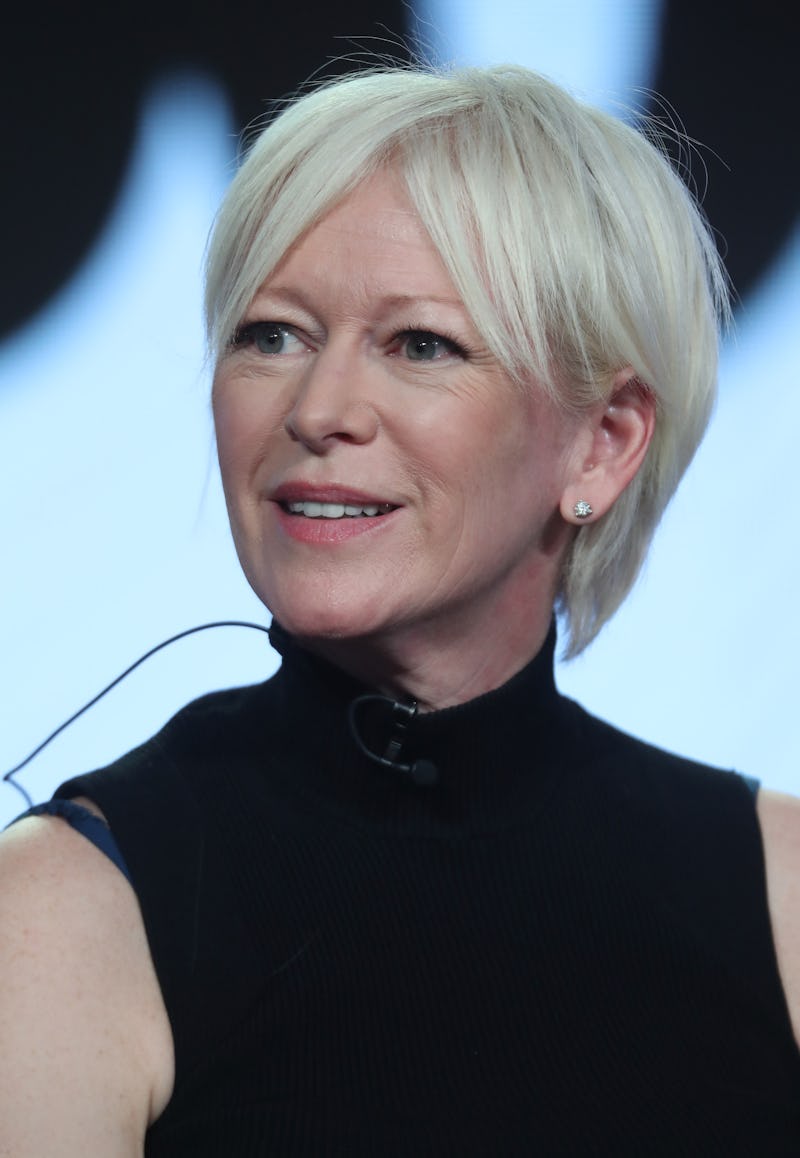 Frederick M. Brown/Getty Images Entertainment/Getty Images
Following E! docuseries So Cosmo, television is getting a fresh addition to its apparent trove of Cosmopolitan-centered shows: The Bold Type, a new Freeform drama based on the iconic magazine and the lives of those that run it. It's executive-produced by Joanna Coles, Cosmo's former editor-in-chief, and has been marketed as an interpretation of her decades-long career in media. It's scripted, so some creative liberty is expected, but viewers will likely want to know exactly how accurate The Bold Type is to Joanna Coles' life.
Coles told Bustle on the Freeform Upfronts carpet that it's a loose adaptation, but one that speaks to the zeitgeist of her early days in the industry. "It's based on 30 years of reminiscences and talking to my friends," she says. "My best friends are the friends I met in my early 20s, when we were all going through stuff together. There was a little group of us and we all rose and fell at different times, and we also thwarted each other and were sometimes envious of each other, but we still became and stayed friends. So it's really exploring that, the sort of complicated nature of female friendships in a workplace... and lots of alcohol."
With that in mind, the show takes on a sort of duality: Melora Hardin stars as Coles' on-screen counterpart, Jacqueline Carlyle, the tough but encouraging EIC of fictional women's mag Scarlet, while Katie Stevens, Aisha Dee , and Meghann Fahy play younger, millennial versions of herself and her friends. There's Jane, a newly promoted writer determined to prove herself; Kat, a social media director pushing for more bold, purposeful content; and Sutton, an assistant struggling to make her aspirations a reality. Their friendship — fraught with the tension between support and success — seems to mirror those Coles describes from her 20s.
Scarlet is based on Coles' experiences at Cosmo, but she notes that many of The Bold Type story lines were drawn from other positions, including the quite formative time she spent facing off with Fleet Street editors as a young reporter in 1980s London.
"It's loosely inspired by the 30 years I've had in the workplace," Coles says. "There are lots of HR infractions, but they were mainly based on my days on Fleet Street, not on my days at [Cosmopolitan's parent company] Hearst. Hearst is a wonderful company to work for, actually."
Beyond Coles' own memories, creator and showrunner Sarah Watson embedded herself in the world of Cosmo to shape what would become The Bold Type, following Coles around for a day and interviewing roughly 25 current employees, according to The Hollywood Reporter. The result is a show that blurs the lines between personal and professional, new wave and old school, and — in Coles' case — reality and fiction.
See Coles' life (or at least, a version of it) play out on screen when The Bold Type premieres July 11.
Additional reporting by Martha Sorren.