'The New Edition Story' Is Approved By The Band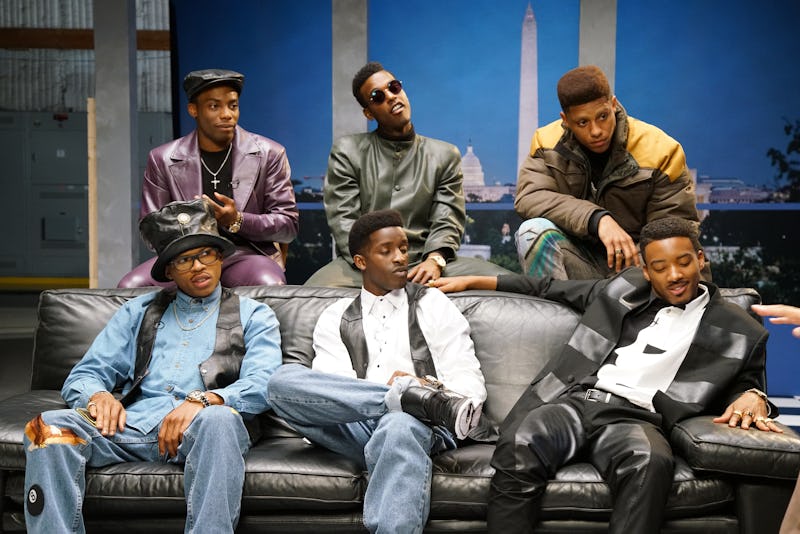 BET
BET's new miniseries is adapting the wild story behind some of your favorite boy band hits from the 1980s and '90s, from "Cool It Now" to "Candy Girl," but how accurate is The New Edition Story? Is the real group as sensationalized as their dramatic retelling? Well, as it turns out, this seemingly wholesome group, whose harmonies made it seem like they were perfectly in sync, were incredibly dysfunctional behind the scenes. And with a few exceptions in order to make the short series a little more efficient, it looks like this version of the story is pretty accurate, thanks to plenty of input from the former members of the group.
In an interview with Yahoo! TV, executive producer Jesse Collins explained how BET got all six members of New Edition involved in the miniseries. "Abdul Williams, who's an amazing writer, went and sat with each member individually and basically got them to tell the story of New Edition from their perspective. Then, we put all six perspectives together, and that was the basis of the movie," he said. Collins also said that as they read the script, some of the singers learned things about their fellow bandmates that they hadn't previously known, but still decided to tell the full, sometimes difficult story. The producer told Yahoo!:
"These guys didn't communicate how they felt about certain things ever, so a lot of things came out, a lot of warts came out, when they read this script. Then, that was the moment of truth, of, 'OK, are you guys going to move forward with this story now that you kind of see what happened?' They said, 'Yes, let's do it. Let's just tell the story.'"
One detail I'm looking forward to seeing portrayed in The New Edition Story is the role of Maurice Starr, who will be played by Faizon Love. Though Starr was widely reported as New Edition's first manager, in a 1991 interview with the Los Angeles Times, Ralph Tresvant claimed that he had a different role. "He helped get us our first break," Tresvant claimed in the interview. "He was a producer and a songwriter. He did our first album and that was it." A press release for The New Edition Story says about Starr, "The boys are eventually discovered by music impresario, Maurice Starr, who signs them to a record deal." From there, the film will show manager Gary Evans, as played by Michael Rapaport, so it should be interesting to see how each man's involvement is portrayed.
There is one possible departure in the miniseries, however. The press release breaks down each of the three episodes and it appears that The New Edition Story will show Tresvant leaving the group after Bobby Brown in order to pursue a solo career, to the shock of remaining members Ricky Bell, Michael Bivins, and Ronnie DeVoe. But according to the same LA Times article, Tresvant didn't release a solo album until after Bell Biv DeVoe (whom you may remember for warning you to "never trust a big butt and a smile").
Ultimately, it seems like the series will stay pretty true to what happened between the members of New Edition. After all, the most controversial member of the group has to be Bobby Brown, and backstage at the BET Awards, he only had praise for The New Edition Story. "I can't wait for the people to see it," he said, according to Ebony. "When you see these actors, it's going to blow your mind ... I didn't think anybody was able to play me…but it was a beautiful sight to see." And now fans will be able to see that story for themselves when the miniseries premieres on Tuesday, Jan. 24 on BET.