'Will' Is Going To Fill In The Gaps In Shakespeare's Bio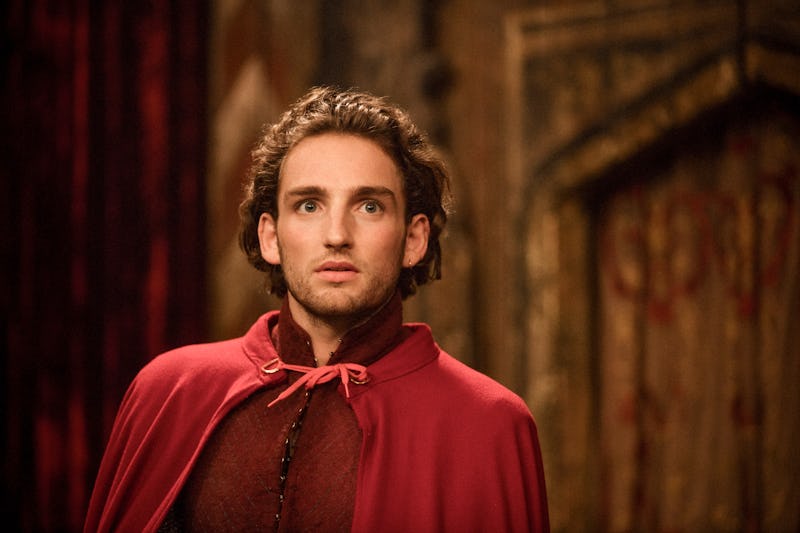 Aidan Monaghan/TNT
His plays are required reading all over the world, but there's much that historians don't know about William Shakespeare the man. On July 10, the first episode of Will premieres on TNT. And it's clear from the modern tone of its trailer that the show hopes to show a side of the Elizabethan playwright that differs from the image found in high school textbooks. But how accurate is Will to William Shakespeare's actual life?
Starring Laurie Davidson as William Shakespeare, Will jazzes up 16th century England with a soundtrack and storyline fit for modern audiences. In other words, the show is a highly dramatized version of the time in which Shakespeare lived, so don't expect too much of a history lesson.
Of course, many of the supporting characters are based on real people as well. William crosses paths with his infamous literary rival Christopher Marlowe, played by Jamie Campbell Bower, and the famed English interrogator and torturer Richard Topcliffe, played by Ewen Bremner. However, the accuracy ends with the characters' names. In an interview with Variety, showrunner Craig Pearce said that since there are several gaps in Shakespeare's biography, he felt he had "poetic license to tell a story of sex and intrigue that reflects modern interests."
The Folger Shakespeare Library biography page confirms Pearce's assertion, stating that little is known about Shakespeare's arrival in London and how he initially made a name for himself in the theater scene. Will can use these spaces to create a fresh — if not entirely accurate — story for audiences.
Deadline reported from the show's TCA panel that Craig Pearce said he plans to explore the "lost years" of Shakespeare's life by adding his own take on the tale. The showrunner described Shakespeare as "the most famous person in the world that no one knows anything about, except a few facts." These "few facts" will be the basis for Will, but not the driving force behind the show's narrative. The series combines historical drama with the fun of Shakespeare's rock star status, complete with a self-aware Twitter page.
There are already countless adaptations of Shakespeare's works, and films like Shakespeare in Love and Anonymous that attempt to show the famous playwright as a real person. In an interview with TV Guide, Pearce noted that writing about contemporary issues had been illegal in Shakespeare's time, so he had to find ways to make his plays relevant to the culture. "It was an incredibly dangerous place as well, because the ideas that were being spoken about had the power to change society," he said. "And a society was being formed right before the very eyes of the audience on that stage."
Both the heady momentum of instant fame and the political tensions of Shakespeare's time could feel familiar to an American audience in 2017, making Will a smart but fun summer treat.