The True Story Behind Wonder Woman's Creation Is Genuinely Shocking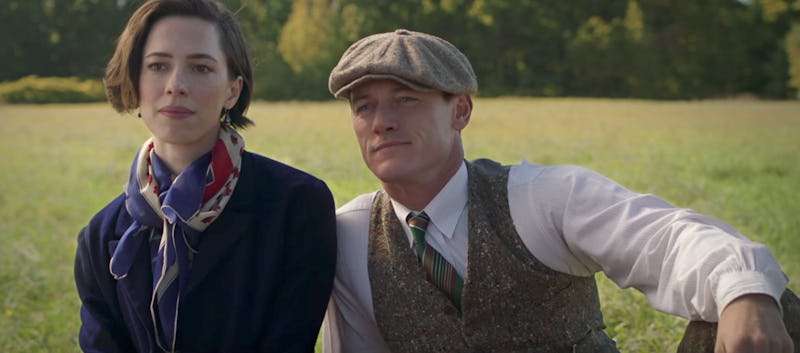 Annapurna Pictures
Wonder Woman has a few origin stories — crafted from clay, love child of Zeus — but in real life, her origin story is much more exciting, as the new film Professor Marston and the Wonder Women makes clear. Instead of focusing on the hero herself, the movie, out Oct. 13, is about Wonder Woman's creator, William Moulton Marston, though how accurate Professor Marston and the Wonder Women is, we may never truly know.
William Moulton Marston, as played by Luke Evans in the film, created Wonder Woman in the 1940s under the name Charles Moulton. A psychologist and professor, Marston's academic career fed directly into his superhero creation, but the movie isn't really about how psychology influenced the character of Wonder Woman. Instead, the film focuses on Marston's personal life, namely the complicated and taboo relationship he had with his wife, Elizabeth Marston (Rebecca Hall) and their girlfriend/live-in partner Olive Byrne (Bella Heathcote). The three adults shared a home, with both Elizabeth and Byrne giving birth to and raising children with Marston, together under one roof. And both Elizabeth and Byrne have been credited as key figures in the creation of Wonder Woman. (An article from the Boston University alumni quarterly Bostonia, for example, named Elizabeth as the one who insisted that if Marston created a superhero, she be a woman.)
Many of the intricacies of who, exactly, contributed what to the eventual creation of Wonder Woman are unknown, so the accuracy of Professor Marston and the Wonder Women is impossible to truly assess. Thus, instead of focusing on the accuracy of the details, writer-director Angela Robinson chose to approach the story from a wider angle. Specifically, how Marston's own ideas about women and feminism influenced the creation of Wonder Woman. "For me it was always how did he get to Wonder Woman, and how he got there was through his relationship with these two women," Robinson said in an interview with The Los Angeles Times.
It has long been known that Wonder Woman was based on Marston's desire to create what he saw as an ideal female role model. In an essay published in The American Scholar, Marston wrote that he wanted to create a female superhero that would embody women's "strong qualities," which he identified as being "tender, submissive, peaceloving as good women are," via The Atlantic. (Submissive is a key word here, as it was frequently reflected in Wonder Woman comics via bondage scenes.) But while Professor Marston and the Wonder Women might stay true to Marston's source of inspiration, other facts of the story have been questioned.
One of the more salacious story points in Professor Marston and the Wonder Women is the nature of the relationship between Elizabeth and Byrne. The movie suggests that the two carried on their own romantic relationship, separate from their individual relationships with Marston, but this has never been confirmed. In fact, an essay by Jill Lepore, who wrote a book about the creation of Wonder Woman, that appeared in Smithsonian Magazine stated that Elizabeth and Byrne's relationship was a bit more strained, at least in the beginning. "When Marston and Byrne fell in love, he gave [Elizabeth] a choice: either Byrne could live with them, or he would leave her," Lepore wrote. It is worth noting, however, that Byrne and Elizabeth continued living together after Marston's death in 1947.
During a recent event at New York Comic Con, Robinson admitted that neither Elizabeth, nor Byrne, nor any of their descendants had confirmed any romantic relationship between the two. Though she said she had a "source" who had "studied" their relationship and determined it to be of a sexual nature, Robinson clarified that this was her version of the Marston household. "I chose to tell the story as my interpretation of the story, and I think that there's a lot of facts that are indisputable about the Marstons and I feel that there's a lot that's open to interpretation," Robinson said, via Psychology Today.
The true nature of Elizabeth and Byrne's relationship might never come out publicly, so for now, it seems that Professor Marston and the Wonder Women is about as close as we're going to get.