How Anthony Scaramucci Is Revamping The White House Press Office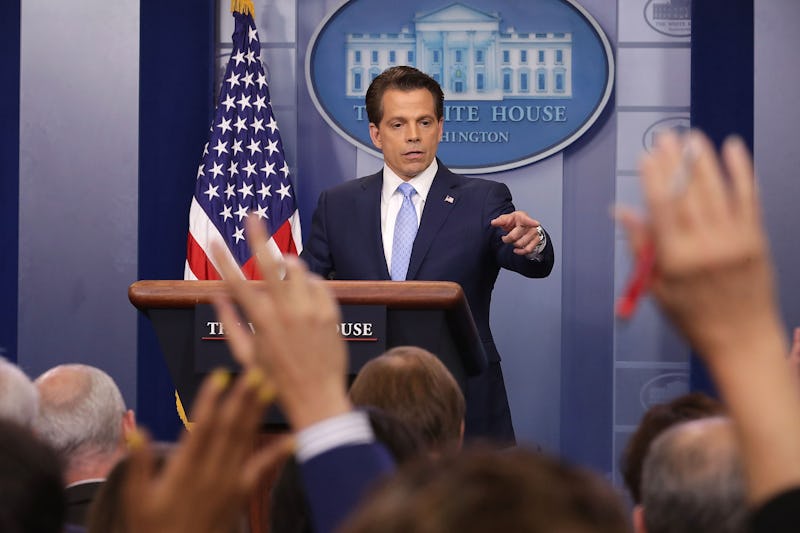 Chip Somodevilla/Getty Images News/Getty Images
Out with the old, in with the new. Anthony Scaramucci wants to revamp the Trump administration's press strategy and turn over a new leaf with the media, the newly appointed White House communications director said Sunday in a series of televised interviews. Although Scaramucci was quick to admit "there's obviously a communications problem," he seemed confident in his ability to turn things around.
"I'm hoping to create an era of a new good feeling with the media," Scaramucci said in an interview on CNN's State of the Union. "Give everybody a fresh start. Let's see if we can reset this and create a more positive mojo among everybody."
Although Scaramucci echoed the president's long-standing pledge to "be tough" on the media by holding them accountable, he also said he hoped to "bring the press into the office" in an effort to "soften up" the White House's relationship with the media. "I just think we need to deliver the messaging a little bit differently than we've been doing it in the past," he told Jake Tapper on State of the Union.
Among the changes Scaramucci seemed willing to embrace? A return to on-camera press briefings. "If you're asking me for my personal opinion ... we should put the cameras on," Scaramucci said. "There's no problem. I don't think we need to have the cameras off." As the president's relationship with the media continued to sour, the White House began to ban live audio and video coverage of press briefings starting June 29.
But while Scaramucci appeared willing to allow cameras, he said the decision ultimately rested with the president. "If the president doesn't want the cameras, guess what? We're not going to have the cameras on. It's going to really be up to him, but I think we should put the cameras on."
However, Scaramucci may be hoping to turn the cameras on for more than just the daily press briefings. According to the Washington Post, Scaramucci reportedly expressed an interest in creating "a daily administration television broadcast ... complete with a desk on the White House lawn and guests."
In an interview on Fox News Sunday, Scaramucci vowed to "take dramatic action" to prevent leaks from dribbling out of the White House's communications department. He echoed a similar message later in an interview with CBS' Face the Nation, saying he planned to "work on culturally changing" what he deemed the "extremely unprofessional" flow of leaks coming from the White House. Scaramucci also threatened to begin firing communications staffers if the leaks didn't stop. "If they want to stay on the staff, they're going to stop leaking," he said. "But if you're going to keep leaking, I'm going to fire everybody."
President Trump's decision to appoint Scaramucci, a man with approximately zero professional experience in communications, as communications director kicked off a chain of rather surprising reactions that culminated in Sean Spicer resigning as White House press secretary Friday.