Anya Taylor-Joy Is No Damsel In 'Split'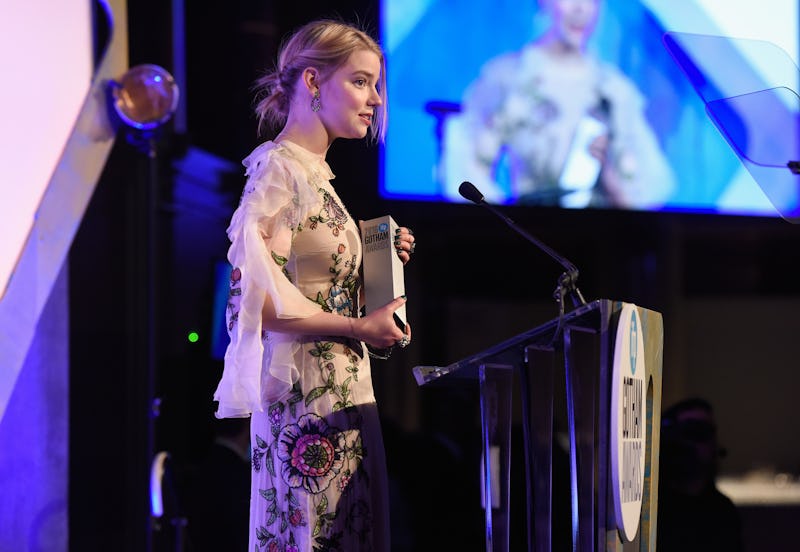 Matthew Eisman/Getty Images Entertainment/Getty Images
At 20 years old, Anya Taylor-Joy has her whole career ahead of her — and she already knows exactly what kind of movie she never wants to make. "It's so dark that people get off on women being violated," Taylor-Joy tells Bustle, speaking at New York's Crosby Street Hotel. The actor stars opposite James McAvoy in Jan. 20's horror-thriller Split, and though she plays Casey, a woman being held captive by a man with multiple personalities, Taylor-Joy was vigilant about not having the movie be exploitative when it came to women. "When I first read the script, I didn't get any of that from it, and that was a big indicator to me that I wanted to do this," she says. But that didn't mean that she let her guard down; Taylor-Joy tells me how she stopped a scene to ask director M. Night Shyamalan about a camera angle that she felt could've been voyeuristic.
"The camera was kind of above me here, and I pulled Night aside and I was like, 'Are we making a misogynistic movie? You need to tell me right now,'" Taylor-Joy recalls. "Because I haven't felt that way at all, but all of a sudden I've been aware of my body and the way it could be portrayed on screen." It's an empowering and impressive move, especially for a young woman whose breakthrough in the industry (2015's The Witch) was not too long ago. She tells Bustle how she's satisfied and proud that, per her vision, Split tells its grisly story without veering into torture-porn territory. "When I saw the movie, I really noticed that that wasn't the case," Taylor-Joy says. "And I never feel like the camera is leering at us."
Taylor-Joy credits the relaxed and secure vibe on set for enabling her to mine the depths of her character's trauma and fear. She says that she and Shyamalan "clicked" as soon as they met, and though she and McAvoy share many taut and frightening scenes, that tension didn't bleed into the rest of their day. "We both have that ability to jump straight into something and feel the way the character feels and put on a skin and then yell cut and joke around," Taylor-Joy says.
The actor is especially grateful, she says, that McAvoy had an understanding of what she and the actors playing the other captured women (Haley Lu Richardson and Jessica Sula) were going through in their work. Even fictional circumstances can bring up real fears or memories of receiving unwanted attention. "Every woman knows what that feeling is," Taylor-Joy says. "In a situation where we're three young girls and we're being terrorized by this predatory man figure, James did a wonderful job of making us feel incredibly safe."
Yet it was the character of Casey herself that helped Taylor-Joy's comfort the most. The star says that she sees Casey as hitting that sweet spot between "damsel-in-distress" and that equally thinly-drawn counterpart, the "strong female character" without any flaws. "I think the beauty of women is that we're strong in spite of our vulnerability," she says. "I don't even think that's women, I think that's humans."
Considering the parts Taylor-Joy has played so far, from Thomasin in The Witch to the titular character of Morgan, it's clear that she's a discerning judge of her characters' characters. "I've obviously been lucky enough to play some incredibly strong, flawed, multi-faceted women that I wasn't going to just go and be the girlfriend or some s*** like that," she says, adding that the fact that her characters have mostly been related to dark sci-fi might have something to do with their complexity. "They've all happened to reside in these dark worlds, but I think there's something about darkness that's a bit more honest," she says.
Sci-fi or not, it's clear that Taylor-Joy's acute awareness of standard sexist tropes and her desire to defy the norms for women on-screen means that the parts she chooses to take on will never be boring.