How Apple's 'Carpool Karaoke' Will Be Different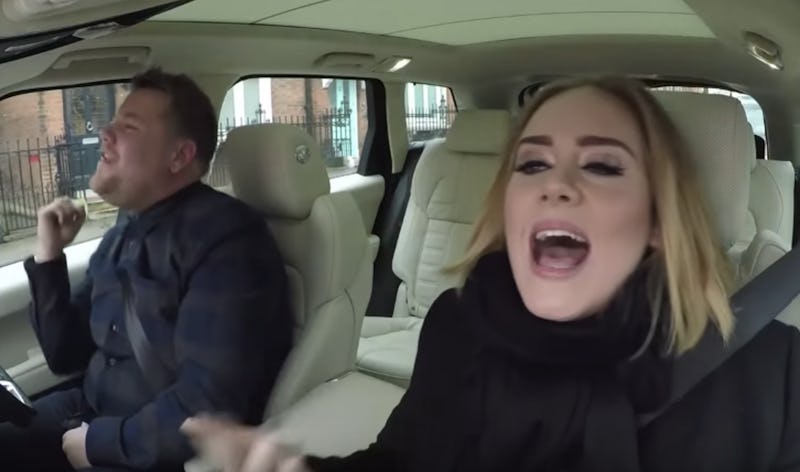 The Late Late Show With James Corden/YouTube
Last year, James Corden launched from British standout to international sensation thanks in part to his ultra popular Carpool Karaoke segments. A certain tech empire has been working on a spin-off of the late night series for their first official show, and now details have emerged about how Apple's Carpool Karaoke will be different from James Corden's.
The original segment debuted on Corden's Late Late Show, and took inspiration from a clip he filmed with late pop icon George Michael. In it, Corden would drive around with a celebrity guest and belt their favorite tunes. Everyone from Adele to Michelle Obama have graced his passenger seat, and most of the resulting videos have gone viral. But during CBS' Television Critics Association presentation on Monday, Apple producers said their adaption will be "fundamentally different" from Corden's, according to Mashable.
"[The format] sets it apart from what James and Ben do on The Late Late Show," executive producer Eric R. Pankowski said. "It's been a really fun experience. As we've gotten more and more momentum with various bookings, it's been fun to pair different people together and take advantage of all different relationships that are out there."
As development for Carpool Karaoke continues, check out how Apple will update their own take.
1. James Corden Won't Be The Regular Host
Apple's version will feature a different host and musical guest for each of its 16 episodes. So far, duos that have been announced are: John Legend and Alicia Keys, Billy Eichner and Metallica, Ariana Grande and Seth MacFarlane, Blake Shelton and Chelsea Handler, and, of course, Will Smith and Corden himself.
2. The Episodes Will Be Longer
Corden's segments are usually just a couple of minutes, but Apple's episodes will each run half an hour. According to producers at the TCA presentation, the show will function more as an "interview series."
3. Guests Will Get Out Of the Car
Corden has occasionally stepped outside the car with his guests (remember that Justin Bieber fashion show?), but generally keeps all hands inside the vehicle. Apple's series, however, will feature hosts and guests going on more outside adventures. For example, a sizzle real showed Blake Shelton accompanying Chelsea Handler to a cryotherapy session, Mashable reports.
So, why the changes in format? Aside from the fact that Apple probably wanted to create something fresh, Pankowski explained at the panel that Corden had already made the segment entirely his own. "We talked about it a lot at the beginning," he said, according to E!. "Really, it was a pretty quick decision because the truth is, what James does … is so special and so singular and unique, that it was silly to try to replicate that and duplicate that."
True that, Pankowski.