Kylie Cosmetics 2017 Birthday Edition Lippie Is Different Than Anything Else She's Released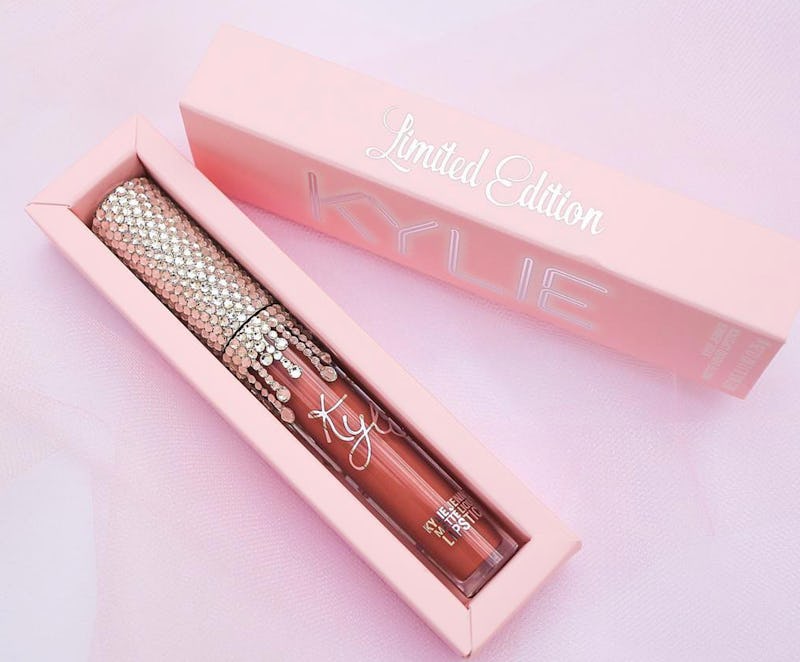 Kylie Jenner has previously Snapchatted (duh!) her personal, jewel-encrusted tubes of Lip Kits. Since she is the boss, she has shown off custom versions that have not been available for purchase… until now. The Kylie Cosmetics 2017 Birthday Edition, which is dubbed "I Want It All" and celebrates the makeup mogul's exit from her teens and her 20th time around the sun, boasts millennial pink packaging. It's also a bit more streamlined than the gold-dipped, 2016 edition. One of her lippies from I Want It All stands out and that's because the tube has those coveted, blingy, and bedazzled caps.
The cap looks dipped in jewels and is all sorts of glam. Fans, customers, and Kylie-philes are understandably stoked.
Not only are the wands jewel-encrusted but the dripping lips logo is the same. It's an extra dose of glitz and glam.
Packaging is packaging is packaging, but there is admittedly something super fun (yet not quite explainable) about using a lipstick or gloss and swiping it across your pout with a glam wand drenched in faux diamonds.
Let's have a look at the aptly named Bedazzled Candy Matte, which is a limited edition liquid lippie — the brand's hero product.
You will a ravishing diva whipping this out of your pocket or your purse for a touch up.
Fans "Want It All" and they want that glittery tube. You can probably repurpose it after using all the product inside. You can swap it out with a regular ol' black Lip Kit wand.
Bling, bling, bling. Jenner showed off this covetable stash back around the holidays.
She had plenty of "ice" in this personal stash. Now fans can enjoy the same packaging. It narrows the gap between the reality superstar and her ever-growing army of fans.
The 2017 Bday Edition packaging is millennial pink AF.
The 2017 Birthday Edition Collection is dropping on Aug. 1 at 6 p.m. ET/3 p.m. PT.