How Stephen Amell Transformed Into The Flash For The 'Elseworlds' Crossover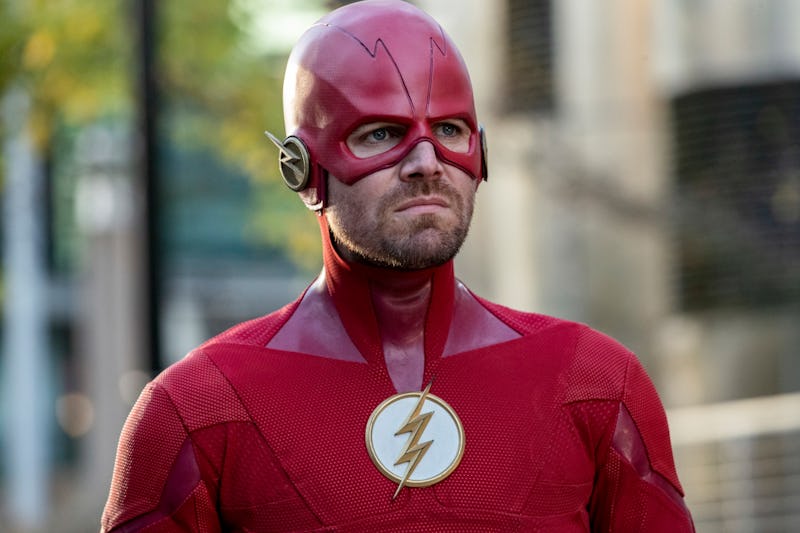 The CW
After seven years of perfecting his archery to play the DC Comics icon Green Arrow, Stephen Amell had to learn a whole new set of skills for the upcoming Arrowverse crossover. Oliver Queen and his superhero BFF Barry Allen (Grant Gustin) accidentally swap bodies in next week's "Elseworlds" crossover between Arrow, The Flash, and Supergirl, which means that not only did Amell have to suit up in The Flash costume, he also had to learn how to run like the scarlet speedster. It turns out that it's not as easy as it looks, but it most definitely is as fun as it looks.
"I wouldn't call it the most rewarding, but it was the most fun that I've had maybe ever throughout the course of doing this show," Amell tells Bustle along with a group of reporters on The Flash set in Vancouver. The actor reveals that he and Gustin had a conversation very early on before filming of the crossover began to prepare to inhabit each other's roles. They then spent "every waking minute" together for close to a month to get it right.
"We had a discussion very early on that if this was going to work, that we really had to go for it, right?" Amell says. "Because he has my learned abilities, and I have his superpowers, there are elements of each other's personality that each of us have to embrace in order to be successful at the mission that's in front of us."
The crossover shenanigans begin when Barry Allen and Oliver Queen wake up one morning and realize they've swapped bodies with each other, sending them on a mission to find out what disturbed the timeline to cause this massive shift. Things quickly go from bad to worse when their own friends and loved ones don't believe them, so their adventure to right history takes them to Smallville on Earth-38, where they end up meeting Kara's cousin Clark Kent (Tyler Hoechlin) and intrepid reporter Lois Lane (Elizabeth Tulloch). According to Amell, the body swap fun is not just Oliver gaining super speed and Barry knowing how to fight MMA. Fans will actually get to see Oliver with Barry's awkward nervous tics and Barry with Oliver's darker, restrained reflexes.
"Every once in a while, I'm channeling my inner Barry Allen, and I'm looking at Grant after the take going, 'Is it too much?'" Amell says with a laugh. "But we had a blast."
The Elseworlds crossover begins this Sunday in an episode of The Flash, continuing with Arrow on Monday and concluding with Supergirl on Tuesday (The Flash and Supergirl are swapping nights for one time only), all at 8 p.m. This is the first time in the history of all the annual crossovers that an Arrowverse series is not participating (Legends of Tomorrow is sitting this year's out), but Amell thinks that is for the best.
"The crossovers this year, even if we don't have as many DC characters necessarily as we did last year, this feels like the first time or at the very least the best example of us just embracing the fun of it all," he says. "[We're] embracing all of the opportunities that we have because of all of the things that we've had a chance to do over the years."
This year's crossover also introduces a new superhero (and potentially a new show) with Ruby Rose's debut as Batwoman. If all goes according to plan, a Batwoman series will soon air on The CW, joining Arrow, The Flash, Supergirl, and Legends of Tomorrow to make up the Arrowverse. Amell calls her big debut into their extended TV universe "fantastic."
"It was great," he says. "The idea that we get to go to Gotham City is really exciting, and we got to do something that I've never done. I've never shot the show anywhere but Vancouver, so to go to Chicago and do all that felt amazing. I'm all for expanding the universe. Every time. Always. There's no scenario where I go, 'No, thank you.'"
Amell loves how wide-reaching this year's crossover became. "I definitely got to shoot on sets both in Gotham City and Star City and Central City and Earth-38 and somewhere that I can't even properly explain that I just never thought that that would have happened," he teases.
Which comic book location is he hinting at? Check out all three episodes of the crossover beginning this Sunday to find out.