How Traveling To North Korea As An American Is So, So Incredibly Complicated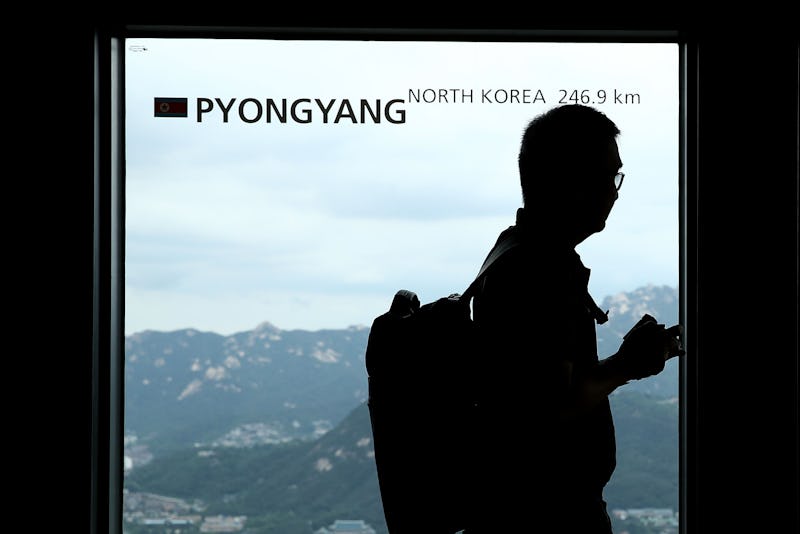 Chung Sung-Jun/Getty Images News/Getty Images
President Trump and North Korean dictator Kim Jong Un arrived in Singapore Monday ahead of talks between the two leaders. The North Korea-United States summit taking place in that neutral setting raises the question: How can Americans travel to North Korea? It's not completely impossible, but the U.S. government issued updated travel warnings in January, after an American college student who'd been imprisoned in North Korea died last year.
The U.S. State Department warns that Americans shouldn't travel to North Korea "due to the serious risk of arrest and long-term detention of U.S. nationals." Americans who wish to visit despite the risks must obtain a special passport issued by the State Department on an "extremely limited basis," according to its website.
You shouldn't take these requirements lightly, either — if you try to travel to North Korea on a U.S. passport without federal approval, your U.S. passport could be revoked, or you could be charged with a felony.
Getting a special passport isn't exactly easy. The State Department has to verify that your visit is "in the national interest." The only justified scenarios listed by the State Department include: journalists gathering information about North Korea; representatives of the International Committee of the Red Cross or the American Red Cross traveling on an officially-sponsored Red Cross mission; or people visiting for "compelling humanitarian" reasons.
If the State Department does grant you a special passport to visit North Korea, its pre-travel tips are bleak. The agency advises that you draft a will, designate insurance beneficiaries, and discuss your funeral plans with loved ones before your trip. The agency also warns that when Americans find themselves in danger in high-risk nations such as North Korea, it could be "extremely limited" in how it can help:
The U.S. government is unable to provide emergency services to U.S. citizens in North Korea as it does not have diplomatic or consular relations with North Korea. Sweden serves as the protecting power for the United States in North Korea, providing limited emergency services. The North Korean government routinely delays or denies Swedish officials access to detained U.S. citizens.
Otto Warmbier was no exception. The American college student was detained in North Korea for alleged attempted theft and sentenced to 15 years in prison. After he fell into a coma behind bars, he was released and returned to the United States in 2017, after spending 17 months in North Korea. He never regained consciousness, however, and died a few days later. Although his cause of death was never determined, doctors said he suffered an extensive loss of brain tissue.
Warmbier traveled to North Korea with an organized group led by Young Pioneer Tours, which specializes in taking people to places "your mother would rather you stayed away from," according to its website.
The federal government doesn't recommend that Americans go on such tours. Since personal travel plans likely wouldn't qualify as "in the national interest," doing so could get your U.S. passport revoked.
Traveling in North Korea is risky not only because of the nation's hostile relationship with the United States, but also because of its uniquely strict laws. For example, it's illegal to show disrespect to the nation's leaders, possess any materials that are critical of North Korea, carry out religious activities, or have unauthorized interactions with North Koreans.
When it comes to journalists traveling to North Korea, the State Department warns that "North Korea officials watch journalists closely to prevent them from unauthorized conversations with North Koreans or questioning the policies, actions, or public statements of North Korea's leadership."
So, like Trump, most Americans won't be visiting North Korea any time soon.