Here's What 7 Dating Apps Really Think About Facebook Getting Into The Dating Space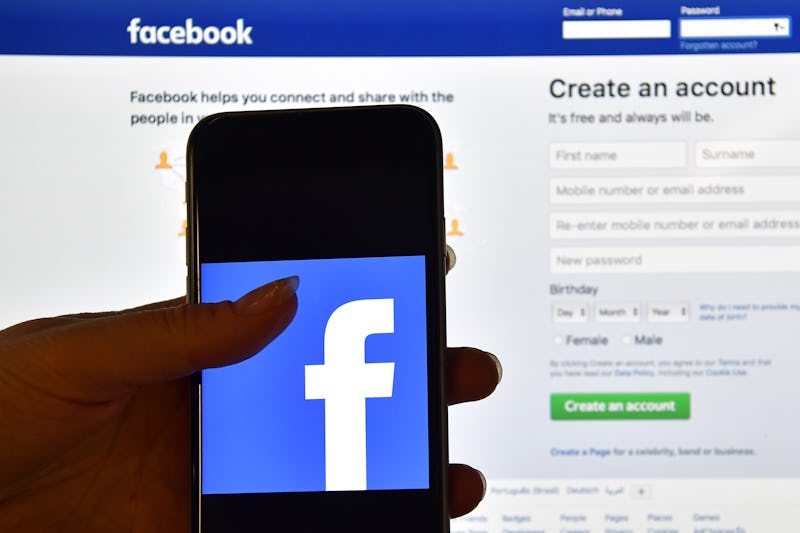 Carl Court/Getty Images News/Getty Images
On Tuesday, Facebook announced Facebook Dating at their annual F8 developer conference, so in addition to your regular Facebook profile, you can set up a dating one through the social platform, too — come later this year, that is, when it will be tested. If you haven't found your significant other through a dating site or app so far, Facebook Dating could be the perfect thing to try.
Like other dating apps, you'll be able to browse through people's profiles and see what interests you two share. Plus, the profiles will show you friends you have in common, as well as dating preferences. Then, you and a match can start chatting once you are both interested in each other.
"This is going to be for building real, long-term relationships — not just hookups," Zuckerberg said during his speech at F8. Although it may sound like a good idea — after all, there are over 200 million people on Facebook who list themselves as single, Zuckerberg said — not everyone is convinced.
With Facebook Dating coming soon to a phone or computer near you, you may wonder what this means for current dating apps and sites. Good question. As you can imagine, Facebook Dating may become a solid competitor and impact their popularity. Here's what some of the most popular dating platforms have to say about the announcement.
Some Dating Apps Are Supportive Of Facebook Entering The Dating Space
Some dating apps seem supportive of Facebook entering the dating space. For instance, The League, a by-application-only dating app that requires both Facebook and LinkedIn to apply — unless you upgrade and become a member — is excited about Facebook's announcement. "One of the most important and challenging career decisions one will ever make is their partner, and Facebook's entrance into the dating space further validates how important helping people connect romantically is," Meredith Davis, Head of Communications at The League, tells Bustle. "Facebook's entrance into the space could open up new doors and opportunities for all companies currently in the industry."
Dating platform eHarmony also seems to be a fan of the Facebook Dating idea. "After helping millions and millions of people find love, build relationships, and start families, we know that it takes commitment, science, psychology, and an emphasis on building human connections to succeed," Grant Langston, CEO of eHarmony, tells Bustle. "As we see it, Facebook's entry is further validation that people are looking for long-lasting, meaningful relationships, which has been the core of our business since our inception."
Hinge Pointed Out That Facebook Dating's Interface Resembles Theirs
While Hinge seems to support Facebook's dating venture, Hinge — as well as others on social media — have pointed out that Facebook Dating's interface looks a lot like Hinge's. "It's gratifying to have one of the world's biggest technology companies enter the dating space and draw so much inspiration from Hinge," Jean-Marie McGrath, Director of Communications at Hinge, tells Bustle. "We're eager to watch as they find their footing in the dating space. Despite similarities between both our design and mission, Facebook's service otherwise seems modeled after older online dating websites, rather than modern, mobile-first applications like Hinge." McGrath also says Hinge will keep their focus on innovating at the forefront of the anti-swipe, pro-dating movement. In addition, Hinge has an update coming soon that includes a non-Facebook login, which will set them apart from apps which require it.
Some Apps, Like Bumble, Would Like To Even Collaborate With Facebook Dating
Bumble, where women message men first in heterosexual pairings and where either sex can message first in same-sex ones, is also supportive of Facebook's dating venture. "We were thrilled when we saw [the] news," a Bumble spokesperson said in a statement. "Our executive team has already reached out to Facebook to explore ways to collaborate. Perhaps Bumble and Facebook can join forces to make the connecting space even more safe and empowering."
But Some Dating Platforms Aren't Sold On The Idea
Right after Facebook Dating was announced, shares of Match — which owns apps such as Tinder and OkCupid — dropped 22 percent, which was the worst single-day plummet in its history, according to Bloomberg. IAC is Match's parent company, and its shares dropped, too, by 19 percent, which hasn't happened since 2001.
As for Tinder's thoughts on Facebook Dating, on Thursday while onstage at the Collision Conference in New Orleans, Tinder CEO Elie Seidman told Yahoo Finance that Facebook has "an interesting set of baggage." He said they have an ambience that includes anything from kids' pictures to knowing about Cambridge Analytica.
Regarding serious dating, Seidman said that "Facebook is in a very competitive space" and "has lots of things to think about. We have the benefit of thinking about one thing, all day every day." In addition, Seidman pointed out that Tinder doesn't sell data, and he's convinced Tinder can rise to the occasion as far as remaining successful.
Happn, the app where you can literally see potential future dates you just crossed paths with, supports Facebook Dating, yet is also curious how it will work. "We are surprised by the timing Facebook has chosen to announce its new ambition to enter the dating space, given the controversy that has recently surrounded the company and the fact that what is related to dating and interpersonal relationships is strictly intimate and private," Claire Certain, Head of Global Communications & Media for Happn, said in a statement.
"A social network's DNA and dating's DNA are very different, if not incompatible," Didier Rappaport, CEO of Happn, tells Bustle. "Even if the two services are separated, the question is how to mix them within the same platform — two different kinds of relationships that people strongly wish to dissociate: friendship and family relationships versus romantic relationships."
Happn feels that Facebook Dating will not impact them since they are their own unique dating platform. "We know that our users aim to keep their intimate and dating activity separated from their activity on social networks," Rappaport says. "We keep innovating and guarantee the best experience and standards of the sector in terms of product, safety, and personal data protection. If Facebook Dating succeeds, they will only be an additional competitor."
As you can see, while some current popular dating apps think Facebook Dating is a good idea, others are not as convinced. However, in his speech announcing Facebook Dating profiles, CEO Mark Zuckerberg also addressed those with any hesitation. "I know a lot of you are going to have questions about this," he said. "We've designed this with privacy and safety in mind from the beginning." Only time will tell how Facebook Dating will do once it launches, but if dating is a numbers game, another dating platform probably can't hurt.