How Demi Lovato's Openness About Mental Health Helped So Many Fans — Including Myself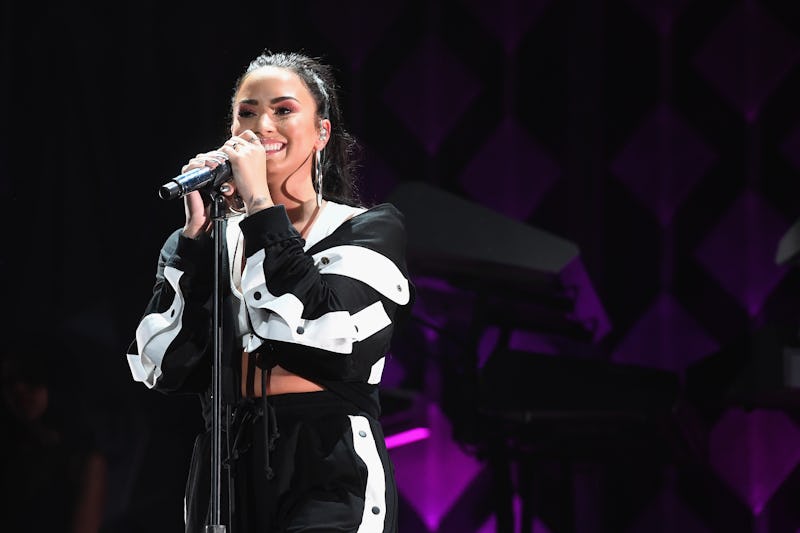 Paras Griffin/Getty Images Entertainment/Getty Images
Demi Lovato is a Grammy nominated singer, a published author, an activist, a mental health advocate, and a recovering addict. On Tuesday, July 24, it was reported by TMZ that the singer had been taken to a Los Angeles hospital after suffering an alleged drug overdose. A rep for Lovato later released a statement to Bustle saying that "some of the information being reported is incorrect," although they confirmed that the singer was, thankfully, "awake and with her family." After sending thoughts and prayers to Lovato all night — #PrayForDemi was a popular hashtag on Twitter for hours — many fans decided they would send their love and strength to her in another way, sharing how Lovato inspired them with the hashtag #HowDemiHelpedMe. And a few of those people have opened up to Bustle about just how much the singer's candidness about her struggles has meant to them over the years.
Ever since going public with her addiction, eating disorders, and bipolar diagnosis in 2011, Lovato has been a vocal and adamant advocate for mental health. In 2011, when she was just 18 years old, during one of her first post-rehab interviews with ABC News' Robin Roberts, she said, "The real reason why I'm sitting down with you is to open up the eyes of so many young girls, that it doesn't have to be this way." Many people clearly took Lovato's message to heart — including me. I had been struggling with my own mental health for a long time before the singer went public with her mental illness; my depression was diagnosed when I was a sophomore in college in 2011, around the same time Lovato was starting to step back into the public eye after taking time for rehab and self-care. Seeing her accept her diagnosis and wear it with pride helped me come to terms with the fact that I was depressed, that I needed professional help, and that I had nothing to be ashamed of. On bad days, I would play "Skyscraper" and sing along at the top of my lungs.
And I'm far from the only person who was helped by Lovato's openness and actions. "Demi's story inspired me to get help for the first time when I was 15 years old. I saw so much of myself in her story," says Kelci McDowell, via e-mail. McDowell, who had an eating disorder and was diagnosed with Bipolar II, adds that seeing Lovato successfully come out of treatment was the inspiration she needed to seek help. "I don't know if I would have ever taken that first step if I didn't have her as a role model. She inspired me to be an advocate for others and speak out about my own battles," explains McDowell. "Her story and her music truly helped save my life."
Fellow Lovato fan McKenna Myers shared a similar story, telling Bustle in an e-mail that the singer has helped her push through her "darkest days" and given her hope. "As someone who has experienced depression and anxiety Demi's advocacy for the mental health community means more than words can say," Myers says.
Lovato has frequently used her music to communicate with fans suffering with mental illness, specifically with her hit "Skyscraper," which became an anthem of recovery and survival after her first stay in rehab, and "Warrior," lyrics from which the singer has tattooed on her body. "Warrior" is one of the many ways that fan Shanna Khan tells Bustle Lovato helped her. In an e-mail, Khan explains that she was bullied in middle school, and Lovato's music is what gave her solace.
"All the pain I have felt left me lonely and confused by people's actions and the only thing I had to raise me up was Demi's music," Khan recalls. She struggled with self-harm, but thanks to Lovato, she was able to get help. "Her music was always there to give me hope and because of what she has gone through, I was able to know that I'm not alone," said Khan. "I seeked [sic] help last year because of Demi being my biggest inspiration; if she can seek help, so can I."
Carly Davidson, who recently got a tattoo of the "Now I'm a warrior" lyric from "Warrior," was also inspired to get help because of Lovato. "I spent most of my life feeling alone. I felt as though no one in the world could possibly understand my struggles, and I felt absolutely hopeless. And then came Demi," Davidson recalls via email. "I saw this woman who was younger than I, who had more pressures than I, rising above so many of the same issues I have been struggling with for so long. For the first time, I didn't feel alone."
Lovato's music gave so many people hope, and her openness inspired many people like myself to take control of our own mental health. And for that, fans can't thank her enough.
If you or someone you know are experiencing suicidal thoughts, call 911, or call the National Suicide Prevention Hotline at 1-800-273-8255 or text HOME to the Crisis Text Line at 741741.
If you or someone you know has an eating disorder and needs help, call the National Eating Disorders Association helpline at 1-800-931-2237, text 741741, or chat online with a Helpline volunteer here.
If you or someone you know is seeking help for substance use, call the SAMHSA National Helpline at 1-800-662-HELP(4357).