There's A Huge Mystery About When, Exactly, Allison Janney Started Dating Her Boyfriend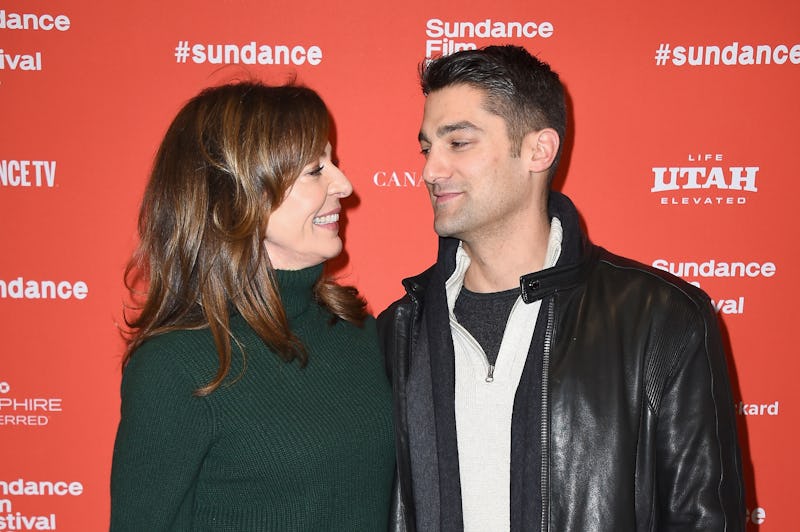 Nicholas Hunt/Getty Images Entertainment/Getty Images
This may be the beginning of Allison Janney's relationship with the Academy Awards, but there's another relationship in her life that's a bit more longstanding. It's been a while since Allison Janney and her boyfriend met, but the couple drew a lot of attention when the I, Tonya star had Philip Joncas on her arm at the 90th Academy Awards. For those who want to know exactly when Janney and Jonas first met, according to an interview Janney gave to E! in 2016, the romantic connection had been sparking for "about a year" at that point. Meanwhile, an article from Entertainment Tonight speculates that love might have been in the air as early as 2014.
In any case, the Best Supporting Actress nominee and her beau's paths first crossed all the way back in 2012, when they worked on The Way Way Back together. Because, yes, Joncas works in the industry as well. The project was released in 2013 but filmed in 2012, and it was likely how Janney and Joncas met. She was an actor in the film, playing the role of Betty, while he worked as a production coordinator behind the scenes. According to IMDb, that's a job he's held a few times, on such projects as the movie Nebraska and an episode of Silicon Valley. He's also worked as a producer and a production manager, most recently doing the latter job on the comedy TV special Marc Maron: Too Real.
And Joncas must have made a pretty good impression on the set of The Way Way Back, because just a few years after that meeting, he and Janney were a couple. Their first public appearance was on the Minions red carpet in June 2015, but ET Online points out that the couple was snapped getting cozy as early as 2014. In a photo from the Critic's Choice Television Awards (below) in June of that year, Joncas is pictured wrapping his arms around Janney's waist and kissing her on the cheek as she smiles into the camera.
As romantic as this photo looks in hindsight, it's still possible that their embrace was just a friendly one at the time. In the aforementioned 2016 E! News article, Janney gushed about Joncas, saying, "He's pretty handsome," and telling the outlet that the pair had been an item for "about a year." There's a lot of wiggle-room in a phrase like that, so it's equally possible that the two started things up in summer 2014, winter 2015, or anywhere in between.
Regardless of the exact timeline, what's obvious by now is that these two are serious about each other. It's been three years, and they seem closer than ever. But don't expect them to get married any time soon: Janney has been firm that she doesn't believe in the institution of marriage. She was previously engaged to actor Richard Jenik in 2004, but the pair broke things off in 2006.
And, even at the time, Janney told Women's Health that she'd had plenty of doubts. As she said in 2005:
"I used to have a recurring dream that I would marry a man and, right after the ceremony, they'd turn into somebody completely different. I'd marry Arnold Schwarzenegger and then he'd be Danny DeVito — except that no one else saw the difference. So you could say I've had some fears about it."
Marriage just isn't for some people, so no matter how many rumors were sparked by Janney wearing a diamond on the ring finger of her left hand, a wedding likely isn't in the cards.
But in a year where you're nominated for an Oscar, who needs an engagement? Both Janney's career and her relationship appear to be rock-solid.