How Celebrities Observed A Day Without A Woman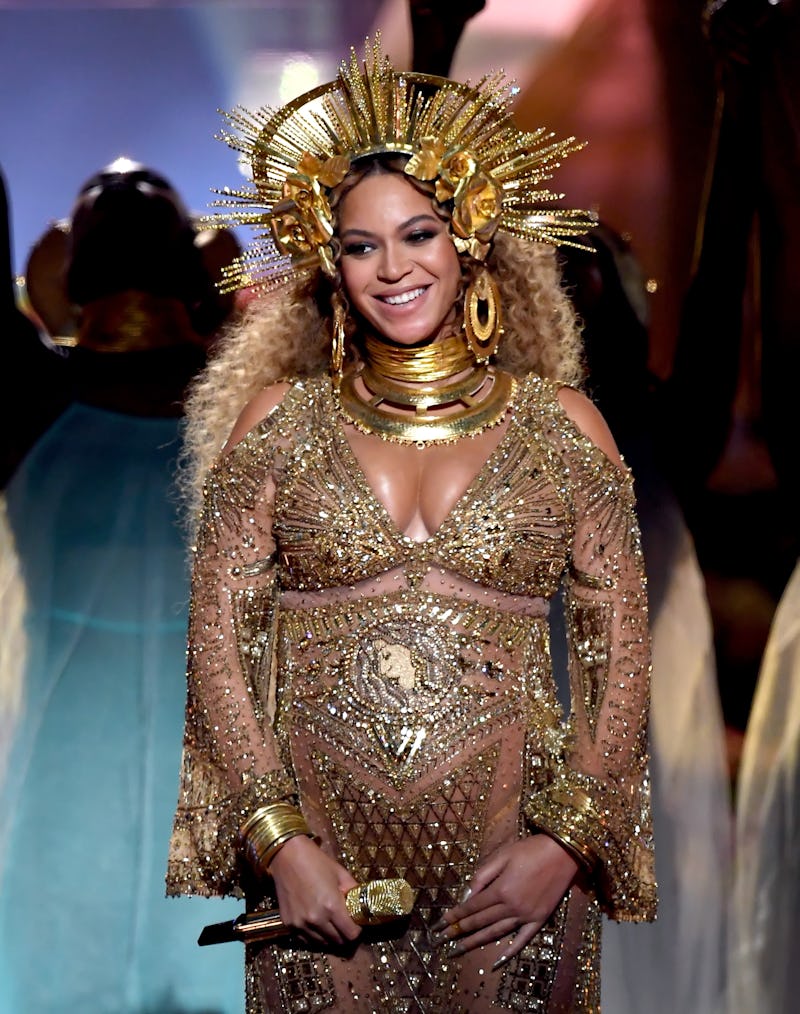 Kevin Winter/Getty Images Entertainment/Getty Images
International Women's Day is a day to celebrate women of the past, present, and future who are contributing in amazing ways to make the world a better place for women of all ages. As you should already be aware, 2017's IWD was also a day where organizers of the Women's March created the "A Day Without a Woman" movement. Many women took a day off of work, wore red, and joined forces raising awareness about gender equality and women's rights. Women from all over participated, including celebrities. So how did celebrities observe A Day Without a Woman?
Those who participated all chose to honor the day in their own special ways. Whether that be by distributing feminist books across the city for people to find, by wearing red, by going to work but still standing up for women's rights, or attending rallies, the following celebs made sure their powerful voices were heard on a day they deemed way too important to ignore.
Really, this is how women should always be celebrated and shown respect, but if a day is needed to get the point across that gender equality is something that has not yet been achieved, then by all means, let's have a day to show just that. As you can see below, many celebrities are in agreement and will stand up for women's rights whenever it is necessary.
A Letter For Gender Equality
Some of the most famous celebs united by supporting a letter advocating for gender quality. The letter written by Chime for Change, a campaign co-founded by Beyoncé and Salma Hayek to "convene, unite, and strengthen the voices speaking out for girls and women around the world," vowed to fight even harder for women's rights. Part of it reads, "We stand together to say, in a voice louder than ever, that fighting for gender equality is the emergency and the opportunity of our time." It concluded, "We fight for education. For health. For justice. For every girl. Every woman. Everywhere. We fight for our future. Because none of us can move forward if half of us are held back."
In addition to Queen Bey and Hayek, John Legend, Julia Roberts, Madonna, Jada Pinkett-Smith, Dakota Johnson, and Freida Pinto, all backed the letter.
Some Went To Work
Women didn't need to miss work to back the movement or to make a statement. For example, Kerry Washington filmed Scandal — and she did in style. Not only did she sport red, but she wore A Day Without a Woman shirt. Next to three photos of her empowering outfit, the actor wrote, "At work to support my bad*ss boss lady and all the women in our work world but I'm wearing red in solidarity with my sisters!
Emma Watson Was A "Book Fairy"
The Beauty and the Beast star went around New York City spreading "some wise women's words" by dropping off books at different memorials honoring historically powerful women, including Eleanor Roosevelt, Harriet Tubman, Joan of Arc, and Gertrude Stein. Unsurprisingly, she really got into the spirit of the day. Oh, and she also wore a super cute red hat and gloves.
Some Dreamt Of The Future
If this doesn't speak to you, I don't know what will. It's unclear if this happened on IWD or in the past, but at some point Schumer's 3-year-old niece gave a moving answer to what she wanted to be when she grew up. Alongside an Instagram of the comedian holding hands with her niece that she shared on Wednesday, Schumer wrote, "When my 3 year old niece was asked what she wanted to be when she grew up she said without hesitation 'a woman.'" Now that is a response.
Couples Celebrating Together
Because they can't help but be an amazing couple, America Ferrera and her husband, Ryan Piers Williams, participated together. As you can see above, they wore red shirts that spoke volumes and also attended a rally in downtown Los Angeles together. "Downtown LA rally with my boo for #DayWithoutAWoman — Shout out to his parents who raised him to treat women as equals," Ferrera wrote on Instagram." #realmenstandupforwomensrights also — how awesome are these shirts from @undocumedia?"
Profile Pictures Were Changed
Like Alyssa Milano, many celebrities chose to take a stand by changing their social media profiles to a red box. Sometimes the most powerful actions are the simplest ones.
Donations Were Suggested
Giving back is another way to let your voice be heard. Comedian Billy Eichner took to social media asking people to donate to Planned Parenthood, an organization that does so much for both women and men.
That's only a small portion of the celebrities who took part in A Day Without a Woman. It's great to see that so many people came together for an important cause that will hopefully impact others and women's rights.